Many in Los Angeles Still Processing 'Unprecedented' Emergency Jet Fuel Dump That Inflicted Minor Injuries on Dozens, Including Elementary Schoolers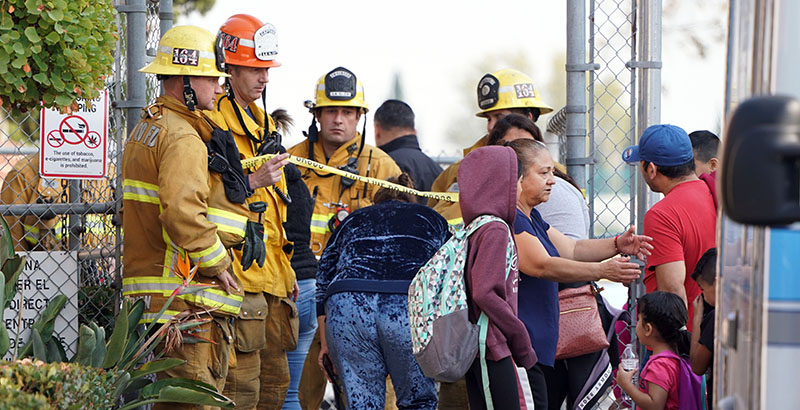 L.A. Unified schools on Wednesday opened as normal with communities still processing an emergency jet fuel dump the day prior that inflicted minor injuries on dozens of adults and children across six schools — five of them elementary schools.
"We came out and we were playing, and the airplane was outside and we thought it was rain," recounted Park Avenue Elementary sixth-grader Josue Burgos to the LA Times. "But then we knew it was throwing gas on us, and everybody started to run."
A Shanghai-bound Delta Air Lines flight out of LAX had to make an emergency return to the Los Angeles airport around noon Tuesday, citing engine problems, and during its descent it discharged fuel over a five-mile swath above and around southeast Los Angeles. First responders treated about 60 people, at least 20 of them children, for skin or upper respiratory irritation. No one was transported to the hospital.
"It's not an experience we want for our students or any of us," Park Avenue Elementary Principal Ramona Garcia said at a Wednesday morning news conference, where she thanked local response teams. Two classes had been on the playground when the jet fuel rained down. "I feel very tired, but thank God that everybody is fine."
Directly hit schools were Park Avenue Elementary in Cudahy, 93rd Street Elementary in Green Meadows and Jordan High School in Florence-Firestone, the district confirmed Wednesday. Emergency responders also went to Tweedy and San Gabriel Avenue elementary schools in South Gate and Graham Elementary in Florence-Graham.
Local officials at the conference, held at Park Avenue Elementary, said they didn't anticipate any lingering or serious health concerns from the fuel dump. Cyrus Rangan, with the Los Angeles County Department of Public Health, acknowledged that there are "unknowns," though, in terms of the environmental impacts.
Tuesday's incident "was quite unprecedented," Rangan said. "Nothing like this has ever really happened before [here]."
Fuel dumping is very rare and is used only in case of emergencies or if pilots have to reach a safe landing weight, which was reportedly the case with Tuesday's flight. Many questions remain, however, especially following the public release Wednesday of radio conversations between the pilot and air traffic control, where the pilot initially stated that a fuel dump wasn't necessary. Federal regulations direct planes to dump fuel over designated unpopulated areas and at higher altitudes if possible.
The Federal Aviation Administration is investigating the matter.
The affected schools reopened Wednesday thanks to what Rangan deemed "above and beyond" efforts by the district to clean the schools in tandem with the County of Los Angeles Fire Department Health Hazardous Materials Division, the city of Los Angeles Fire Department, the Los Angeles County Fire Department and the Delta Air Lines Environmental Compliance Department. That effort included washing all outdoor lunch tables, outdoor play equipment, drinking fountains and playground surfaces, and activating air-conditioning systems throughout the night for ventilation.
L.A. Unified Superintendent Austin Beutner tried to assure community members that everything was "back to normal." "Students are safe; staff are safe," he said.
To "put things in perspective," he also noted that about 165 lives had been at risk on the Delta plane, which landed safely. "We're grateful that Delta was able to get the plane back on the ground," he said. "It is unfortunate it happened not just in a school community, but in all of the school communities that were impacted."
The accident still rattled many in the local community.
"Planes cannot dump anywhere," local resident Rosana Yancor told NBC Los Angeles. "Has to be another solution."
"I was shocked and angered," board member Jackie Goldberg, whose District 5 seat includes Park Avenue Elementary, said in a statement Tuesday. "I will continue to advocate for our Park Avenue Elementary School family, and provide updates when more information is available. I am sorry our school community had to go through this very scary incident."
Some have pointed out that southeast Los Angeles County, which holds some of L.A.'s most impoverished communities, is not new to environmental injustices. A toxin-emitting battery recycling plant operated in the area until five years ago, according to the LA Times, and Park Avenue Elementary itself closed for eight months in the 1990s because "tar-like petroleum sludge began to seep up from the ground."
"Why is it always our communities having to deal with the brunt of these issues?" Cudahy Mayor Elizabeth Alcantar told the Times.
A few commenters on ABC7's Facebook live stream of Wednesday's conference voiced similar frustrations.
"I couldn't imagine this happening in any other type of neighborhood," one said.
Another wrote: "Wonder if fuel would have been dropped over a more affluent area?"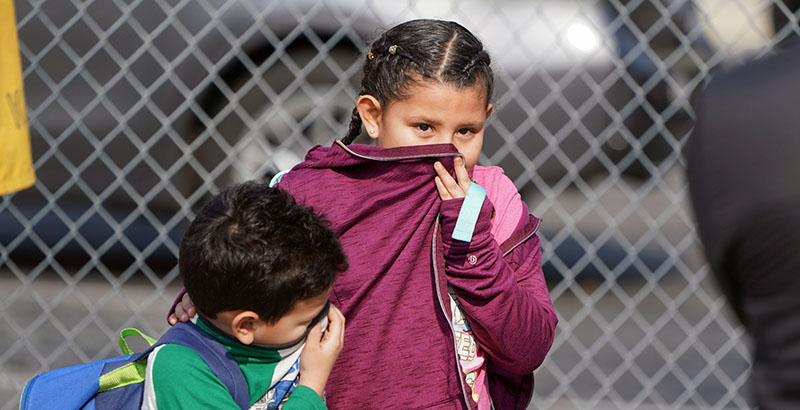 The district declined to answer questions from The 74 on whether L.A. Unified is considering filing a lawsuit against Delta Air Lines, or if it's aware of parents who intend to do so. Dana Debel, Delta's managing director of state and local government affairs, declined to comment at Wednesday's conference on the hows and whys of the incident prior to hearing from the Federal Aviation Administration's investigation, but she said the company is "here" for the schools and local community.
"We worked through the night with LAUSD … to make sure all the schools were safe and available to open this morning for all the students," she said. "We are going to continue to be here to partner with the community, not just with the school district, but the community at large, to make sure we are addressing the needs of this community going forward."
Debel added that Delta has created a hotline number at 1-800-441-5955 with "dedicated" bilingual agents ready to answer any questions or concerns community members might have. Delta is also in touch with local officials, such as the Cudahy mayor's office.
L.A. Unified in a Wednesday news release said it will continue to provide timely updates at lausd.net, with KLCS-TV and on all social media platforms. Families can also call the district's hotline at 213-443-1300.
Support The 74's year-end campaign. Make a tax-exempt donation now.