Many Americans Know Little About Updated COVID Boosters
A weekly roundup of headlines about how the pandemic is shaping schools and education policy, vetted by AEI Visiting Fellow John Bailey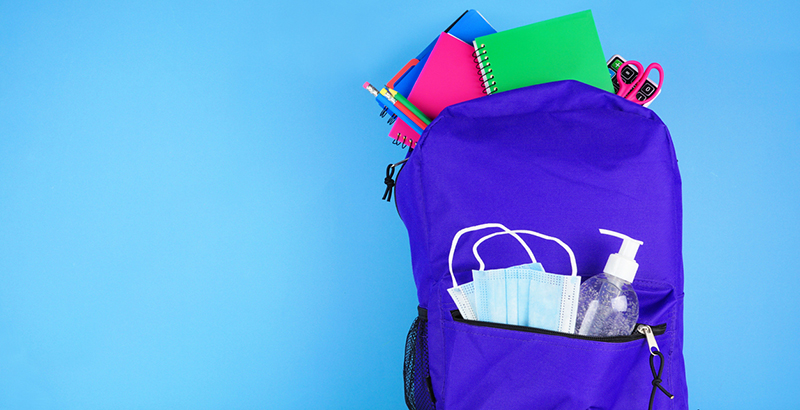 No paywall. No pop-up ads.
This is our weekly briefing on the pandemic, vetted by John Bailey. See the full archive.
This Week's Top Story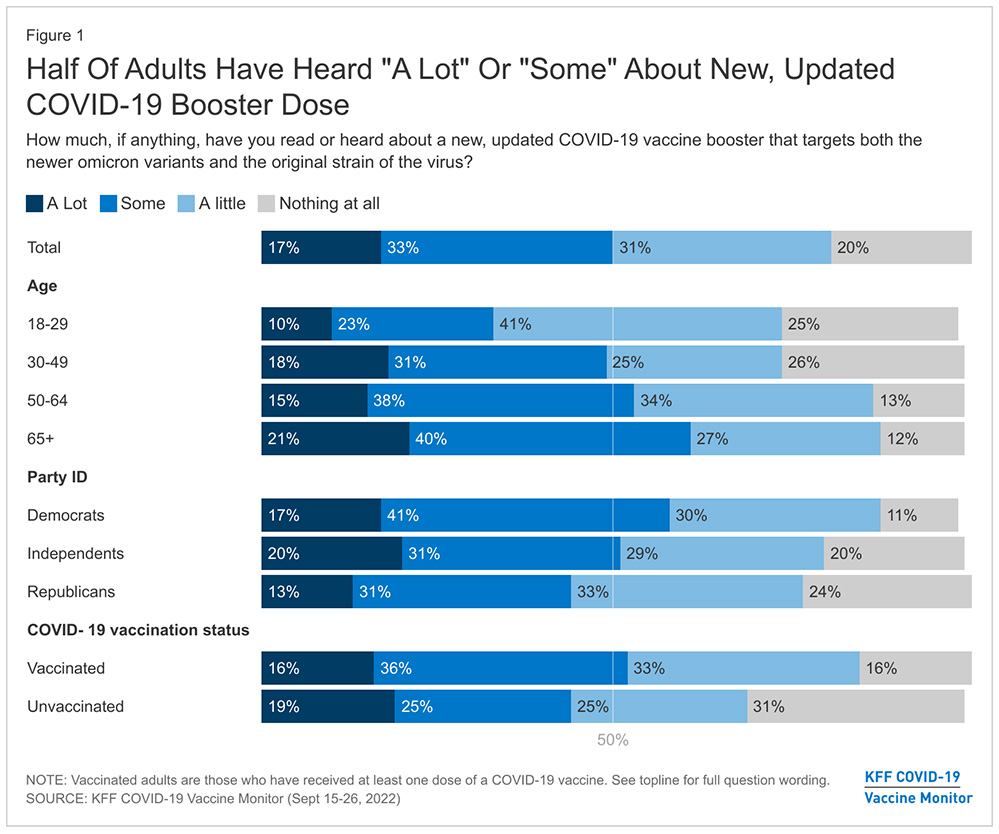 Awareness of Boosters 'Relatively Modest'
The latest Kaiser Family Foundation COVID-19 Vaccine Monitor survey finds awareness of the updated boosters is relatively modest, with about half of adults saying they've heard "a lot" (17%) or "some" (33%) about the new shots.
"About one in five (19%) parents of children ages 6 months through 4 years old say their child has gotten vaccinated for COVID-19, up from 7% in July."
The September survey finds about half (53%) of parents of children in this age range say they will "definitely not" get their child vaccinated for COVID-19.
The Big Three — October 7, 2022
U.S. Schools Now Employing 160,000 'Underqualified' Teachers
"U.S. schools currently employ at least 163,650 underqualified educators, teachers working without state certification or outside their subject area. In 2017, at least 109,000 underqualified teachers were estimated to be in classrooms."
"States with the highest ratios of these hires relative to the student population include Washington, Utah, Minnesota, New Hampshire, Massachusetts, New Jersey, North Carolina, Louisiana, Alabama, Florida and Maryland."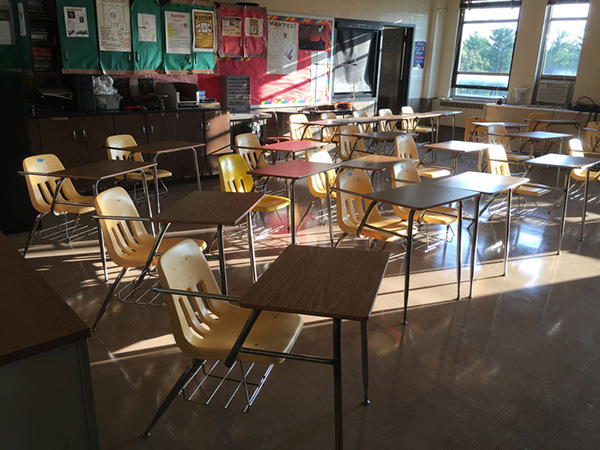 Student Absenteeism Skyrocketed in the Pandemic as Test Scores Plunged
"At least 10.1 million students were chronically absent during 2020-21, the first full academic year of the pandemic, according to federal data. … That's 25% more than the typical 8 million chronically absent students each year."
"Already, four states — Connecticut, Ohio, Virginia and a subset of California — have posted figures for 2021-22 that show the doubling that [experts] predict."
"Researchers also created a state-by-state comparison, showing a wide range of chronic absenteeism. The highest rates, of more than 30 percent statewide, were reported in Kentucky, Arizona, Nevada, Rhode Island, Oregon and New Mexico."
Public Education Missed the Data Revolution. It's Time to Catch Up
"Last month, the U.S. Department of Education launched an effort to address teacher shortages. Secretary Miguel Cardona went on national TV to call attention to the school staffing crisis and announce the initiative. But is there a national staffing crisis? Are vacancies higher than normal? If so, in what subjects and in which schools? The truth is no one knows. There is no useful teacher labor data in U.S. schools."
"The dearth of data in education is reaching four-alarm status. This fall, after three pandemic-affected school years, there is little to no data on which interventions are working to get which students up to speed in what subjects."
"We need data collection processes that allow schools to gather information — in real time — on how kids are doing."
"Here's one way to chip away at this data desert: State education agencies can use a share of the nearly $20 billion they got in relief funds to create real-time reporting systems to track daily student attendance, monthly learning, real-time labor trends by role and location, and much more."
Federal Updates
Department of Health and Human Services + Department of Education: Through the Health Resources and Services Administration, the departments are rolling out the roughly $314 million for health professionals in schools and in emergency departments.
City & State News
ARIZONA: State school transportation grant program returns for its second year
ILLINOIS: Chicago school board moves ahead with plans for new high school, despite enrollment drops
MARYLAND: Baltimore City Public School staff hope phone bank will return absent students to class
NORTH CAROLINA: School bus driver shortage is real — despite new pay raises
OHIO: More than 30% of students were chronically absent this past school year, nearly double the pre-pandemic rate
COVID-19 Research
Complex State COVID Vaccine Guidelines Tied to Lower Awareness of Eligibility
"The team used survey data to classify respondents as eligible or ineligible for COVID-19 vaccines based on survey completion date and policy effective date and applied state guidelines to self-reports of age, occupation, health conditions and residence in a long-term care facility. Guidelines were categorized as high complexity if they contained more than 150 words and more than 30 eligibility criteria."
"Participants living in states with more complex vaccine guidelines (i.e., California, New York and Pennsylvania) were less likely than those in states with simpler guidelines (i.e., Florida, Georgia and Texas) to correctly indicate their eligibility (61% vs. 78%, respectively)."
"More complex vaccine guidelines were associated with lower participant comprehension, potentially hindering eligible persons from seeking vaccines during a period of scarcity. To optimize public health communication, brevity and simplicity should not be undervalued."
COVID Vaccines in Pregnancy Tied to Lower Risk of Intensive Care, Stillbirth
Systematic review and meta-analysis published in JAMA Pediatrics.
"COVID-19 vaccination during pregnancy was not associated with increased risks of peripartum adverse outcomes, including preterm birth, small size for gestational age, low Apgar score at 5 minutes, cesarean delivery, postpartum hemorrhage and chorioamnionitis."
"Furthermore, COVID-19 vaccination during pregnancy was associated with lower risks of neonatal intensive care unit admission, intrauterine fetal death and maternal SARS-CoV-2 infection."
"Our data support the safety and efficacy of COVID-19 vaccination during pregnancy, facilitating the vaccination rates among pregnant individuals even if they do not get vaccinated before pregnancy."
Excess Death Rates Higher for Republicans than Democrats Post-Vaccine Availability
"We estimate substantially higher excess death rates for registered Republicans when compared to registered Democrats, with almost all of the difference concentrated in the period after vaccines were widely available in our study states."
"Overall, the excess death rate for Republicans was 5.4 percentage points, or 76%, higher than the excess death rate for Democrats. Post-vaccines, the excess death rate gap between Republicans and Democrats widened from 1.6 percentage points (22% of the Democratic excess death rate) to 10.4 percentage points (153% of the Democratic excess death rate)."
In COVID-19 Health Messaging, Focus on Risks Increases Anxiety with Little to No Benefit
"Given that subtle differences in information framing can have meaningful effects on behavior, behavioral science research highlights a pressing question: Is it more effective to frame COVID-19 health messages in terms of potential losses (e.g., 'If you do not practice these steps, you can endanger yourself and others') or potential gains (e.g., 'If you practice these steps, you can protect yourself and others')?"
"Loss- (vs. gain-) framed messages increased self-reported anxiety among participants cross-nationally with little-to-no impact on policy attitudes, behavioral intentions or information seeking relevant to pandemic risks."
"These results were consistent across 84 countries, three variations of the message framing wording and 560 data processing and analytic choices."
Viewpoints
Future of Data in K-12 Education Initiative Can Help Inform a Critical Impasse
"In response to the dire need for more data and information… the U.S. Chamber Foundation has launched an initiative on the Future of Data in K-12 Education."
"'Historic learning loss has occurred across the board, and we need to find a way to get kids caught up,' Caitlin Codella Low, vice president of policy and programs at the U.S. Chamber Foundation, said. 'It takes time. It's not even a problem that money can solve alone. And so right now is the time to make sure that the federal and state and local policies that are in place are serving the kids in a way that ends up giving them what they need to be successful in the future.'"
Post-Pandemic Schooling: What Now?
Via Rick Hess
Tune out the noise
Catch kids up
Maintain transparency
Expand options
Rewrite the pandemic playbook
…And on a Lighter Note
I Have Questions: A goat sings in Worcester cathedral during animal blessing service.
For even more COVID policy and education news, subscribe to John Bailey's daily briefing via Substack.
Disclosure: John Bailey is an adviser to the Walton Family Foundation, which provides financial support to The 74.
Get stories like these delivered straight to your inbox. Sign up for The 74 Newsletter