Mansouri: Today's Crisis Could Transform Education to Create a More Equitable, Student-Centered System for Tomorrow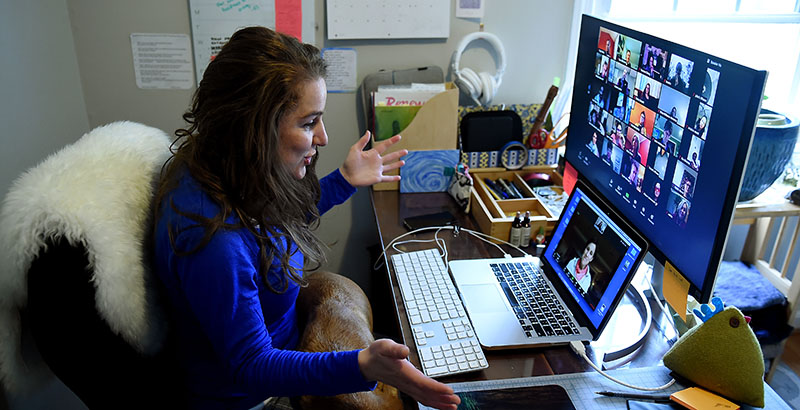 I know I am not the only one reflecting about the many challenges surrounding us. We know that the impact of the new coronavirus on all of us is enormous — including on education.
School districts in Tennessee and across the country have been addressing the immediate demands, prioritizing student and teacher health, temporarily closing down our schools, providing food to students in need and supporting parents as we shift to home instruction. The past few weeks have also demonstrated clearly that school for many of our students is the backstop for security, health and comfort.
But during this moment of high anxiety and uncertainty, I have also been asking a set of fundamental questions that this crisis is forcing all of us to ask and might, just maybe, help us prepare for life after COVID-19:
How do we meaningfully advance learning in K-12 and higher education when students aren't physically in school? Is this the opportunity to reimagine distance learning on a grander and more meaningful scale, focused on high-quality content and instruction?
How do we improve literacy when all students will likely lose weeks, if not months, of vital instruction, and when so many are already behind?
How do we give parents and teachers — as well as our communities and elected officials — insight into how our students are growing and achieving academically and what interventions they might need to learn even more if we have no assessment results to report and evaluate at the end of the school year?
How can we support college completion when so many high school students are losing valuable instructional time in key subject areas? And when so many college students, especially first-generation students at community colleges, may face financial pressures to drop out to support themselves or their families?
The challenges and impact of this public health crisis are playing out all around us. One result of COVID-19 is its unbiased way of surfacing our education system's vulnerabilities and gaps. It would be easy to get discouraged about what this will mean for education; but what if someone told us that the COVID-19 crisis of 2020, with all its current devastation on life, the economy, our schools and our daily routines, would also serve as a moment of awakening and transformation in how we deliver learning that prepares students for a lifetime of success?
What if, in the year 2030, we look back to this moment, with all its negative impacts and consequences, as a game-changing opportunity to create a more equitable, student-centered education system across all of America's schools?
British education expert Sir Michael Barber pointed out many of these opportunities in 2010, but maybe we weren't really ready then for what real change could mean. In Tennessee, we tried to follow his student-centered ethos in the implementation of our state's First to the Top work, but maybe we didn't fully appreciate what that vision could mean at the individual student level.
For example, the embrace of online instruction by academic and distance-learning experts, as well as early enthusiasm for massive open online courses, have demonstrated how technology will transform education delivery, but maybe we were never going to embrace all the possibilities until confronted with today's K-12 and postsecondary school closures and shelter-in-place quarantines.
What if this pandemic finally helps us think about how K-12 education and education reformers can learn from our universities, capture the expertise of our best, most effective teachers in their content areas and grade levels and project it onto the screens of millions of students studying the same subjects and using the same high-quality curriculum? Or how might we tap into the device/screen culture and engage students in learning the way they are in gaming? And how might this work become part of the regular school year instead of an add-on or nice-to-have?
Everyone talks about the need for increased flexibility and autonomy at the school level. But maybe we were never going to embrace what real autonomy means without being challenged with the likelihood of months of lost learning time. What if this pandemic drives flexibility and funding for districts and schools to launch summer literacy boot camps, start the new school year earlier, add extra instructional time each day and take any number of other steps that are needed to prioritize student learning — not just in the next year, but in the long term? Given the lack of assessment data we will have this year, should we get creative on other ways to evaluate student progress or consider start-of-school diagnostics next year to help teachers understand and establish new baselines for each student?
Once this crisis subsides, the mission and goals of our public education system should not change; we have to prepare all students for continued academic, civic and career success while continuing to ensure their proper nutrition, health and safety. Our work on the foundations of student success — to maintain high academic standards, support teachers and principals to be highly effective instructional champions and deliver meaningful and aligned assessments — matters more than ever. But this pandemic demands that everyone working to improve educational outcomes also must challenge old assumptions and change our way of thinking. It's clear that our current education system is being asked to do things we never conceived of even 10 years ago.
Nothing quite concentrates the mind like a crisis. As horrific and devastating as this virus is and will continue to be, what if our eyes were looking at a horizon far beyond the current disruption, to new ways of thinking that allow us to address and overcome many of the inequities and achievement gaps we have been chasing for some time?
Perhaps this crisis is exactly the right time for us to reassess and innovate to better serve students now and in the future.
David Mansouri is president and CEO of the Tennessee State Collaborative on Reforming Education (SCORE), a nonpartisan nonprofit that works to drive transformation in education so all students are prepared for college, career and life.
Support The 74's year-end campaign. Make a tax-exempt donation now.