Manno: In New Survey, U.S. Adults Say Education Is Key to Achieving the American Dream. 3 HS Programs That Help Make That Happen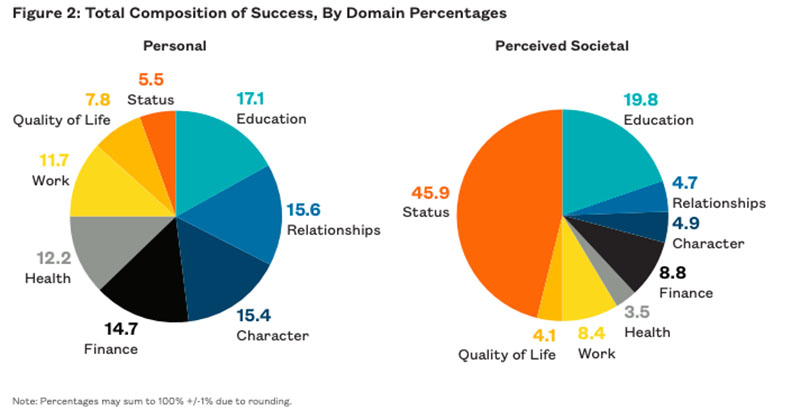 "American Dream" is shorthand for describing an individual's pathway to opportunity and a successful life. Historically, high school has played a key role in providing young people with the knowledge and skills necessary for achieving this goal.
How do Americans define success? And what innovations are occurring in the way high schools educate young people to place them on a pathway to a successful life and the American Dream?
Gallup and Populace recently released a nationally representative survey of 5,242 Americans ages 18 and older that asked about their views of success. It turns out there's a dramatic divide between how individuals see their own success — personal success — and how those same individuals view the way others are thought to define success — perceived societal success.
The analysis created two profiles, Person A and Person B. Each was randomly assigned six attributes from a list of 76, organized by eight life domains: education, relationships, character, finances, health, work, quality and status.
Respondents were asked to choose which person was more successful, using their own individual definitions of personal and perceived societal success. This produced a success index, including a "success pie" with each slice representing one of the eight life domains.
What story emerged about how Americans define success?
Many Americans view perceived societal success in status-oriented terms: How one is placed in a prestige hierarchy is the most important factor on the "success pie." But education is the second-most-important measure, with the rest ranking far behind. And when it comes to personal success, education is the single most important component in the "success pie," followed closely by relationships and character.
Total Composition of Success, By Percentage of Eight Domains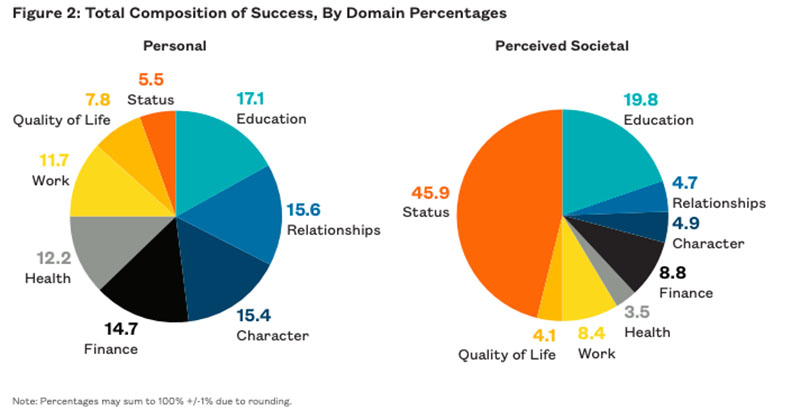 The survey also found that Americans rate themselves as generally achieving success according to their definition of personal success, rather than a perceived societal success score. This means that rather than buying into a view of success based on rank, prestige and status magnified in attributes like wealth, power and fame, they value what they achieve through local institutions, networks and social connections. In other words, the things that matter most in defining success are education, robust interpersonal relationships and strong character, exemplified in attributes like graduating from high school, being involved with community, regularly seeing family, having at least two close friends, parenting and being considerate and trustworthy.
This suggests that many Americans hold in particular esteem those institutions and networks that allow them to nurture relationships. High school is one of these core institutions, and new high school models are emerging that cultivate an array of relationships and networks. Here are some examples from the district, charter and private school sectors.
●  In 2009, Wiseburn School District in Los Angeles County created a partnership with Da Vinci Charter Schools, now serving 2,100 students in K-16 in four high schools, a K-8 homeschool-hybrid model, and postsecondary college and career programs. More than 100 business and nonprofit partners offer students internships, mentorships, workshops, boot camps, consultancies and other programs. Student partner services include youth marketing focus groups and website, graphic and social media design.
Da Vinci Extension integrates high school, college, work and student services such as mental health and counseling, with two pathways to further education — including associate's or bachelor's degrees — using classroom and online instruction. One is UCLA Extension and El Camino College, with no cost. The other is College for America, a Southern New Hampshire University affiliate costing about $6,000 but subsidized by Pell Grants and local funding. Da Vinci provides tutoring, advising and teacher support.
●  In Boston, nonprofit Match Education oversees several initiatives, including Match Public Charter School, founded in 1999 and enrolling 1,250 students in pre-K through 12 on three campuses. Match Beyond, launched in 2014, assists graduates with career placement and college completion and partners with College for America for instructional services. Match Charter School offers student coaching and other support, such as job counseling.
Now known as Duet, it operates as an independent nonprofit using Match Charter School facilities for study space and staff for student coaching and mentoring. Students can work and pursue associate's and bachelor's degrees through Southern New Hampshire University for $7,000 a year, with financial aid available. Career services are offered for two years after graduation, including résumé development, interview preparation, job searches and support through the hiring process.
●  Cristo Rey, founded in 1996, is a network of 35 Catholic schools with more than 15,000 graduates, enrolling more than 12,000 students in 22 states. Forty percent of students are not Catholic, and 98 percent are minority youth with an average family-of-four income of $37,000. The network integrates four years of academics with work experience through its Corporate Work Study Program, a separate nonprofit that places high school students five days a month in an entry-level, professional job chosen from among more than 3,400 corporate partners.
Students earn 60 percent of their tuition through employment, with 30 percent coming from fundraising and the remaining 10 percent from family contributions of, on average, $1,000. Families access state school voucher and tax credit programs where available.
From 1910 to 1940, a grassroots high school movement led to a "spectacular educational transformation" in America, according to Harvard economists Claudia Goldin and Lawrence Katz. That movement raised enrollment of 18-year-olds to 71 percent from 19 percent and graduation rates to more than 50 percent from 9 percent, lifting the U.S. to the forefront of educational attainment in the world.
Today, locally led innovations in educating young people integrate schools and students with employers and work, create social capital, initiate students into relationships that expand their community networks and access to opportunity, and prepare them to make better-informed decisions about their future.
These developing high school models in the district, charter and private school sectors may be the seeds of the nation's next great educational transformation, propelling young people to opportunity, a successful life and the American Dream.
Bruno V. Manno is senior adviser for the Walton Family Foundation's K-12 education program. Walton Family Foundation provides financial support to The 74.
Support The 74's year-end campaign. Make a tax-exempt donation now.