Make a Video Game Instead of Taking a Test? That's One Way Teachers Use Bloxels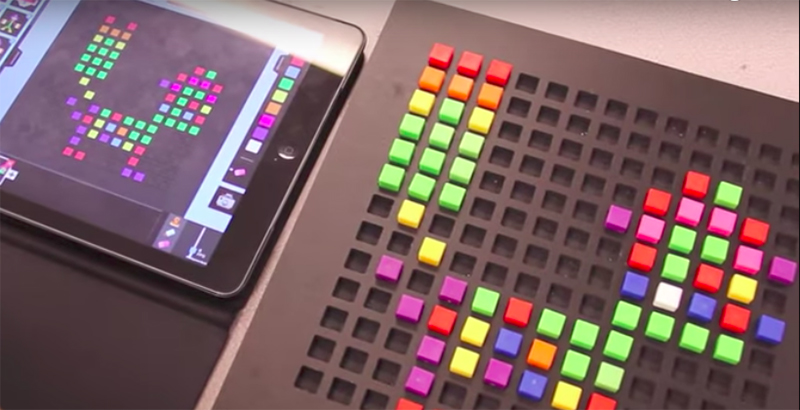 Making video game design accessible to all students hinges on merging the digital world with the tangible, creating a hands-on experience where there wasn't one before, says middle school teacher Robert Kalman.
Using Bloxels, an award-winning game from Pixel Press that is now a trademark of Mattel, educators have created an entirely new world for a game that uses physical blocks to create digital games.
Kalman, a computer technology and digital design teacher at Smith Middle School in Ramsey, New Jersey, who serves as the lead teacher ambassador for Bloxels, says he was drawn to early Pixel Press software that eventually led to Bloxels because of the merging of tangible and digital. In the current game, students — the target audience falls anywhere from kindergarten through eighth grade — place physical color-coded blocks on a gridded board. Those blocks then become pixels in the video game.
Students arrange blocks to become characters or artwork in the game, or they can make each color represent a different game element. Once students arrange the physical blocks, they use an iPad to scan the layout, and the app then translates it into digital form. This Kalman dubs the "magic" of the app.
Students can approach Bloxels, nominated as a Toy Industry Association 2017 Game of the Year, from all angles. Kalman gives his sixth-graders an open-ended quest of creating the coolest game they can for their classmates. He introduces the game, then lets the students learn from one another — adding an element of empathy and cooperation to the study of technology — as to what they should include in their game: developing a main character, an enemy, a goal, or an obstacle. Students then create a prototype using the boards, blocks, and app.
"The iteration process is so fast," he says. "You design a character on the board and scan it in, and immediately you are able to say, 'Yeah, that is what I want,' or find a problem with it or find a way to make it better. It promotes fast iteration and a growth mindset."
Nicole Smith, an elementary school gifted and talented specialist in the Howard-Suamico School District outside Green Bay, Wisconsin, says Bloxels transforms younger students from consumers to creators of technology.
Her students have analyzed video games with plots of literature in mind and then created Bloxels games based on the books they have read, incorporating plot elements into the game's hazards, rewards, and enemies. Students have also taken their own original writing and published them as video games, or brought Wisconsin history alive.
"We have created video games and used these video games to assess their understanding instead of a traditional paper-and-pencil test," Smith says. "Students are engaged, excited, and really motivated to problem-solve while they are using the app."
The excitement can extend beyond the school day, as Smith says it is common for students to come to school eager to teach their classmates something they had learned using Bloxels the night before.
Bethany Jones, a seventh-grade teacher at Mason Middle School in Mason, Ohio, says she started using Bloxels last year to harness her students' love of video games and encourage creation over consumption. Challenged to design their own new games with fresh characters, backgrounds, enemies, and more, they quickly mastered the app to get to a finished product, whether games about Star Wars, puppies, or penguins.
"The kids loved the freedom to custom-make a game that interested them and was at their level," she says.
Kalman says he also uses the app to lay the groundwork for teaching coding. "The kids need to understand when building their layouts what each of the colors represent and how their characters interact with each game element," he says. "It is not true coding, but it is a great precursor."
For students who are naturally tech-minded, the app lets them move fully into digital design. But for others, the blocks allow them to plug into projects without fully submerging themselves in coding.
"Definitely some students move to the digital process more quickly than others, but having used it for the past year and a half in my class, there are always students who keep using the board throughout the game design process," Kalman says. "I think there is value in the tangible. It fulfills learning style preferences, which I think is really great."
Get stories like these delivered straight to your inbox. Sign up for The 74 Newsletter