Major Texas District Ends School Mask Requirements Amid Legal Fights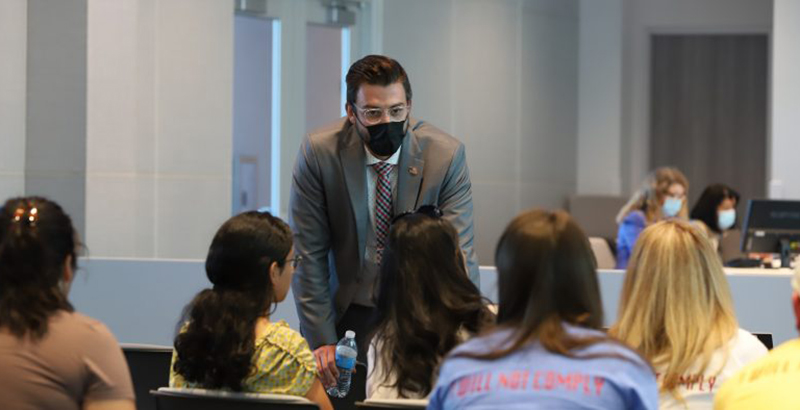 Support The 74's year-end campaign. Make a tax-exempt donation now.
El Paso's largest school district will no longer enforce mask wearing.
The El Paso Independent School District Board of Trustees voted 5-2 on Oct. 4 to rescind its face mask requirement for students, teachers, staff and visitors that had been in place since Aug. 18.
Trustees Al Velarde, Daniel Call, Israel Irrobali, Freddy Klayel-Avalos and Isabel Hernandez voted to do away with the requirement. Trustees Josh Acevedo and Leah Hanany voted to keep it in place.
The vote came after the 8th Court of Appeals ended El Paso's countywide universal indoor face mask mandate on Sept. 30. However, because EPISD remained part of a separate lawsuit against Gov. Greg Abbott, it could have continued requiring mask use at its campuses and facilities.
EPISD was the only El Paso County district among a coalition of more than 20 districts challenging the governor's ban on local governments from requiring people to wear face coverings. A Travis County district court judge granted them a temporary injunction against Abbott in August, which the governor appealed.
EPISD will remain a party to that suit, Board President Velarde said. However, due to the legal uncertainties over whether EPISD could still be sued, Velarde said he favored suspending the mandate.
"I don't know how protected we are," Velarde said, adding, "My personal opinion is that it's high-risk."
Trustees voted to give interim Superintendent Vince Sheffield the authority to reinstate EPISD's mask mandate if the county health authority brings the countywide requirement back.
EPISD teacher Xavier Miranda urged trustees to keep the mandate in place until younger students are eligible for the COVID-19 vaccine.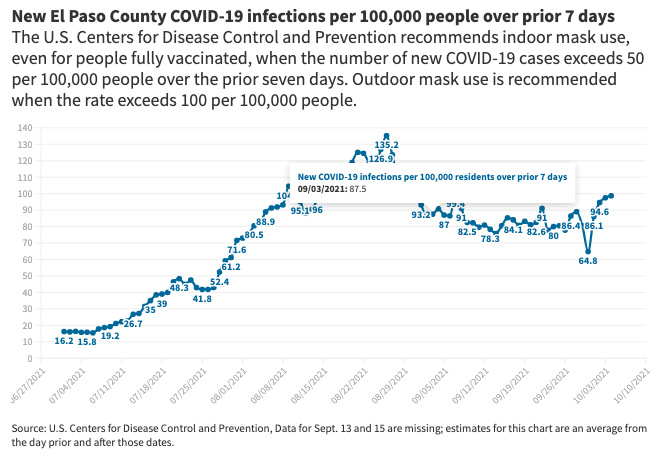 Acevedo said he voted against suspending EPISD's mandate to protect unvaccinated and immunocompromised students. "I worry about the next few months, especially as it's getting colder," he said of a potential rise in coronavirus cases.
The Food and Drug Administration's vaccine advisory committee is scheduled to discuss vaccines for children ages 5 to 11 on Oct. 26. The FDA could soon after authorize emergency use of the Pfizer vaccine for this age group.
A small group of mask opponents disrupted the start of the meeting, which resulted in Burges High School senior Skyler Brown being handcuffed by EPISD police and forcibly removed from the boardroom.
Brown "was taken into custody under the impression that he was a juvenile," said EPISD spokesperson Gustavo Reveles. Upon police learning Brown was 17 years old, and considered an adult under the Texas Penal Code, he was released to his mother "pending a paper referral to the district attorney's office" on a misdemeanor disrupting a public meeting charge, Reveles said.
Reveles later said EPISD decided not to file charges against Brown. The Class B misdemeanor would have carried a fine of up to $2,000 and up to 180 days in county jail if convicted.
Brown and his mother are part of a vocal contingent of families who have regularly attended meetings — and begrudgingly put on a mask after being asked repeatedly by district police — since the mandate took effect
This article originally appeared at El Paso Matters.
Support The 74's year-end campaign. Make a tax-exempt donation now.