Louisiana Eighth-Grader Creates Supply Closet at His Middle School for Classmates in Need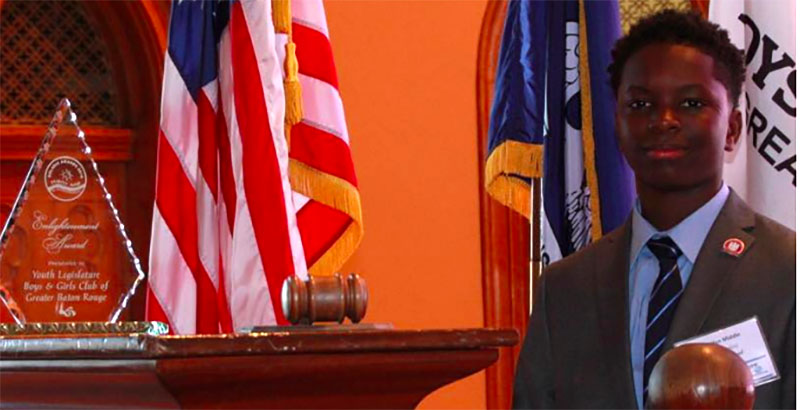 This article is one in a series at The 74 that profiles the heroes, victories, success stories and random acts of kindness found at schools all across America. Read more of our recent inspiring profiles at The74Million.org/series/inspiring.
It's not every 13-year-old who knows his purpose in life, but Chase Neyland-Square is that special kind of eighth-grader.
"I have a heart for giving," Chase told Good Morning America. "I just love helping people."
That's not news to his classmates or teachers at Louisiana's Port Allen Middle School, where the teen set up PAM's Pantry. A closet stuffed with clothes, shoes, school supplies and more, PAM's Pantry gives children in need the chance to get something special they might otherwise have to do without.
"I run this pantry because I believe that students shouldn't be bullied or categorized based on what they have on," he told WAFB-TV on the first day of school.
Students know they can whisper to the school receptionist or a teacher that they need something from the pantry, and the adult will quietly get it for them.
"We don't want to embarrass the kids, but we want them to have what they need and feel comfortable asking," Principal Jessica Major told The Advocate, adding that teachers are on the lookout for students who need notebooks or clothes.
"We really want the kids to feel like they have somewhere to go when they need something," Major told Inspiremore. "We only have 215 kids, so we're able to get to know them really well … and try to help them where we can." One student rebuilt her entire wardrobe from the pantry after she lost everything in a house fire, The Advocate reported.
The pantry has helped boost students' self-esteem, technology teacher Michelle Tureau told The Advocate.
"It's helping their confidence in their appearance and how they present themselves in the world," she said. "It levels the playing field in how they're perceived."
This isn't Chase's first community project. He's also set up dinners for senior citizens and collected 700 pairs of socks to give to Baton Rouge-area homeless, said his mother, Amanda Square.
"He seems to have a great passion for people," she told Good Morning America. "It makes me proud because we're very blessed and I always encourage him to bless others."
Up to 10 students a week use the pantry, but it often runs short of blue polo shirts and tan khaki pants — the school uniform.
After WFAB-TV interviewed Chase for a back-to-school story, science teacher Samantha Mendenhall tweeted about it and got offers of clothing for the closet.
Chase, the youngest of six, credited his mother as his inspiration.
"She's made me realize some people aren't as blessed to have things," he said.
Get stories like these delivered straight to your inbox. Sign up for The 74 Newsletter