Los Angeles Moves a Step Closer to Teacher Strike as Mediation Ends & District Files Unfair Labor Practice Charge Against Union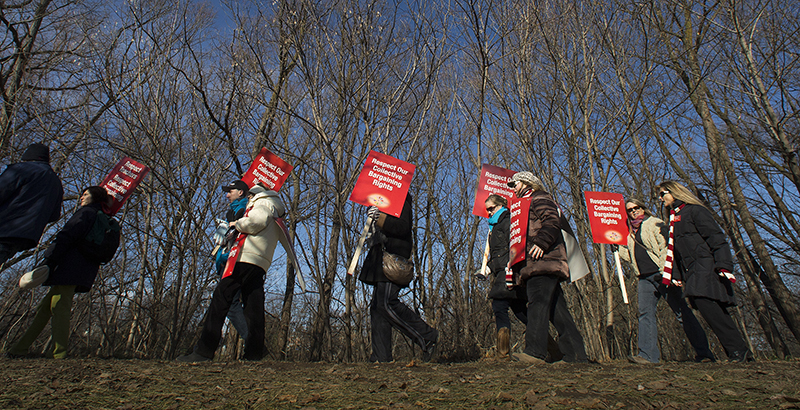 This article was produced in partnership with LA School Report.
Los Angeles moved one step closer to a strike Friday when mediation efforts ended and the L.A. Unified School District filed an unfair labor practice charge against United Teachers Los Angeles for allegedly refusing to participate in good faith.
The two sides now move to a process called fact-finding. Each side has five days to select a representative to the fact-finding panel; then, the state's Public Employment Relations Board selects a chairperson. The three-person panel has 30 days to submit a nonbinding report. The district will then be free to impose its last offer, and the union will be free to strike.
In a statement after Friday's third mediation session, the district said the union sought to end mediation after the first session.
"By UTLA's own admission, the only reason UTLA participated in mediation was to ensure that it could move quickly to a strike. UTLA has never negotiated in good faith," the district said.
The district said the union's demands would bankrupt L.A. Unified "and lead to the unprecedented layoffs of about 12,000 employees, including teachers."
Here is the district's question-and-answer fact sheet about the contract negotiations.
In its own statement, the union said it had made a good-faith effort to reach an agreement, "but unfortunately LAUSD officials did not do the same, failing to offer any substantial proposals to reinvest in our schools."
"The district thinks they can buy us off with a modest pay raise, but our fight has never been just about salary," union president Alex Caputo-Pearl said in the statement.
Here are the union's "facts we do know about the district's financial state."
Statement from General Counsel David Holmquist: Today, the Los Angeles Unified School District filed an unfair labor practice charge against UTLA for refusal to participate in good faith in the statutory impasse procedures. pic.twitter.com/JbbJN0AUIz

— L.A. Unified (@LASchools) October 13, 2018
Support The 74's year-end campaign. Make a tax-exempt donation now.