Los Angeles Finalizes $14 Million Plan Guaranteeing Foster Kids Reliable, Uninterrupted Transportation to Their Home Schools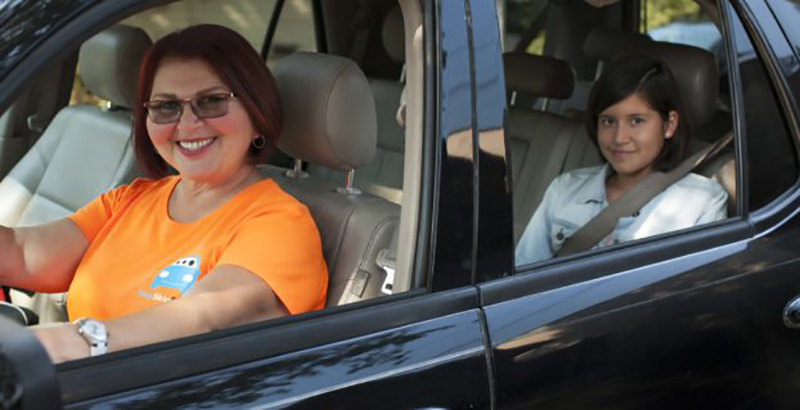 This article first appeared in The Chronicle of Social Change
A recent federal report found that administrative and financial obstacles challenged the ability to keep foster youth in their school of origin. Los Angeles might emerge as a pioneer on fighting those barriers, now that one of the largest school districts in the nation has approved its share of a five-year, at least $14 million transportation plan for these students.
The plan approved by Los Angeles Unified School District (LAUSD) — by far the largest of Los Angeles County's 80 school districts, with 40 percent of the county's students — helps bring it into closer compliance with the federal Every Student Succeeds Act (ESSA), an overhaul of federal education policy signed into law by President Obama in 2015. The law mandated that local educational and child welfare agencies provide transportation for foster youth to their home school starting in December 2016.
More than 7,000 students enrolled in LAUSD schools are in the county's foster care system.
"School stability allows foster youth to continue their education without disruption, maintain established relationships with peers and adults, and have the opportunity to achieve college- and career-readiness," wrote Pia Escudero, the district's executive director of student health and human services, in a memo to LAUSD board members, who voted on the matter during Tuesday's board meeting. "It is critical that foster youth have the opportunity to be transported to their school of origin in order to attend school regularly and on time to achieve academic success."
Under the agreement Escudero outlined, LAUSD and the Department of Children and Family Services (DCFS) will enter into a joint memorandum of understanding (MOU) to establish a procedure to provide and fund a long-term transportation plan for foster youth.
The cost will be split evenly between the county and the school district. This has long been a thorny point in implementation of ESSA at the local level. While the law mandated that whenever possible foster students be transported to their school of origin — the school they were attending before they entered foster care — it never stipulated which agency should pay.
The LAUSD board approved $7.2 million over five years for the school-of-origin plan, an amount that will be matched by DCFS, officials said.
The county has also secured one-year agreements to the transportation plan from 10 of its other school districts, including Antelope Valley Union, Compton, Lancaster, Palmdale and Pasadena. L.A. County has allocated $3.8 million for school districts to cover half the costs of transporting foster youth to school over the next year. So far, the 11 school districts that have signed up – including LAUSD – comprise about $2.3 million of the total $3.8 allocation. The county's Office of Child Protection is working with the remaining school districts in L.A. County to formally sign on to the plan.
Total spending on foster youth transportation across the county in the first year of the plan is expected to be about $7.6 million, with DCFS contributing $3.8 million, according to officials.
A federal report released last month found that state education agencies were struggling with the administrative and fiscal requirements of ESSA's foster youth rules. In discussion groups held with 14 state education agencies and five child welfare agencies, the Government Accountability Office highlighted two big obstacles to maintaining school of origin to foster youth: turnover of staff at the agencies who run point on transportation and foster youth, and "assisting school districts in figuring out how to fund additional transportation."
The Los Angeles plan — with dedicated funding and an MOU to govern roles and responsibilities — could become a template copied by other education and child welfare agencies across the country, particularly those covering large urban areas.
For the past two years, LAUSD has been heavily relying on HopSkipDrive to ferry foster children to LAUSD schools. The private rides-hailing service, which offers trauma training to its drivers, was a key part of a county-wide pilot transportation program, which ended over the summer. Of the 1,131 foster youth served during the two-year pilot project, 89 percent used HopSkipDrive for rides to get to and from school, accounting for approximately 87 percent of the $4.6 million pilot expenditure.
LAUSD's plan will continue to use HopSkipDrive for now, while the district and county officials continue to coordinate other options such as school buses or public transportation. During the school transportation pilot, the county spent nearly $614,000 on the costs of school buses and about $4 million on HopSkipDrive.
The LAUSD plan would cover all youth from preschool to 12th grade who are entering foster care or who are placed in out-of-home care. It also would include a provision to arrange for transportation of some Los Angeles County foster youth who are placed outside of the county.
If the plan were not approved, it would mean the district is non-compliant with the federal mandate and "potentially hundreds of foster youth will not be afforded their educational rights," Escudero added.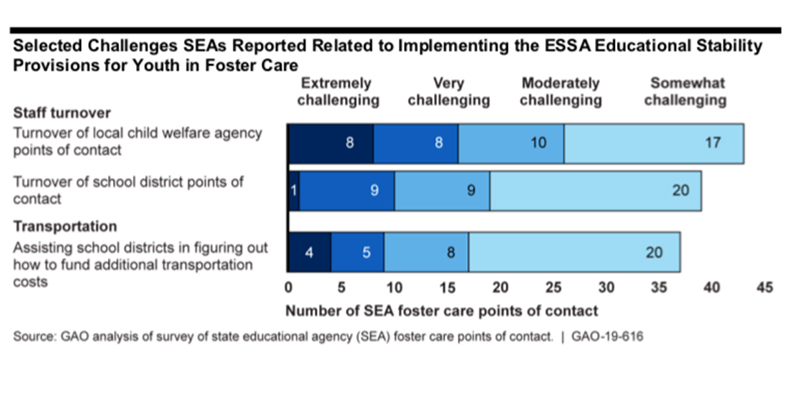 GAO discussions with state education and child welfare officials suggest that administrative and fiscal uncertainty affect their ability to ensure that school-of-origin rules are enforced.
Since the 2015 passage of ESSA, school districts and child welfare agencies around the country have struggled to develop transportation plans to keep foster youth in their schools of origin if that is what they prefer.
Data show and child advocates say that keeping foster youth in schools familiar to them is preferable. A 2014 study of California foster youth found that 17 percent of youth attend three or more schools during their first year in foster care.
A 2013 study by the Stuart Foundation found that foster youth are less likely than other disadvantaged youth to complete high school, enroll in community college or remain in community college for a second year.
"We're really excited in general that the county and LAUSD are moving forward with taking steps to give foster youth the ability to attend their school of origin," said Alaina Moonves-Leb, a senior staff attorney with Alliance for Children's Rights. "We know for foster youth, staying in the school of origin is really huge. It's the one thing that is stable when everything else is changing."
Susan Abram is a writer for The Chronicle of Social Change, a national news outlet that covers issues affecting vulnerable children, youth and their families. Sign up for their newsletter or follow The Chronicle of Social Change on Facebook or Twitter.
Get stories like these delivered straight to your inbox. Sign up for The 74 Newsletter