Lockett: 65 Years After Brown v. Board, Our Fixation on Integration Is Hiding Gross Inequities in Our Schools. We Must Focus Not Just on Whom We Teach — but on How We Teach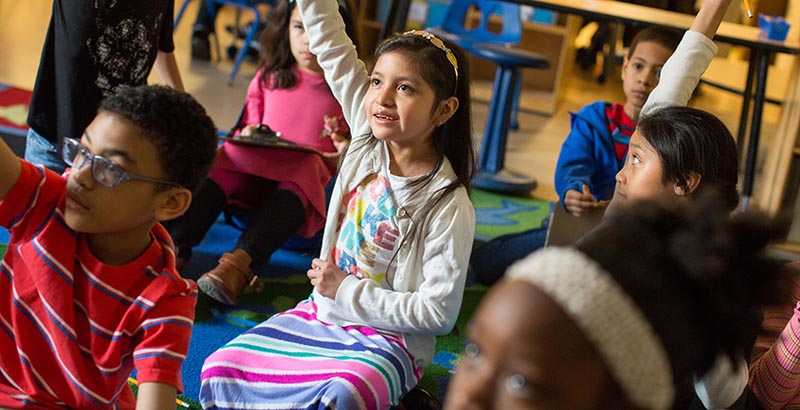 This essay is part of a special series commemorating the 65th anniversary of the landmark Brown v. Board of Education school desegregation case. Read more essays, view testimonials from the families who changed America's schools and download the new book "Recovering Untold Stories: An Enduring Legacy of the Brown v. Board of Education Decision" at our new site: The74Million.org/Brown65.
It has been 65 years since the Supreme Court unanimously outlawed segregated schools in Brown v. Board of Education — and still, more than half of American students attend schools where over 75 percent of the population is of the same race. Schools have become steadily more segregated since the mid-1980s. Majority-nonwhite districts receive $23 billion less in annual funding. Our schools are still separate, and they are certainly not equal.
Our post-Brown fixation on the integration of schools, though, has obscured the inequities that are present even when students of different races learn in the same classrooms, from the same teachers. Equal access is only the first step to equitable opportunity. To move past the access paradigm we have been striving for over the past 65 years, we have to focus on more than just whom we teach; we have to look at how we teach.
Black students still face persistent achievement gaps in both math and reading — and those remain constant whether the students attend majority-black or majority-white schools. Teachers are far more likely to contact parents of nonwhite students about disruptive behavior, while black students are suspended at four times the rate of white students and twice as likely to be expelled.
These trends hold steady even in classrooms led by black educators. Although white teachers make up 80 percent of the workforce, they do not have a monopoly on subconscious biases that fuel what University of California professor Whitney Pirtle has called "the modern-day form of segregation" that occurs in schools where students are sorted not by potential but by perceived ability.
The court based its Brown decision in part on the psychological harm imposed by the stigma of segregation — but that stigma has lingered because we have failed to build the muscles of cultural competence in our classrooms.
Making good on Brown's promise of educational equity demands that we reorganize schools and systems around the learner. We cannot orient our view of equity around just a place-based conception of students' access to learning environments. We must rethink our expectations of what students can do, what opportunities they have access to — and how we teach them.
The good news is that pedagogical innovations are helping educators to upend the implicit biases that lead them to expect less of students of color, and lighting multiple pathways toward consistent, high standards. There is a new movement of teachers who see students' differences not as deficiencies but as opportunities for their growth as learners.
I have spent the past five years working with teachers and students in Chicago to make the shift from access to equity by designing classrooms around the needs and strengths of individual students — a model we call personalized learning. It condemns teaching to the average. "The practices teachers adopt equip them to meet learners where they are. They are learning to confront their implicit biases to transform the student-teacher relationship. And they are challenging students to exert agency over their learning.
By giving teachers the tools to fully understand every student's potential, we can raise the bar for children who have often been underestimated, celebrate strengths that have been overlooked and address needs that have been ignored.
Some of the teachers I work with on implementing personalized learning start this process through "empathy walks," during which they physically follow a student's path to and through school, deepening their understanding of the challenges the student confronts each day. They all deploy objective performance data to pinpoint strengths and needs in real time. And they all aim to elevate learners' voices, helping students map out learning plans that capitalize on their strengths and stoke their passions.
If we stick with one-size-fits-all classrooms, we will continue to push out students outside the archetype. A Latino student will be forced to grapple with a curriculum devoid of cultural relevance that leaves her isolated. A student who had no access to early education will be left behind by an elementary curriculum that assumes a foundation in reading and math. A student with a deep understanding of science may be put on a remedial track because his potential is masked by challenges with literacy.
When I went to school in the Englewood neighborhood of Chicago, I received a world-class education. But in the decades since, I have seen my neighborhood schools fall behind. I worry about the pace and breadth of change in the 65 years since Brown.
But I'm heartened when I visit schools there like Perkins Bass Elementary. Once a struggling school on probation, Bass has transformed itself into a hub of personalized learning, and students' math and reading scores have tripled. More teachers are staying in the classroom, and student engagement has skyrocketed.
By creating new pathways to rigorous learning for today's students, Bass and its peers have shown that equity does not stop at access — we can do so much better for students in any school. There, I see students exceeding expectations and academic targets. I see them setting goals, with confidence that they have everything it takes to reach them. I see them advocating for themselves in the classroom, boldly asserting their worth. They know they deserve more than equal access: They deserve to embrace their differences. They deserve equitable opportunity.
Phyllis Lockett is founder and CEO of LEAP Innovations, an organization headquartered in Chicago that connects innovation and education to transform how students learn; an independent director of the Federal Home Loan Bank of Chicago; a board member of civic organizations including The Economic Club of Chicago and The Chicago Network; and a member of the Commercial Club of Chicago and a Henry Crown Fellow with the Aspen Institute. Previously, she was founding president and CEO of New Schools for Chicago.
Support The 74's year-end campaign. Make a tax-exempt donation now.