Local Leaders Call for $5B to Protect Pa. Kids from Lead, Asbestos
'With billions sitting in the treasury, it's finally time to invest in our children,' Rep. Elizabeth Fiedler, D-Philadelphia, said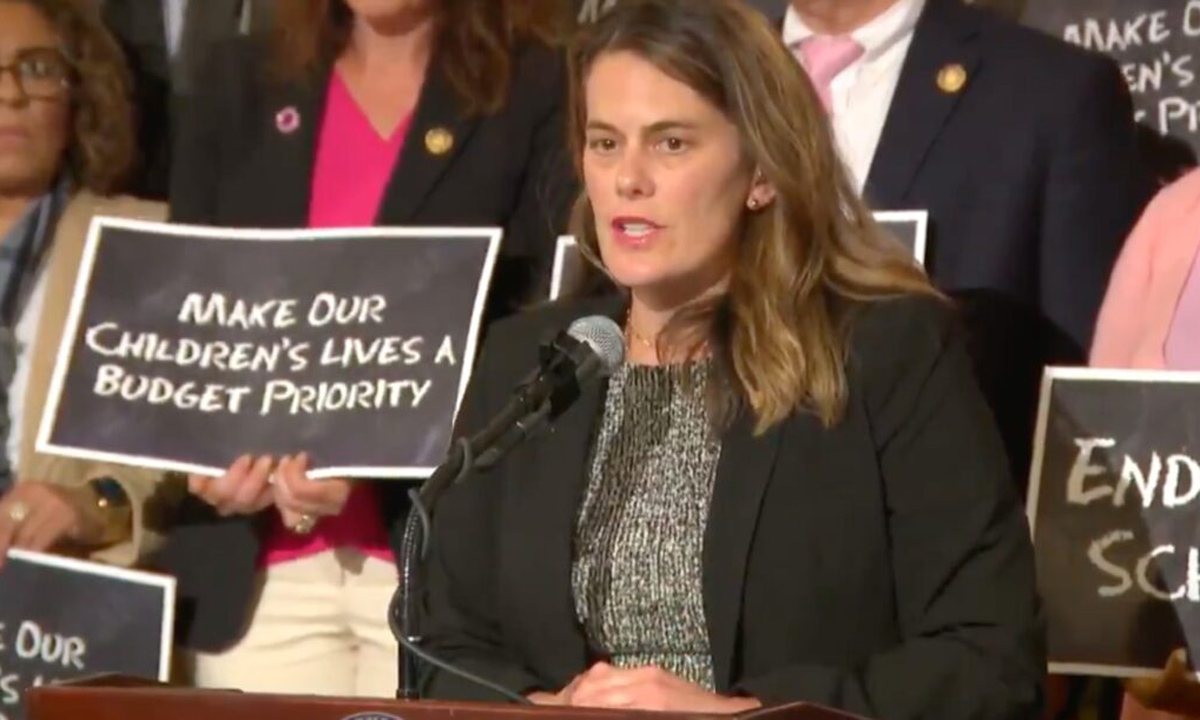 Support The 74's year-end campaign. Make a tax-exempt donation now.
As of late last month, as many as five schools in Philadelphia were forced to shut their doors because of damaged asbestos, throwing a wrench into instructional schedules and the lives of parents who suddenly found themselves with kids at home.
Philadelphia Board of Education President Reginald Streater, whose children attend one of the shuttered schools, C.W. Henry Elementary in the city's Mount Airy neighborhood, told the Philadelphia Inquirer that the issues at Henry and other city schools were the result of decades of inattention.
Streater asked parents "for grace as we continue to tackle this issue that has been a hundred years in the making," according to the Inquirer.
Last week, local leaders from across the state took that effort to Harrisburg, where they called on lawmakers and the Democratic Shapiro administration to spend $5 billion over the next five years to protect students from lead, asbestos, and other environmental hazards.
"My children, my grandchildren, and all of Pennsylvania's children deserve safe schools where they can thrive," Philadelphia City Councilmember Kendra Brooks, who led the effort, said in a statement. "With over $13 billion in available funding, we can afford to make Pennsylvania schools safe for all children. We can afford to invest $5 billion over 5 years for their safety and their future."
The money the local leaders are seeking is significantly more than the $500 million over five years that Gov. Josh Shapiro proposed for environmental abatement in the in the $44.4 billion spending plan he rolled out in March.
The Democratic governor's spending proposal for the fiscal year that starts July 1 includes a hefty investment in public education. But faced with a state court ruling declaring Pennsylvania school funding system unconstitutional, some education advocates have argued it does not go far enough.
Faced with that growing asbestos crisis, one member of Philadelphia's City Council has said "the moment is now" to create an independent authority to handle school building construction and renovation instead of the school district.
Isaiah Thomas, who chairs the council's education committee, introduced a resolution last week to hold hearings on creating such an authority, Chalkbeat Philadelphia reported.
Speaking to Chalkbeat, Thomas stressed the urgency of immediate action.
"If we can't get this done in this budget cycle, I'm not sure that we'll ever get the type of down payment that we need to really put a dent in the issue," Thomas said. "If we wait until June, or July, it might actually be too late."
In Harrisburg, local leaders and state lawmakers also stressed the importance of swift action. Bills before the state House and Senate would restart state funding for "Plan Con," the state's school facilities funding program, which has not received an infusion of new money since 2016.
"Aging infrastructure and decades of inadequate funding have meant that maintenance on schools has been deferred and delayed. But a leaky roof doesn't fix itself. With billions sitting in the treasury, it's finally time to invest in our children," said Rep. Elizabeth Fiedler, D-Philadelphia, who's sponsoring the House's version of the bill.
On the other side of the Capitol, Sen. Tim Kearney, D-Delaware, is sponsoring the Senate version of the bill.
According to the local officials, two-thirds (66%) of Pennsylvania's school buildings were built before 1970, and are likely to contain asbestos.
In addition, more than 100 schools in 30 school districts have found lead in their drinking water in recent years. To mitigate those issues, districts have taken on additional debt, or have been forced to close some schools entirely.
A bipartisan trio of lawmakers in the state Senate are circulating a bill that would replace old drinking fountains with lead-filtering water stations by 2025.
"It is criminal to have students and teachers in an unsafe environment," Allentown school board member LaTarsha Brown said. "This is the time to invest in our youth for a brighter future. We know the funding is there, and we are demanding that you be a change agent for education and support funding new public school buildings."
With the state sitting on an anticipated budget surplus of $8 billion, and another $5 billion in the commonwealth's Rainy Day Fund savings account, the local leaders said there's plenty of money to get the job done.
The state money, they argued, would free up local cash currently going to debt service for instructional needs. The burst of construction also would create jobs in their communities.
"In 2023, it is unacceptable to still have school buildings that go without air conditioning in the hot months, vital capital improvements that are financially out of reach, and conditions in schools that put the health and safety of our students at risk," Reading school board memberMark Detterline, said.
"This union of leaders from across the state proves how far-reaching and immediate the need is," Detterline continued. "We all know that the Commonwealth has the resources and the ability to allocate the funds to remediate these issues – now is the time to do it."
Pennsylvania Capital-Star is part of States Newsroom, a network of news bureaus supported by grants and a coalition of donors as a 501c(3) public charity. Pennsylvania Capital-Star maintains editorial independence. Contact Editor John Micek for questions: info@penncapital-star.com. Follow Pennsylvania Capital-Star on Facebook and Twitter.
Support The 74's year-end campaign. Make a tax-exempt donation now.