Levesque & Sigelman: Do the Industry Credentials Students Earn Truly Prepare Them for Success? Most States Don't Have the Data to Tell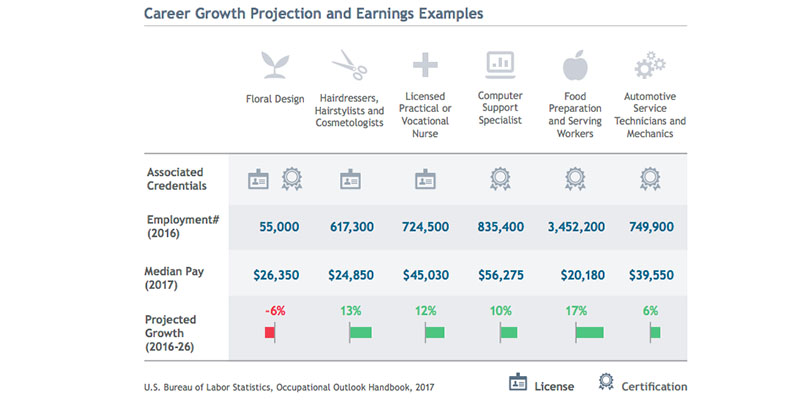 "Career readiness" has become the policymakers' buzzword of the 21st century. States offer a wide range of career and technical education programs and credentials intended to prepare students for success. But how effective — and relevant — are these programs and the credentials that students are earning?
New research from ExcelinEd and Burning Glass Technologies shows that just half of all states collect the necessary data to know how aligned their credentials programs are with employer demand. And states have a long way to go to align the credentials high school students are earning with actual workforce needs.
Credentials Matter is a first-of-its-kind analysis of how the credentials that students earn are aligned with the skills that employers need by comparing state data on attainment with labor market demand based on job postings.
Understanding alignment is important because U.S. employers continue to struggle to find qualified applicants across a range of career sectors. In 12 career areas, including health care and computers and mathematics, demand for workers exceeded available supply in 2016 by a total of 4.4 million job openings.
Industry-recognized credentials have the potential to convey a student's career readiness and help address this skills gap because they validate the knowledge and training required for success in a given occupation or industry. In fact, studies show that full-time employees with an industry credential earn more than their counterparts without one, and in some cases, the salaries of credential holders without a college degree were similar to those of workers with a bachelor's.
Our conversations with many states indicated that they are working to improve the link between their CTE programs and their labor markets. It's not that CTE programs are failing to teach the skills they promise, but it is clear from our analysis that the credentials these programs provide too often have little currency with employers and are, therefore, of questionable career value to students.
This is the right moment for states to reassess their programs. The 2018 reauthorization of the $1.2 billion Carl D. Perkins Career and Technical Education Act offers states an ideal opportunity to make credentials a metric for success. In their State of the State addresses this year, at least 35 governors discussed plans to improve their state's economy by ensuring that students graduate with the tools they need to succeed in careers or in college.
But the first step, clearly, is collecting the data needed to understand what students attain and what employers need. The data we have been able to collect through Credentials Matter can serve as a jumping-off point for states to begin conversations about which credentials are most valuable in leading students to good careers. Our findings provide a basis for practical changes in credentials programs that can significantly improve the chances of job market success for many young people. However, Credentials Matter also highlights the limits of current knowledge and the need for more states to collect better data on this critical topic.
Right now, too many young people are missing the chance to graduate from high school ready to succeed in college and in careers that can support a family. We hope that new data — both what we have been able to collect thus far and what states can bring to bear over time through more purposeful tracking — will inform and inspire efforts to build a better classroom-to-career educational path for America's students.
Patricia Levesque is CEO of ExcelinEd. Matt Sigelman is CEO of Burning Glass Technologies.
Get stories like these delivered straight to your inbox. Sign up for The 74 Newsletter