Levesque: Education Policies Change Kids' Lives — How Florida's Free PSATs Set Off a Chain Reaction of Achievement for State's Students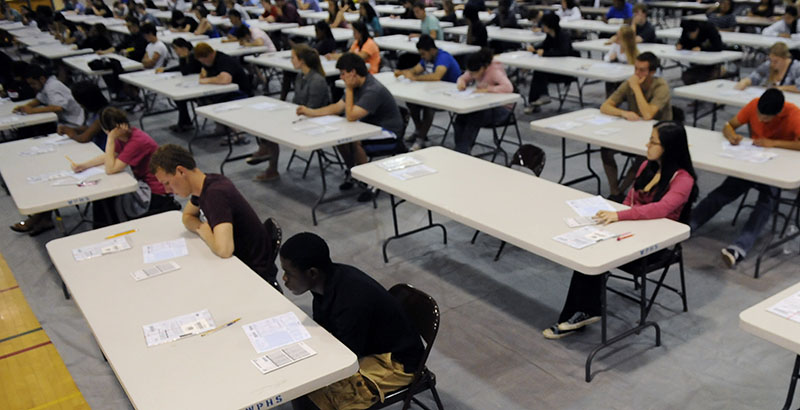 Updated: Feb. 27
Working in the area of education policy for the past 20 years, I know that policy changes lives.
Sometimes policy changes take a long time to bear fruit, and sometimes the relationship between policy and student experience is less than clear. But a well-thought-out policy can have a cascade effect that improves outcomes in both the short and long term.
I'd like to share how a thoughtful combination of policies in Florida began reaping immediate results for students and is still doing so 18 years later.
Nearly two decades ago, the state began to provide free PSAT tests to all high school sophomores. The data from the tests help schools identify students who should be encouraged to take Advanced Placement courses. That information is a valuable tool for equity, because more black and Hispanic students are now objectively identified as capable of AP success than had been without the data.
Florida also offers support to districts through a partnership with the College Board to provide teacher training and materials to expand AP programs in underserved schools. This is critical, because as we identified more underrepresented students who could succeed in AP courses, we needed to make sure they had access to classes and prepared teachers.
Backing this up is a robust accountability system made even stronger under the state's approved Every Student Succeeds Act plan. That system measures outcomes for schools that successfully prepare students for the future, and high schools in particular are graded in part on how well they help students earn college credit or industry credentials. Specifically, Florida has an outcomes indicator for "college and career acceleration" that gauges the percentage of graduates passing AP exams, earning college credit through International Baccalaureate, Cambridge, or dual enrollment courses, or gaining an industry certification.
Finally, Florida offers financial incentives to districts, schools, and teachers when their students earn college credit by passing an AP exam. The bonuses to districts and schools help fund the AP programs, and teachers receive $50 for each student who passes an AP exam in their class. Incentives for equity are built into this policy as well — teachers who help a student at a D- or F-graded school earn college credit get a $500 bonus for the first student who passes the exam.
These strong, student-centered policies have produced enormous gains in academic achievement, the most recent evidence being the newly released College Board 2018 AP Cohort Data Report, detailing Advanced Placement course participation and completion by state.
Florida again ranked among the top five states in percentage of graduates scoring a 3 or above on their AP exams. Nearly 56 percent of Florida's 2018 high school graduates took an AP test, and more than 209,000 passed with a 3 or higher, earning themselves college credit. That hard work and jump start on college saved Florida students and their families an estimated $133 million in future tuition.
This is particularly important because research shows that students who take AP exams, even if they don't earn college credit, are more likely to graduate from college on time. And because students with bachelor's degrees earn nearly $1 million more on average over their lifetime than high school graduates, strengthening college and career pathways is an economic imperative.
The results of Florida's education policies are both impressive at the state level and incredibly meaningful at the individual student level: Advanced course participation helps narrow the achievement gap, prepares students for postsecondary success, and save families millions in college tuition.
What we have seen in Florida is that success breeds success. When families and educators see an uptick in student performance, they become more committed to the policies that made that happen.
And that is the most critical part of any policy implementation: recognizing that policies are more than just ideas. They literally and truly improve children's odds of future success in school, in the workplace, and in life.
Patricia Levesque is chief executive officer of the Foundation for Excellence in Education.
Get stories like these delivered straight to your inbox. Sign up for The 74 Newsletter