Legislators' View: Working Families Are in Crisis. As We Recover From COVID-19, We Must Rethink Child Care as an Economic and Public Good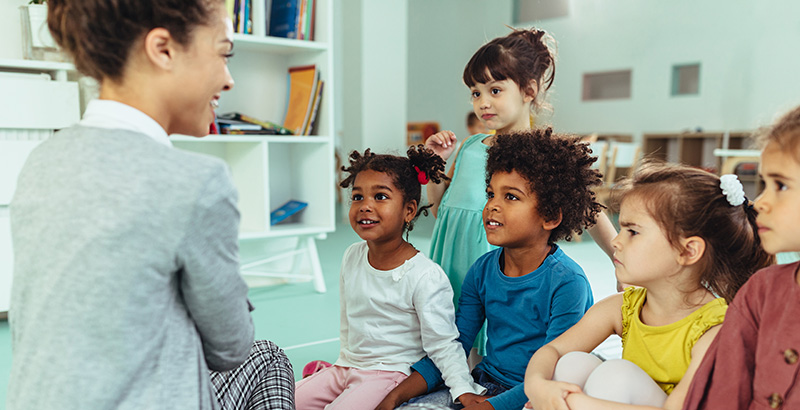 The child care industry is in crisis — and that means every working parent is in crisis. Prior to the COVID pandemic, more than half of Americans already lived in a child care desert, where demand vastly exceeded supply. Now, close to 40 percent of providers may close permanently during the pandemic, putting at risk about 4.5 million child care spots across the country. The crisis that has been exacerbated by COVID-19 is not new. Parents have long toiled to locate and afford reliable child care programs, often to no avail.
No service has had a greater impact on both the economic opportunity available to today's workers and the outlook for future generations. Ninety percent of a child's brain growth happens before age 5. Early childhood education closes future achievement gaps, boosts earning potential and decreases the likelihood of involvement in the criminal justice system. Without a safe place to send their kids, millions of parents face financial instability as well as permanent damage to their careers and lifetime earnings. And let's be honest: The burden of child care falls disproportionately on women, especially women of color.
The urgency and effectiveness with which policymakers respond now will affect our country's prosperity for many years to come.
Solutions start with policymakers recognizing the new costs of providing safe, quality service during a public health emergency. The Center for American Progress estimates that providers are facing on average a nearly 50 percent rise in operating costs during the pandemic, with the highest increases in costs impacting the youngest children. While the CARES Act approved by Congress in the spring provided limited funding to states for child care, these dollars have long since dried up. And the federal money fell far short of the investment required to keep child care centers open and functioning.
While state and local leaders should advocate for additional federal funding, we must also support the child care workforce directly. Through our work with the NewDEAL Forum Renewing America Task Force, we have identified models that can work across the country. One example can be found in Minnesota, where Sen. Franzen was one of the leaders behind a sweeping emergency child care package to help providers implement public health measures necessary to reopen. It provides a set amount of funding based on the types of costs licensed providers are being asked to bear to reopen safely. Resources that providers need include personal protective equipment, COVID testing for staff and flexible facilities to accommodate larger classroom sizes. North Carolina has also smartly given early childhood educators access to a mental health helpline created for first responders and health care workers.
A model for supporting families with young children is the Virtual Learning Academy, started by Shelby County, Tennessee, Mayor Lee Harris, which lets county employees apply to work from home to support their child's virtual learning, or to send their child to socially distanced virtual learning classrooms set up in two county government office buildings.
As important as these short-term resources are to the survival of so many child care providers, they are only a Band-Aid for the long-running problems around affordability and accessibility. In rebuilding from the havoc wrought by COVID-19, child care must be reframed as a foundational economic issue and a public good rather than a service controlled by market forces. The current market incentivizes low-cost, low-quality care due to families' chronic inability to pay enough to support the high cost of running a child care program. However, the economic benefits of high-quality care are estimated to return about $8.60 for every $1 spent. Furthermore, in a study of four states, the U.S. Chamber of Commerce Foundation demonstrated the immediate impact of the status quo, revealing that problems with access to care accounted for annual losses to their economies of between $479 million and $3.79 billion.
State and local governments also have an opportunity and a responsibility to build a more equitable child care system that works for all families, not only those with the ability to pay. States should provide tuition assistance for high-quality child care, with larger amounts being made available to the families who need it most. The current market-based system cannot be allowed to continue incentivizing low-quality care. Leaders must connect the level of subsidies a provider can receive to the quality of care, while investing in support for providers to meet quality benchmarks, like professional development for staff and developmental screenings for children.
States and cities can build on efforts like this by setting an example with government employees, offering subsidies for in-house child care either for the short-term duration of the pandemic or the long term. In addition, states and cities must prioritize data collection on child care availability, costs and other metrics, so policymakers can understand and best direct limited funding.
The late, great Rep. Elijah Cummings often used to say, "Children are living messages we send to a time we will not see." If all levels of government do not act in their next legislative sessions to address the child care crisis, we will be sending a message that we were unwilling to do the hard work today of creating a more equitable and prosperous future. Without action now, parents and children will suffer lasting consequences.
Brooke Lierman, delegate to the Maryland General Assembly, and Minnesota state Sen. Melisa Franzen are members of the NewDEAL (Developing Exceptional American Leaders), a selective network of 180 of the most innovative state and local policymakers representing 48 states across the country.
Support The 74's year-end campaign. Make a tax-exempt donation now.