Legislators Call For Additional Safety Measures For Lahaina Schools
The DOE said it would not make emergency response plans available to the public at this time.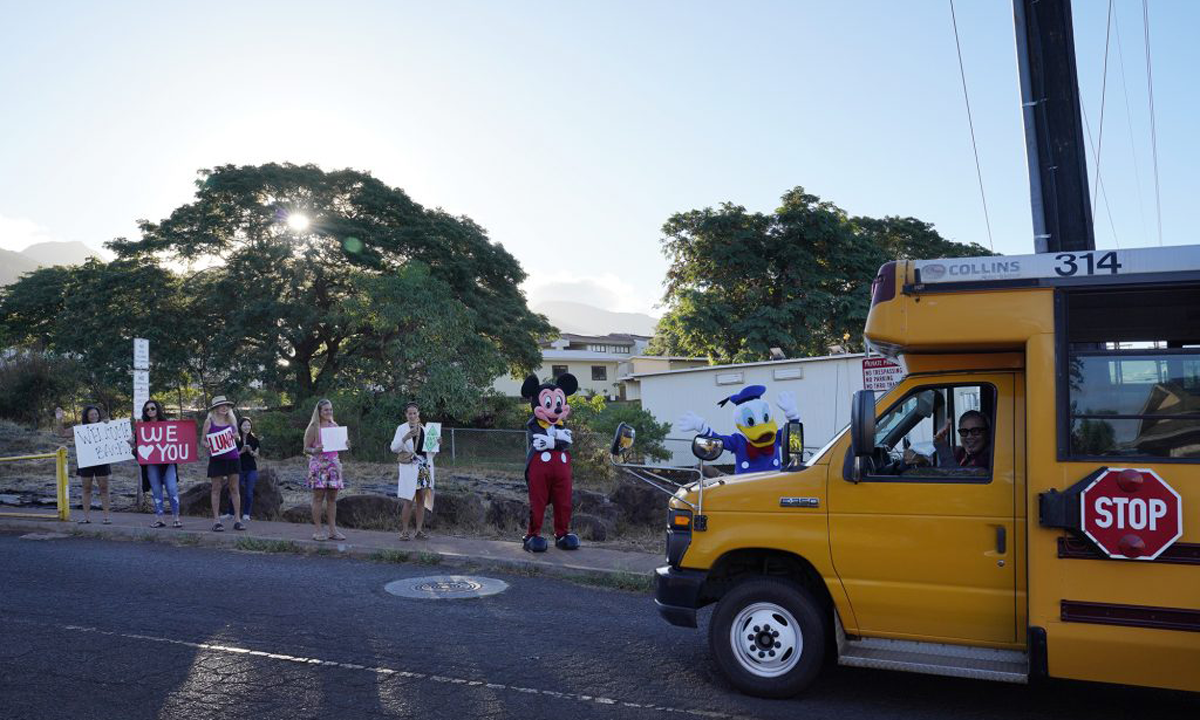 Support The 74's year-end campaign. Make a tax-exempt donation now.
The Hawaii Department of Education continues to be pressed to address community concerns around fire preparedness and health precautions at Lahaina's reopened school campuses, including the lack of transport at Lahainaluna High if a mass evacuation was required.
The issue was raised Thursday, as the House Working Group on Schools heard public comment on its draft report recommending how Hawaii schools can better prepare for future fires and disasters. The working group, one of six formed in the aftermath of the Aug. 8 wildfires, will release a final version of the report next month that will inform policy priorities ahead of the 2024 legislative session.
Last month, students and faculty returned to Princess Nahienaena Elementary, Lahaina Intermediate and Lahainaluna High despite community concerns that toxic ash from the nearby burn zone could contaminate the campuses. The DOE emphasized that extensive testing of air quality, water and soil indicated it was safe for students to return.
Princess Nahienaena's campus is also hosting students and faculty from King Kamehameha III Elementary, whose campus was lost in the fires.
At Thursday's Board of Education meeting, deputy superintendent Tammi Oyadomari-Chun said just over 2,000 students are enrolled in the four Lahaina schools, roughly 1,000 fewer students compared to the start of the year. Many students have relocated to other public schools on Maui or enrolled in non-public schools across the state.
Parents had already raised concerns that there was only one road in and out of the three Lahaina campuses at a community meeting in September. In response, DOE and Department of Transportation built an emergency access route days before schools were set to reopen. Justin Woodson, co-chair of the House working group, commended the DOE for the quick response.
"It is one way in which we show how we can be more responsive to community concerns," Woodson said.
However Woodson questioned schools' abilities to respond to future disasters. Currently, schools do not make their emergency action plans publicly available although the House draft report recommended that they do so.
But DOE deputy superintendent Curt Otaguro said the department will not release the plans at this time. Emergency action plans can include sensitive information, including schools' responses to security threats like active shooters, he said.
He added that the department may reevaluate its stance to see if it could publicly release information about evacuation plans in the case of a fire.
"We have nothing to hide," Otaguro said.
Students' abilities to evacuate in the case of emergency was another point of concern for representatives. Right now, Otaguro said, some schools don't have buses on campuses that could assist with the mass evacuation of students. For example, at Lahainaluna High, students would use personal vehicles or evacuate the campus by foot, Otaguro added.
"When you say that evacuation is reliant on personal vehicles, already that concerns me as a parent," Woodson said.
DOE is discussing potential options for providing transportation to schools in the case of a mass evacuation, Otaguro said. He added that boarders at Lahinaluna High used personal vehicles to evacuate the campus on Aug. 8, although the school has since purchased transportation that can move boarders off-campus in the case of emergency.
Rep. Lisa Marten also recognized that some Lahaina parents have been following school air quality monitoring "like crazy" out of concerns that heavy winds in the burn zone could cause toxic dust to spread across the campuses.
Students have also raised worries about the air quality following high winds at the high school over the past week, said Lavinia Tuavao-Tupou, a senior at Lahainaluna High who attended Thursday's BOE meeting. She added that many of her peers didn't attend school earlier in the week in response to the red flag warning issued for the state.
"The fear is still there," Tuavao-Tupou said.
Air quality monitors are sensitive and may suddenly change in response to harmless activities, like weed whacking, that stir dust on campus, Otaguro said. But he recognized that DOE could provide additional communication to families explaining why air quality readings unexpectedly change during the day.
In the case that students need to shelter in place if the air quality significantly worsens, some Lahaina classrooms will also need to be retrofitted with air conditioning, Otaguro added.
"It's a work in progress," he said.
Moving into the second half of the school year, DOE must address ongoing concerns about the housing insecurity of Lahaina students and teachers, Oyadomari-Chun said. In the Lahaina schools that reopened last month, just under half of the students had former home addresses that fell within the burn zone.
"What we have concerns about is what's going to happen in the long-run in terms of both staffing and student enrollment," Oyadomari-Chun said.
Lahaina schools will continue to offer free breakfast and lunch to all Lahaina students through the end of the school year, Oyadomari-Chun said. With donor support, DOE began offering free meals to all students when they first returned to campus, and the initiative will continue with the support of the Bezos Family Foundation and Marriott Foundation, she added.
Gary Kanamori, principal at Princess Nahienaena Elementary, told the BOE that free meals will be vital in helping families transition back to school.
"Our entire school community will continue to rebuild and thrive," he said.
Civil Beat's education reporting is supported by a grant from Chamberlin Family Philanthropy.
Civil Beat's coverage of Maui County is supported in part by grants from the Nuestro Futuro Foundation.
Support The 74's year-end campaign. Make a tax-exempt donation now.