Lee: Black History Demands We Break Down Barriers and Build Up Kids. How One School Network in Newark Answers the Call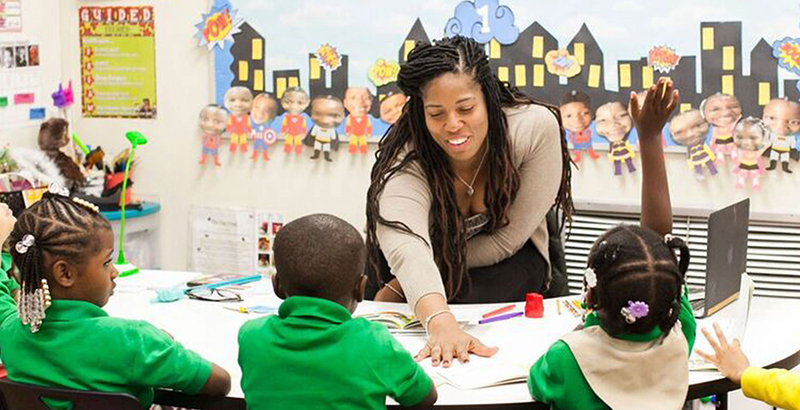 Skipping stones. Looking someone in the eye. Not crossing the street for a passerby. I stood under 800 steel columns hanging from the roof of the National Memorial for Peace and Justice in Montgomery, Alabama, engraved with names of thousands of black Americans lynched in our country for reasons like these.
Standing there, I thought of the abusive practices and unjust systems that still plague black communities today. Then, my mind shifted to my own community and the students in the BRICK (Building Resilient, Intelligent Creative Kids) Education Network (BEN), in Newark. New Jersey's first and only African-American-led charter management organization, BEN invests in children and caregivers to knock down barriers to academic success. We know that education allows children to achieve their dreams, but historic inequities and trauma prevent too many black and brown children from reaching their dreams.
As we reflect on our past during Black History Month, we owe it to black and brown children to commit to dismantling the systemic racism that blocks them from the high-quality education they need to succeed. At BEN, we are dedicated to giving children an unimpeded pathway to unlocking their unlimited potential.
Beyond slavery and the victims of the Jim Crow South, numerous biased laws, policies and social injustices adversely affect black communities. Take redlining, which created enormous wealth gaps in our country and intentional disinvestment in black communities, producing distressed neighborhoods with a lack of quality housing and infrastructure that remains prevalent in many urban cities.
These injustices continue to impact academic success today. The scholar Gloria Ladson-Billings calls this "education debt." Black and brown students constantly pay figurative interest from social and economic inequities while their white counterparts accrue educational wealth. How? Children of color start school behind the curve because high-quality early child care is not accessible. Black children disproportionately miss more school because they lack equitable access to preventative care. Bias among teachers and administrators means students of color are often overlooked for Advanced Placement courses as well as gifted and talented programs. Black children are unlikely to have teachers who resemble them in the classroom, unlike their white peers. They also face harsher school discipline, robbing them of the valuable learning time. In 2015-16, while black students made up 15 percent of school enrollment nationally, they represented 31 percent of students referred to law enforcement or arrested.
At BEN, we design, transform and run innovative public schools like Achieve Clinton Hill and Marion P. Thomas Charter School, New Jersey's first African-American-led charter school network, which are powered by diverse teachers who are committed to their students and see their identities as assets, not barriers. Our schools practice culturally relevant pedagogy and champion students to succeed while acknowledging systemic obstacles.
Studies also show that student outcomes are linked to healthy homes, which is why BEN works with caregivers to provide resources to students and families. We understand that children who are hungry, suffer from chronic asthma or don't have a permanent place to live won't be able to learn. If caregivers need tutoring, health care or therapy for their children, we connect them with community organizations that meet their needs. Our team members are trained to spot these traumas and support students in their healing.
Education allows children to achieve their dreams. Visiting the memorial reminded me that too many black children don't have the opportunities and resources they need to excel. I challenge my fellow educators across the country to use Black History Month as a starting point, not just a moment in time, to evaluate how they can dismantle structural racism in their schools. We owe it to future generations to not only value diversity in whom we hire and who sets school policy, but also to create an inclusive, nurturing environment for all students.
Dominique Lee is founder and CEO of BRICK (Building Resilient, Intelligent Creative Kids) Education Network, a Newark-based charter management organization based in Newark that relentlessly knocks down barriers to students' academic success so they can have an unimpeded pathway to unlocking their limitless potential.
Get stories like these delivered straight to your inbox. Sign up for The 74 Newsletter