Study: Virtual Tutoring Boosted Young Readers' Literacy Scores
The study, from researchers who typically advocate for in-person models, could be a breakthrough for schools struggling to find tutors.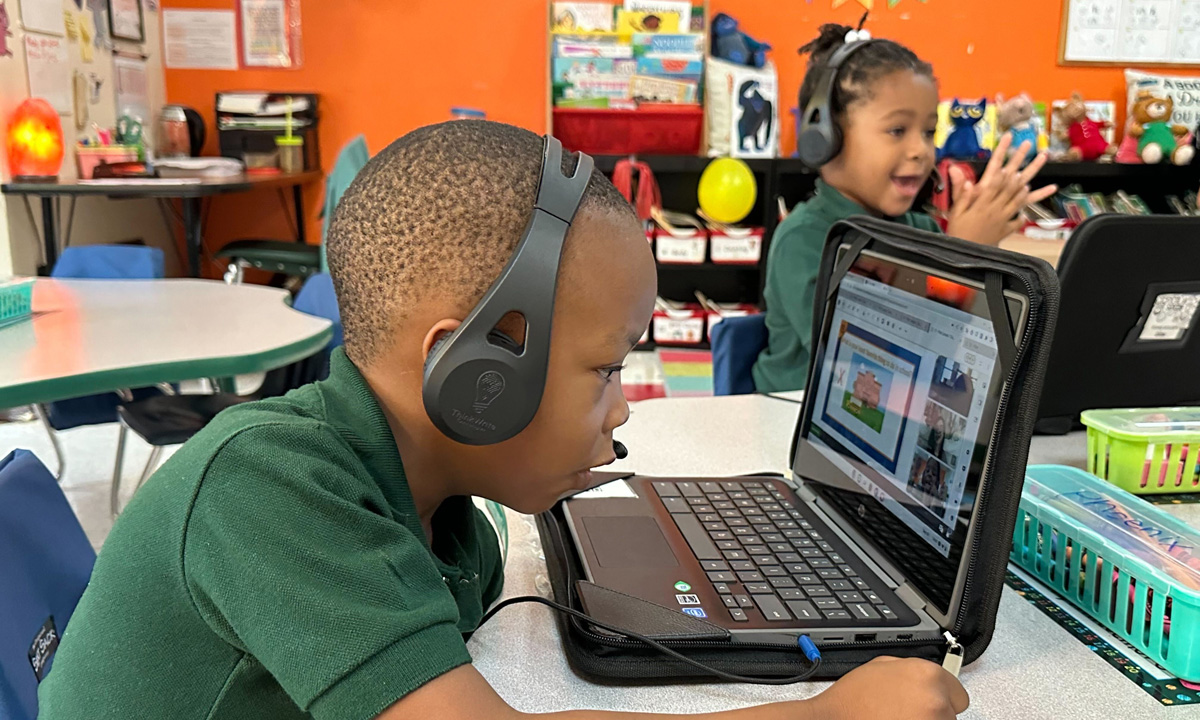 Support The 74's year-end campaign. Make a tax-exempt donation now.
Young children learning to read made significant progress after participating in a high-dosage virtual tutoring program, according to new research released Wednesday — results that seem to defy conventional wisdom about effective ways to improve performance.
Not only is the program — called OnYourMark — targeted to students who especially struggled to learn remotely during the pandemic, but the study was conducted by experts who typically advocate for in-person tutoring.
"I was nicely surprised," said Susanna Loeb, a Stanford University education researcher and leader of the National Student Support Accelerator, which has been tracking efforts to expand high-dosage tutoring. "The trick is to get [tutoring] to as many students as we possibly can. Being able to do it virtually could really help in the scaling and expansion of this kind of intensive, individualized attention that many students need."
The evaluation, conducted in 12 Texas elementary schools as part of the Uplift Education charter network, found that over 1,000 K-2 students in the program scored higher on literacy tests than students without the extra support. The results translated into 26 extra days of learning in letter sounds for kindergartners and 55 extra days on decoding for first graders with a one-on-one tutor. Second graders did not benefit as much from the intervention.
While the virtual program was still less effective than in-person tutoring, the model could be a breakthrough for schools in rural areas and those that have struggled to recruit tutors, Loeb said. Districts' pandemic recovery efforts have sometimes fallen short because they can't find trained educators or volunteers to do the job. And research by Loeb and others has found that only a fraction of students who need extra help take advantage of on-demand virtual tutoring programs.
OnYourMark Education, a nonprofit, is a contrast to the virtual models that researchers like Loeb have long criticized. It's offered four times a week during the school day. The tutors, which include college students, retired educators and those who have worked for other virtual tutoring companies, receive training in the science of reading.
"We've put a stake in the ground that our focus as an organization is to really support students to become proficient readers by the time they reach third and fourth grade," said Mindy Sjoblom, a former Teach for America middle school teacher and principal who founded OnYourMark in 2021.
But when the program started with Uplift as a pilot, she wasn't sure if the tutors would be able to form strong relationships with young children remotely.
"We had to get the timing right," she said. The 30 minute-blocks they started with didn't work well. "Honestly, that was too long to expect a 5-year-old to sit and attend to anything, not to mention be in front of a screen."
Twenty minutes, she said, has proven to be the "sweet spot," allowing tutors to have informal chats with students — about what they had for dinner last night, for example, or how their basketball game went — before diving into a solid 15 minutes of work on decoding and fluency.
OnYourMark now works with 22 schools in seven states, and Sjoblom said she expects to add more students before the end of this school year. Last fall, Accelerate, an organization funding effective tutoring programs, awarded the nonprofit $250,000 to support the research effort. The organization is also a semifinalist for the Yass Prize, a $1 million award that recognizes successful education providers.
'A great option'
Loeb's team used two common assessments to evaluate the impact of the program — Dynamic Indicators of Basic Literacy Skills, or DIBELS, and MAP Reading Fluency from NWEA, a testing and research organization.
Kindergartners randomly assigned to OnYourMark recognized 3.5 more letter sounds per minute than students who didn't receive tutoring. First graders' mastery of sounds and decoding skills also improved.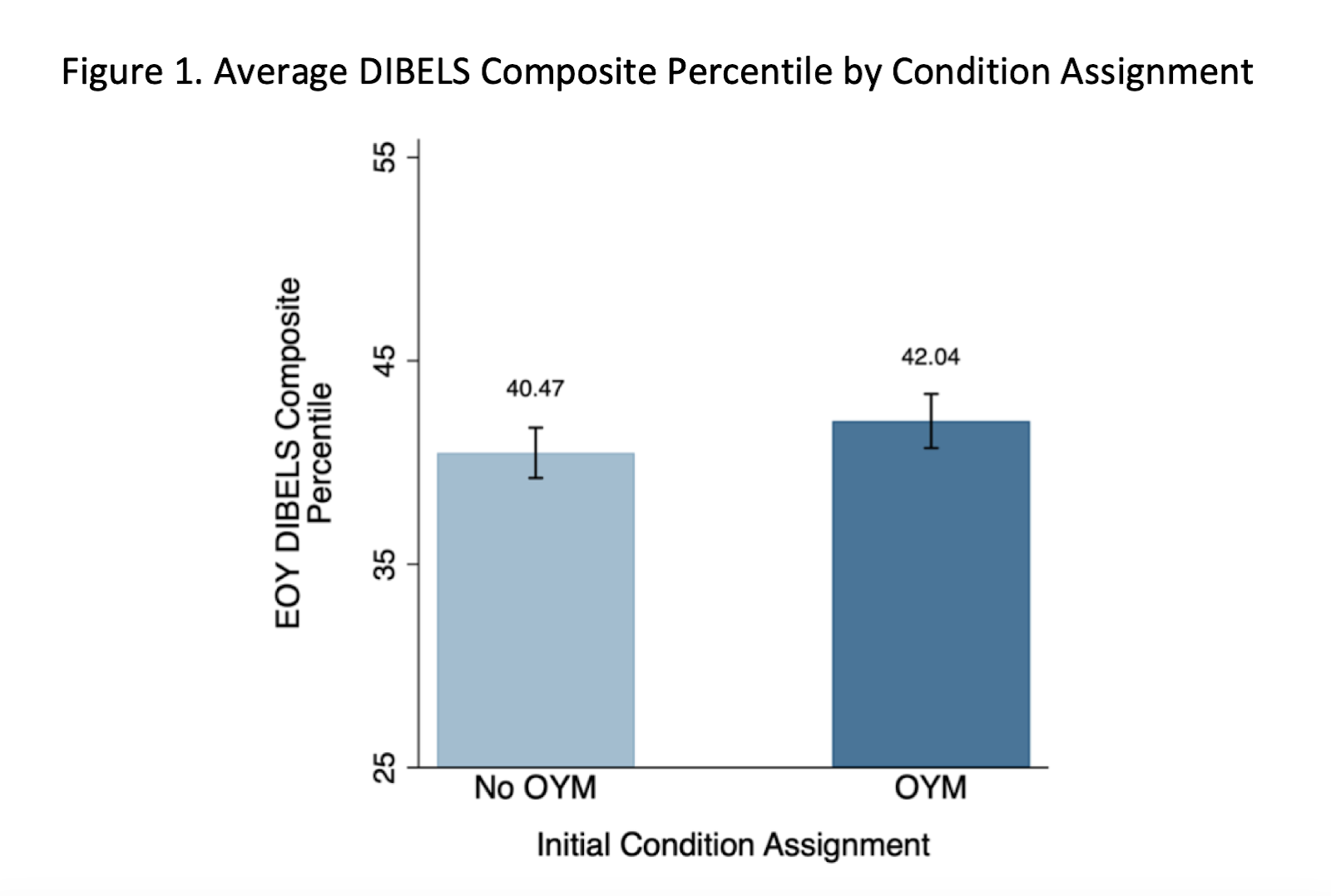 Loeb said while the one–to-one model is clearly stronger, the program is still effective when students work in pairs with a tutor.
"This is a great option when staffing is hard," she said, alleviating the need for tutors to commute and get acclimated to a school.
The results among second graders were not significant. Sjoblom sees a few reasons for the disappointing outcomes. First, last year's second graders were in kindergarten during the 2020-21 school year, when many schools were closed for the pandemic. They didn't master a lot of the foundational skills that most kids get in kindergarten and first grade.
Older students struggling to read, she added, get embarrassed and have a harder time staying engaged with tutors remotely.
But Loeb said to get such results from a startup is still impressive. Yasmin Bhatia, the CEO of Uplift, added that future research will focus on the specific skills tutors should focus on with second and third graders.
OnYourMark, she said, has met the network's needs in a few ways. First, it's hard to find tutoring companies even willing to work with younger students. Most, she said, focus on the "tested grades" — third and higher. School leaders, she added, are "putting their best talent in those upper level grade levels."
Uplift, she added, serves a high-poverty population that typically would be unable to afford a private tutor. And when the network offered at-home virtual or afterschool tutoring, participation was inconsistent. Bhatia called OnYourMark "another way to support parents" and ensure young readers are getting the extra help they need.
"We view it as such a high priority," she said, "that we made it a part of the school day."
Disclosure: Overdeck Family Foundation provides support to OnYourMark Education and The 74.
Support The 74's year-end campaign. Make a tax-exempt donation now.