Lawmakers Aim to Boost Kids' Access to Autism Therapy at Colorado Schools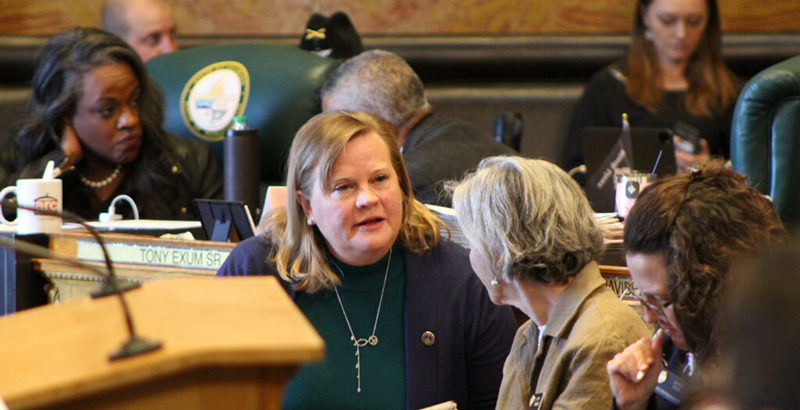 No paywall. No pop-up ads.
Responding to concerns from families of children on the autism spectrum, Colorado lawmakers overwhelmingly supported legislation aimed at ensuring access to prescribed medical treatment at school.
"This bill is really about children, quite a few of them with autism spectrum disorder diagnoses, seeking medical treatment at and during school to be able to properly live their school experience," Rep. Meg Froelich, an Englewood Democrat, said before the House of Representatives voted April 26 to advance House Bill 22-1260.
On Wednesday, the Colorado Senate gave final approval to HB-1260, sending it to Gov. Jared Polis.
Along with Froelich, HB-1260 is sponsored by Sens. Cleave Simpson, R-Alamosa, and Rhonda Fields, D-Aurora. The sponsors had originally proposed a bill that would have required schools to provide "reasonable accommodations" as determined by a care team that would allow them to receive necessary medical treatment at school.
Among the supporters of HB-1260 were businesses that provide pediatric therapy and home health care; the Colorado Cross-Disability Coalition, which advocates for people with disabilities; and the Colorado Association for Behavior Analysts. The bill faced opposition from public school administrators, special education directors and many school districts.
An amendment passed April 21 in the House Education Committee gives school districts slightly more flexibility than the original bill. Under the amended bill, they would be required to adopt policies by July 1, 2023, governing how a student with a prescription from a qualified health care provider could receive necessary treatment. In some cases, that treatment could involve a private provider who was not employed by the school. The policies would need to be posted on districts' websites and provided to families upon request.
"The bill indicates quite specifically that these are medically necessary treatments," Froelich said. "They are covered by insurance and Medicaid."
Starting in 2024, school districts would also have to track and report on the number of requests for access to a student by a private health care provider and whether the access was granted or denied.
One example of a prescribed treatment that might need to be provided in a school setting is applied behavioral analysis, a type of one-on-one therapy that is part of the "generally accepted standards of care" for children with autism spectrum disorder, or ASD, according to the text of HB-1260.
"It is in the interest of the child, the child's family, and the state that a child who is diagnosed with ASD receive proper care and treatment in order to have the opportunity to be a fully functioning individual in society," the bill declares.
HB-1260 passed in the Senate on a vote of 34-0, with one lawmaker, Sen. Bob Gardner of Colorado Springs, excused. In the House, the bill passed on a 61-3 vote April 27. The "no" votes belonged to Reps. Shannon Bird, D-Westminster; Stephanie Luck, R-Penrose, and Shane Sandridge, R-Colorado Springs. Rep. Steven Woodrow, a Denver Democrat, was excused for the House vote.
Colorado Newsline is part of States Newsroom, a network of news bureaus supported by grants and a coalition of donors as a 501c(3) public charity. Colorado Newsline maintains editorial independence. Contact Editor Quentin Young for questions: info@coloradonewsline.com. Follow Colorado Newsline on Facebook and Twitter.
Get stories like these delivered straight to your inbox. Sign up for The 74 Newsletter