LAUSD Service Workers Move Another Step Closer to a Strike
SEIU Local 99's leaders announced at a LA Unified board meeting they were canceling contract extension, which includes a no-strike provision.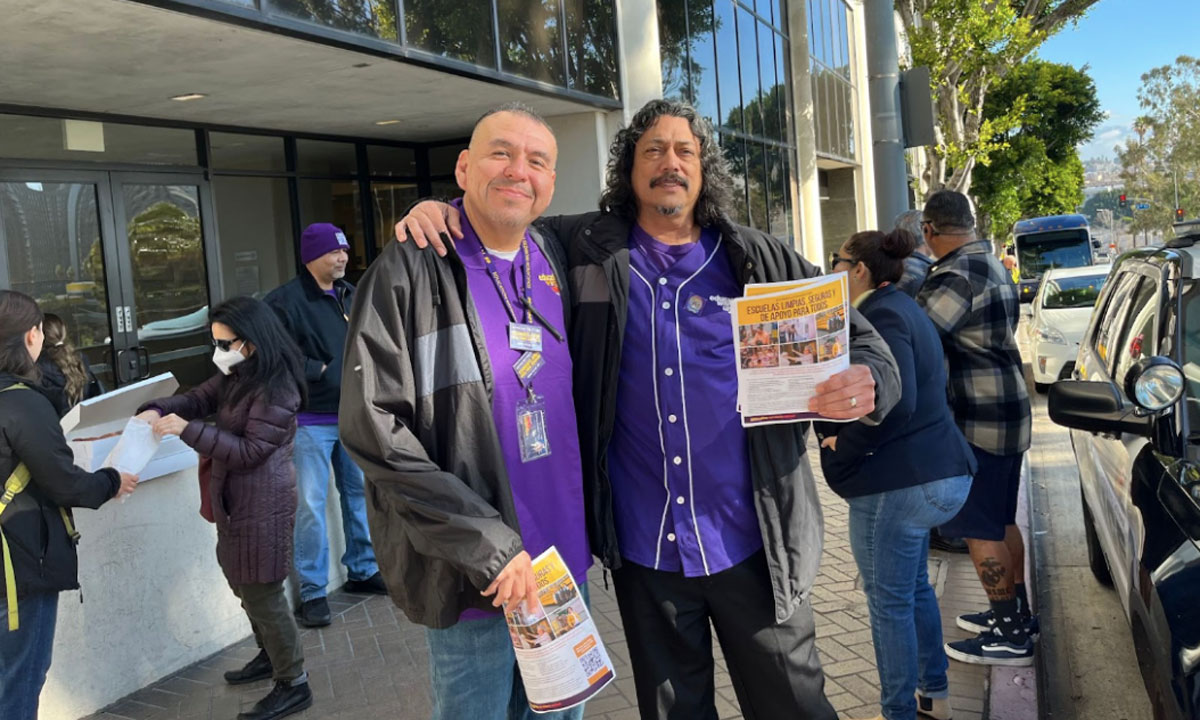 Get stories like these delivered straight to your inbox. Sign up for The 74 Newsletter
Update, March 13:
SEIU Local 99 announced over the weekend that it plans to hold a 3-day unfair labor practice strike to protest what it characterizes as harassment from LAUSD. The union will announce dates for the strike this Wednesday at a joint rally with the teachers union, UTLA. An FAQ on UTLA's website says its members "are preparing for full solidarity once the [strike] dates are announced." The rally will take place from 4:30 to 6:30 p.m. at Grand Park in front of L.A. City Hall. In addition, the LAUSD school board will meet Tuesday to discuss the labor negotiations in a special closed-session meeting.
The union representing LAUSD's 30,000 school bus drivers, custodians, and other service workers took another step closer to a strike yesterday in a move that could lead to a shutdown of the nation's second largest school district.
"We are canceling the extension of our current union contract," said SEIU Local 99 executive director Max Arias at yesterday's school board meeting. "This includes the no-strike provision."
The announcement follows a string of threats issued by Local 99 leaders in recent months, each one bringing the union closer, at least rhetorically, to a work stoppage.
A representative for a coalition of 47 organizations also addressed the negotiations, presenting the board with a letter urging its members "to address the historic underinvestment in a group of workers — namely women of color — who have consistently demonstrated their commitment to the students and families of Los Angeles."
In December, service workers rallied in front of LAUSD headquarters. In January and February, the union held a strike authorization vote, which passed with 96% support. Now, by canceling the contract extension and its no-strike provision, the union opens the possibility a strike could occur even sooner than anticipated.
"We do not take this decision lightly," said Arias.
Ana Teresa Dahan, managing director of GPSN, spoke on behalf of the 47 organizations.
"We want to encourage an equitable resolution and believe in the Superintendent's leadership to make that happen" said Dahan, quoting from the letter.
The letter praises Local 99's in-person work early in the pandemic and its advocacy to end "willful defiance" suspensions and increase K-12 arts funding. Other signatories include Educators for Excellence Los Angeles, The Los Angeles Trust for Children's Health, and the Los Angeles Urban League.
The union's presence at the board meeting was part of a district-wide action on Tuesday — informational picketing at nearly 300 schools — calling attention to alleged unfair labor practices. In documents filed with the state labor board, the union alleges a variety of obstruction and intimidation tactics from district administrators during last month's voting period to authorize a strike.
One charge describes a principal who, by continually popping into the staff lounge, would not allow union members to confer in private. Another describes an official who placed boxes in front of a bulletin board holding voting information.
In a statement Wednesday, LAUSD said it was "disappointed" in SEIU's decision to cancel its contract extension, acknowledging a strike would "cause a significant disruption to instruction, and would adversely impact our entire system."
A strike protesting these tactics — an unfair labor practice strike — could be called at any time.
The union's other weapon, an economic strike, can only be called once the state's negotiating procedure has been exhausted. The union has moved closer in that direction as well.
Arias said state-facilitated mediation has failed, leading to the step of fact-finding, during which a three-member panel reviews each side's arguments and produces a non-binding recommendation.
The district has "made some movements I want to commend them on," Arias said in an interview, adding that during recent negotiations, LAUSD agreed to expand health benefits for teaching assistants and after school workers.
But, he added, they haven't come close to meeting the union's core demand of a 30% wage increase as well as an hourly bump of $2, the latter proposed with the union's lowest-paid members in mind.
The average annual salary for union members is $25,000, and many are living paycheck to paycheck.
Three board members on Tuesday — Nick Melvoin,Tanya Ortiz Franklin, and board president Jackie Goldberg — wore purple, the color of SEIU. LAUSD superintendent Alberto Carvalho showed up late, missing Local 99 president Conrado Guerrero's two minutes of comment, which highlighted members' work to prepare sack lunches and maintain facilities during the early pandemic.
"How soon LAUSD forgets," Guerrero said.
When Arias made his announcement, some board members looked surprised, but Carvalho appeared unfazed, moving only to lift a small glass coffee mug to his lips.
Local 99 has the backing of United Teachers Los Angeles, whose board voted in January to support the service workers if they struck by not crossing the picket line.
On March 15, Local 99 and UTLA will hold a joint rally at LA City Hall.
Get stories like these delivered straight to your inbox. Sign up for The 74 Newsletter