LAUSD School Bus GPS Tracking a Great Idea but Not Always Accurate, Parents and Drivers Say
Parents and bus drivers say the feature is often inaccurate, creating confusion in what can already be tough pick up and drop off schedules.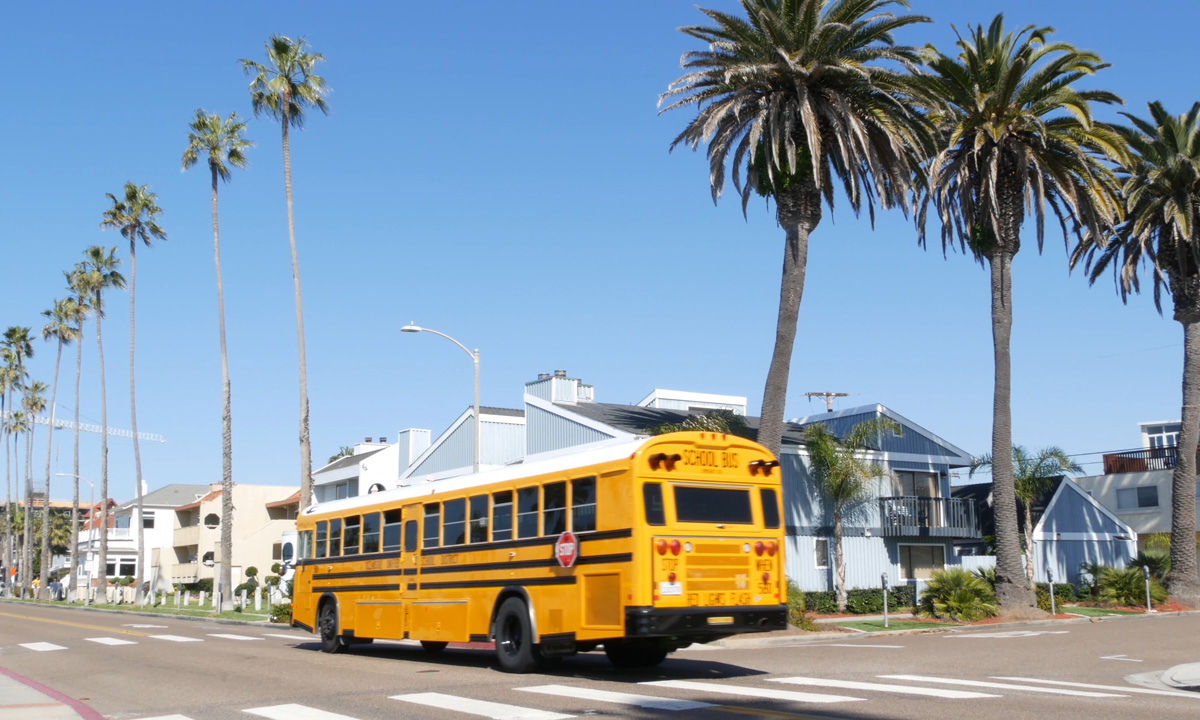 Support The 74's year-end campaign. Make a tax-exempt donation now.
A new GPS system for L.A. Unified parents to track their children's bus routes on the LAUSD app launched in May to share real-time updates and information about delays — but there have been glitches.
Several parents and bus drivers told LA School Report the feature is often inaccurate, creating confusion in what can already be tough pick up and drop off schedules.
"I was looking yesterday and my daughter managed to get on the wrong bus so I was able to track her from my own air tag," said a parent of an elementary school child who has a daily bus ride of up to an hour and 45 minutes. The parent asked to remain anonymous because speaking out about education issues in the past led to a confrontation with school officials.
"However when I looked on the app just to see where her bus was, before I learned she got on the wrong bus, the app showed it was in Hollywood near Sunset, which was totally wrong," the parent said.
Parents and guardians use several means to track students on the bus, including Apple air tags, cell phones, as well as the district's GPS.
"It's definitely helpful," said the parent of the LAUSD GPS, "but with today's technology and with the school district's budget, they can do better."
Parents discussed bus delays on a LAUSD parent Facebook page as the school year started amid Tropical Storm Hilary, voicing their frustration with the GPS' inaccuracies.
"Real time tracking was not working on the app while my kids were riding the bus this past week, hoping it starts working at some point," one parent wrote.
"I used the tracking system when it began last semester. It was 50% accurate. I'm not counting on it being any better this year," another commented.
Los Angeles Unified handles an estimated 2,700 bus routes daily across 70,000 miles, carrying an estimated 43,000 students, a district spokesperson said.
The new bus tracking feature was unveiled as part of a slew of updates with the latest version of the LAUSD 3.0 app, available in English or Spanish, including viewing the school menu, and reporting criminal or suspicious activity anonymously.
"I don't know anyone whose GPS is running correctly," said John Lewis, who has been driving an LAUSD bus for 30 years.
"I think it's a wonderful idea," said Lewis, who has been driving about 50 students on his current route from the San Fernando Valley to middle and high schools in Central LA for the last seven years. "I have a new bus and it doesn't work. But the thought is a great thought."
Lynniere Boyd-Peterson, an LAUSD bus driver of 33 years, said the GPS is a good tool in theory, but also has not seen it work accurately.
She said sometimes parents blame drivers for delays in getting their children home by not sticking to the bus route.
"We have a lot of parents that sometimes will say things that are incorrect," Boyd-Peterson said. "And when they do that, the GPS can prove where we've been. But if the GPS is not working properly, it's really not proving the case."
Los Angeles is known for heavy traffic, and the district has a system where if drivers are running 10 to 15 minutes behind, they will call and alert a dispatcher who will send out a text to parents and families.
But some parents said those texts can also be delayed and inaccurate.
"I have received texts about delays but it's generally after I get my kids to the bus or after the bus has already picked them up," said the parent whose daughter carries an air tag.
In an email to the LA School Report, a district spokesperson refuted the claims of problems with the new GPS feature.
"Our systems currently indicate that the bus GPS functionality in the LAUSD App is operating at full capacity with no disruptions," the spokesperson said. "The LAUSD App simply takes the GPS data from our buses and conveys that information through the Parent Portal."
The spokesperson added if families are having issues with the app, to contact the district at transportation.division@lausd.net.
This article is part of a collaboration between The 74 and the USC Annenberg School for Communication and Journalism.
Support The 74's year-end campaign. Make a tax-exempt donation now.