'LAUSD Is Not Too Big to Fail': School Board Alarmed by Dire Financial Projections — and Warning of Possible 'Fiscal Adviser'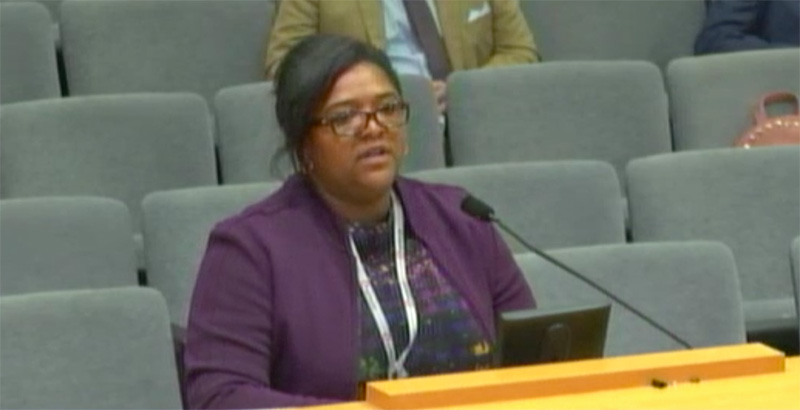 This article was produced in partnership with LA School Report.
As night drew near after a drawn-out and divisive four-hour debate on how to replace a disgraced L.A. Unified School District board member, a bombshell was dropped at school board members' feet.
District finances are of such great concern that the Los Angeles County Office of Education's chief financial officer showed up unannounced to make sure the board members knew the extent of it.
"The fact is that LAUSD is not too big to fail, so it is up to all of us to resolve the district's fiscal challenges," Candi Clark told the board at the Aug. 21 meeting. She then warned that the county has the authority to place a fiscal adviser over the district. "Keep in mind, this is the start of our support to ensure that the district remains fiscally solvent."
The two board members who have served as superintendents at other school districts immediately took notice at the words "fiscal adviser."
"She just said the magic words — fiscal adviser," said George McKenna, who had experience with a county fiscal adviser at Inglewood Unified School District, which the state later took over. "I heard this, and I heard things I had not heard the county come and say before.
"That was the most serious thing that was said all day. I'm shocked."
Richard Vladovic, formerly superintendent of West Covina Unified School District, said, "What that means is that they looked over our forecast. … We have one pot of one-time money that's already spent. We're in deep trouble."
He added, "This blew me away. … I want everybody to know, this is not Chicken Little."
Installing a fiscal adviser would be a serious — and unprecedented — development at L.A. Unified.
L.A. County has already taken that step with Montebello Unified, a neighboring Los Angeles-area school district, which now has a county-imposed fiscal adviser after a state audit found poor financial management, the hiring of unqualified staff, inappropriate use of bond money, and failure of the board to heed warnings from the county about deficit spending, as reported in the Whittier Daily News.
While the fact that the county is talking about a fiscal adviser for L.A. Unified was news to the board members, the details of the district's bleak finances were not. The district's chief financial officer, Scott Price, has been patiently relaying it at meeting after meeting this past year. His predecessor, Megan Reilly, had done the same thing, routinely warning that reductions would have to be made. Reilly resigned a year and a half ago to take a similar position at the Santa Clara County Office of Education.
On Tuesday, Clark also warned that cuts are needed.
"While the budget presented to [the Los Angeles County Office of Education] shows that the district can meet the minimum reserve in all three years, the district has to make $144 million in reductions between '19-20 and '20-21. Those reductions are outlined in the district's fiscal stabilization plan. However, the problem is that these reductions do not eliminate the structural deficit in the district's budget, so there is more work that needs to be done."
She pointed out that L.A. Unified is required to keep money in reserve, which for the 2020-21 school year must be $3.9 million.
"The only thing standing between the district and a qualified budget right now is $3.9 million, which is next to nothing. This is a major concern for me and my team as we review the district's budget, considering the fact that the district is declining in enrollment, has uncapped health and welfare benefits for all staff and dependents, and the fact that negotiations are still unsettled. We are carefully monitoring negotiations, and we urge the district to continue to make progress toward implementing with fidelity the fiscal stabilization plan."
The district's negotiations with United Teachers Los Angeles are at an impasse, and the two sides are scheduled to meet with a mediator Sept. 27. On Monday, Superintendent Austin Beutner welcomed an offer by Mayor Eric Garcetti to help in the negotiation process. The district is offering to give teachers a 6 percent salary increase, matching what it has already negotiated with other labor partners. But the union is demanding further concessions that the district says would cost more than $1 billion beyond what the raises will cost and which the district can't afford, as it already spends $400 million to $500 million more than it brings in each year.
Union members voted overwhelmingly last week to authorize their leadership to call a strike, which one member said in an op-ed in the Los Angeles Times has already been scheduled for Oct. 3. "A strike date before mediation and fact finding are completed would be a violation of the law," the district stated in a response to the op-ed.
But before the two sides sit down with the mediator, L.A. Unified's budget will get a thumbs-up or thumbs-down from the county, which is legally required to oversee the budgets of the school districts in Los Angeles County.
"We are currently in the process of reviewing the budgets of all 80 districts in the county, including LAUSD. This process will be completed by Sept. 15, and at that time we will have more information to provide on LAUSD's fiscal situation," Margo Minecki, a spokesperson for the Office of Education, said in an email. She said Clark was not available for comment.
Support The 74's year-end campaign. Make a tax-exempt donation now.