LAUSD Failed Students With Disabilities During the Pandemic: Parents, Advocates, Attorneys on How the District Should Help Them Now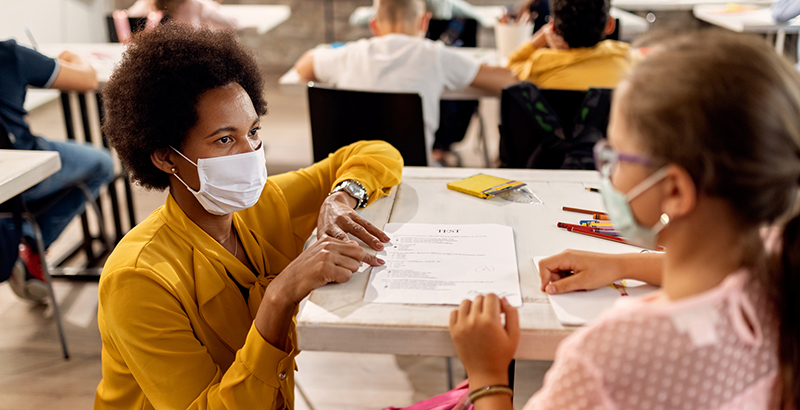 Support The 74's year-end campaign. Make a tax-exempt donation now.
This article is part of a collaboration between The 74 and the USC Annenberg School for Communication and Journalism.
When the pandemic hit, 10-year-old Luis, who has autism, quickly started to regress.
Luis's mother said the boy stopped socialializing after his fourth grade class at his Los Angeles Unified school in Southeast L.A. shut down. She asked that the family not be identified in order to protect her son.
He began having behavioral issues. He fell way behind in his academics — all after not receiving his mandated services of behavior, speech, and occupational therapies or his one-on-one aid over Zoom.
Now back in school, Luis needs two years of missed services to catch up, said his mother.
"He needs these services again as soon as possible," said Luis's mother. "I have no other options."
Hopefully, Luis will soon get the services he needs.
Last Thursday, LAUSD agreed to provide these services to Luis and more than 66,000 district students with disabilities in a resolution with the federal Office of Civil Rights after an investigation revealed students were not provided federally-mandated services during the pandemic.
The broadly-worded nine page agreement calls for the district to create a plan providing students the compensatory services, staff training and ongoing communication with parents on the plan's status.
Concerned about how the district's Special Education Division will implement the services, disability rights lawyers, advocates and parents offered ideas on what LAUSD needs to provide to the students — including mental health services, more special education teachers, more staff training, better transportation to services and a bigger special education budget.
"I'm concerned [the resolution] is a way for the district to look compliant without fixing root issues," said Jill Rowland, Education Program Director at the Alliance for Children's Rights, which advocates for the rights of foster care youth in schools in California.
"We need transportation support to get kids to the providers at centers outside of their schools," she said. "We need translation services to help students and families who don't speak fluent English. There's also already such a shortage of staff, especially for students with disabilities."
The agreement also calls for L.A. Unified to provide 'compensatory services' to students with disabilities, which means the district has acknowledged claims they denied a free and appropriate public education to some students during the pandemic.
L.A. special education lawyer Chris Eisenberg said the resolution is another tool for lawyers, advocates, and parents to use in holding LAUSD accountable to provide students' services.
"I'm hoping that this admission from LAUSD will push them in a better direction," said Eisenberg "With people breathing down their necks, now they will have to be held accountable to the students."
LAUSD's severe teacher shortage is particularly acute among special education teachers. The number of students with disabilities in California has been increasing since 2015 and the special education teacher shortage has gotten worse each year. As of 2021, students with disabilities make up 13% of the district's population.
Special education services are also one of the biggest costs for the district. In 2016, the cost to educate students with disabilities was over $8,000 more per student than that of a general education student.
"The district has always been concerned with spending too much on special education," said Valerie Vanaman, a special education attorney who has been critical of the district's treatment of these students during the pandemic.
Advocates and parents say they want more funds allocated to special education services from the influx of money that the district received for pandemic relief.
Luis' mom, who said she's been disappointed with the quality of the services provided to her son, wants aids, therapists, teachers, and tutors that understand her son's particular issues.
"He deserves better services and a better life than what they're offering," said the mom. "I've lost faith in them."
Lisa Barros Mosko, a parent and former director of advocacy at Speak Up, an L.A. special education advocacy group when the nonprofit produced a survey showing many parents said their children weren't getting services during the pandemic, said there had been an ongoing problem with services for years. 
"The pandemic really shed light on the inequities and lack of services for kids with disabilities in the district."
Advocates and parents also said they were concerned about which officials from L.A. Unified will supervise the district's work on the resolution. They are concerned that it will be the same leadership that denied their children services during the pandemic.
"How can we trust the same people who neglected our children's needs in the first place?" Mosko said. "I think we need completely new leadership in order to rebuild trust."
A Los Angeles Unified spokesperson said in a statement the district has agreed to "critical components" such as staff training and ongoing outreach to special education parents and advocates.
"L.A. Unified remains dedicated to helping all students, including students with disabilities, recover from the pandemic and achieve their educational goals," the spokesperson said.
Rebecca Katz is a recent graduate of the USC Annenberg School for Communications and Journalism Masters Program and a Los Angeles native. She received her bachelors in English literature and political science from USC. She is passionate about mental health and education reform.
Support The 74's year-end campaign. Make a tax-exempt donation now.