Latino Superintendents: 'Going Back to Normal' Not Their Goal After Coronavirus Crisis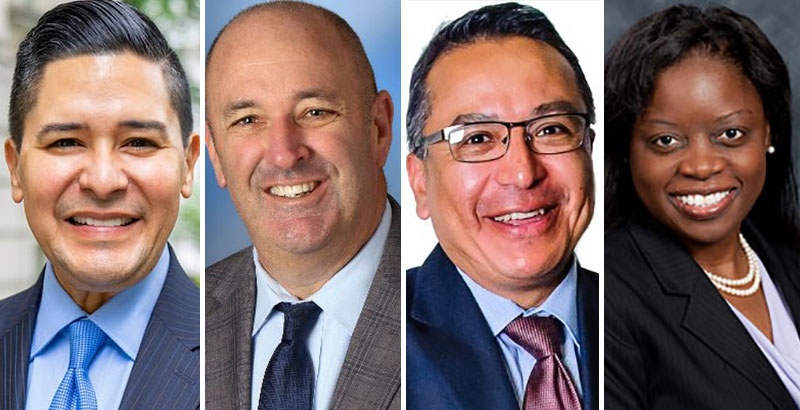 Richard Carranza, chancellor of New York City public schools, says he doesn't allow people to talk about "going back to normal."
Normal, he said in a virtual convening hosted by the Association of Latino Administrators and Superintendents, was a system in which social and economic privilege determined too much about the quality of a student's education — from funding to access to expectations.
"Normal was never good enough for our kids," said Carranza, who oversees the nation's largest school district, with 1.1 million students.
Carranza joined other Latino superintendents and school leaders from across the country April 16 in a discussion about the inequities that existed before COVID-19 and the chances to address them in its wake.
"It's an opportunity nobody wants," said Palo Alto Unified School District Superintendent Don Austin, referring to the tragedy inherent to the outbreak that has closed 124,000 schools and upended the school year for more than 55 million American schoolchildren. Nevertheless, he said, he hoped discussions about the post-pandemic future would be "not just tinkering around the edges, but we can think radically different."
By seizing the spotlight currently shining on pressing issues like the digital divide, differentiated instruction, social and emotional learning, and the numerous wraparound services provided by schools, panelists urged their fellow educators to be "proactive" in modernizing the education system to better serve those who have been less prioritized for generations.
"The schools of the future need to adapt and be more nimble to meet the needs of our kids," said Gustavo Balderas, superintendent of Eugene School District 4J in Oregon and the 2020 National Superintendent of the Year. "I view equity as intentionality."
The pandemic, they said, illustrated the urgency of creating equal access to education. The gaps have been obvious with school happening online, Balderas explained, but they were just as real before classrooms went virtual. Some students have always had the internet at home for research, along with parents who have flexible schedules and enough money for tutors and test prep. Some houses have always had more food than others, more quiet spaces for homework, and multiple transportation options to get to and from school and extracurricular activities.
That's not going to change without a larger social effort, but the superintendents pointed out that the coronavirus has proved that school can change to minimize the impact of the gaps — and even close a few as systems move to provide Wi-Fi, computers and tablets for students. Reports from across the country are showing that teachers are using that connectivity to provide instructional support and flexibility that may serve students who were struggling with the rigid schedules of the school day.
"It starts with courageous leadership," said LaTonya M. Goffney, superintendent of Aldine Independent School District in the Houston area. Districts did not have time to workshop and design their virtual learning models, but the speed of the whole endeavor created a snapshot of what districts had to work with, as well as a stark picture of inequality. "I'm excited about the fact that COVID has brought it to the forefront," she said, but now leaders have to address it.
Closing the access gap will require a clean slate and new rules, Palo Alto's Austin said, that prioritize the students who need the most. Right now, schools across the country are operating outside of normal rules for instruction, grading, meal service and therapeutic intervention. It shows, he explained, that if we consider something critical, the rules can change. In a new world, he imagined aloud, for example, the possibility of year-round school and increased dual enrollment in local community colleges to decrease the cost — in both time and money — of a degree or certification.
Nothing will change, however, if districts are not proactive, said Theresa Plascencia, superintendent of Waukegan Public Schools in Illinois. She urged school superintendents to begin organizing immediately at the state level on finance issues. "Our voice needs to be heard now," she said.
Balderas, of Eugene, reminded educators that data will reveal where more resources are needed, but it takes strong leadership to act on the data.
With every change will come anxiety, as panelists illustrated in multiple ways. Some anxiety is tied to the fast changes that happened as a result of the closures, and they will need to be assuaged through support and "love," Austin said.
"Everything adults and kids thought they knew about school just got turned on its ear. People are struggling to wrap their heads around that. They are frustrated and they don't know why," he explained. "Our teaching staff has enormous anxiety and fear of falling short for their students."
Self-care will become increasingly important as remote learning continues over the long term, the superintendents agreed. Teachers need to set working hours and boundaries about when they will and will not reply to direct messages about assignments. Only once they see virtual learning as an asset will teachers be ready to consider how it might enhance their ability to tailor lessons and assignments when schools reopen, the school chiefs said.
Those challenges can be faced with solidarity, panelists agreed. Other changes, such as shifts in privilege and power within the system, will require hard conversations. When decisions are made with equity in mind, Carranza said, those who had a previous advantage start to react. Though he did not reference it directly, Carranza has experienced substantial blowback as he has taken on school segregation, partially driven by gifted and talented programs and selective high schools sacrosanct to New York City parents. He did tell a story of parents reacting poorly in one of his previous districts (he did not say which, although Carranza previously worked in Houston and San Francisco) as he attempted to reallocate funds to campuses with higher needs.
Already, Austin said, some colleges and universities have waived certain admissions requirements that have always favored the wealthy — such as the SAT and ACT. As they lose their advantage, he said, privileged parents "are coming unhinged." Austin said, referring to reactions from families in the Bay Area whose seats at elite schools may be jeopardized by a larger pool of candidates not filtered by SAT and ACT scores. What he looks forward to, Austin said, is seeing how those students who might not have had access to SAT and ACT tutors and prep courses are able to thrive in colleges they might not have gotten into with those requirements in place.
In such situations, which abound in the time of COVID-19, Carranza said, leaders must step up. Superintendents are sometimes reluctant to talk about the real drivers in educational disparity, he said, because it draws confrontation and criticism.
The main barrier to equity, he said, "is us."
Get stories like these delivered straight to your inbox. Sign up for The 74 Newsletter