Lahaina Teachers Have To 'Start From Scratch' As Schools Prepare To Reopen
Educators are prioritizing social-emotional learning and mental health amid uncertainty about what the next quarter will bring.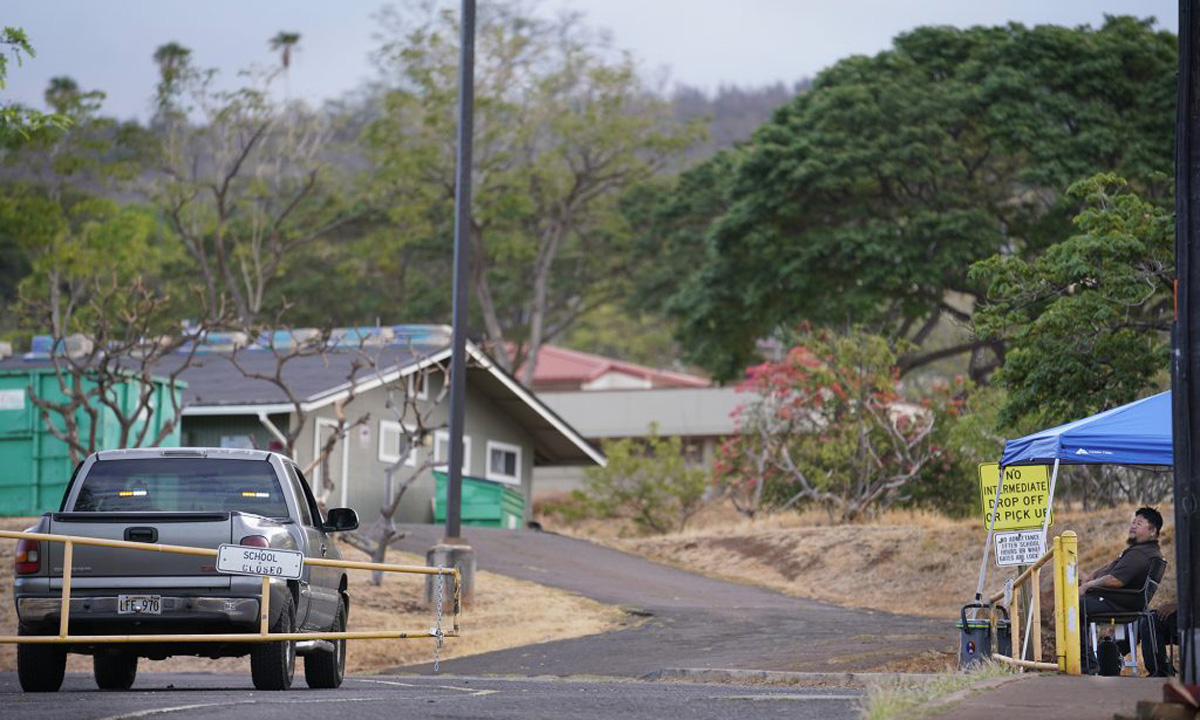 Support The 74's year-end campaign. Make a tax-exempt donation now.
Robert Livermore's wish list for his new classroom includes staplers, pencil sharpeners and other basic supplies. But some items in his destroyed King Kamehameha III Elementary classroom can't be replaced anytime soon — hundreds of dollars worth of Lego bricks, a huge rug displaying the letters of the alphabet and parachute projects his first grade students made every year.
As he prepares to welcome students back to Lahaina, he wishes he had said goodbye to his classroom before the deadly Aug. 8 wildfire consumed the school along with hundreds of other buildings.
"I didn't get to take anything with me," Livermore said. "I'm going to start all over again from scratch."
Three surviving Lahaina schools, which temporarily closed because of the fire, are set to reopen their campuses next week. Educators began preparing for the reopening with concern high about students' mental health, new classroom arrangements and lost learning time.
Many teachers also question how they can offer stability to their students despite the upheaval in their own lives and a lack of clarity over the number of children returning to campuses and logistical arrangements.
Safety Concerns
Some have chosen not to return to jobs in the historic Maui town and have sought alternative teaching arrangements. The Department of Education said that, while a majority of educators will be returning to Lahaina, a small number of teachers has sought temporary relocations. The DOE didn't specify how many teachers will not be returning to the Lahaina campuses next week.
The phased reopening will begin with Lahainaluna High on Monday, followed by Lahaina Intermediate School on Tuesday and Princess Nahienaena Elementary on Wednesday. Students from King Kamehameha III will be able to attend classes in tent-like structures on Princess Nahienaena's campus until a new temporary facility is built next year.
That adds to the uncertainty. Livermore has yet to be assigned a teaching space and doesn't know how many students he'll have.
Livermore predicts that his class size may be much smaller than usual because some students may not return to campus amid questions about environmental safety and evacuation plans after the devastating fire leveled a large swath of Lahaina, leaving a path of toxic debris and worries about air pollution.
The DOE has said extensive testing of air, drinking water and soil quality has indicated that it is safe for students and staff to return to the three schools, which were not in the scorched area known as the burn zone.
Former King Kamehameha III educator Justin Hughey wasn't reassured by the tests and recently chose to relocate to Kahului Elementary, despite teaching in Lahaina for almost 17 years. Hughey said he feels unsafe teaching so close to the site of the fires, especially when strong winds or demolition could disturb the ash and soil at the burn zone in the future.
"Maybe the water is fine right now. Maybe the air is fine right now. Maybe the soil is OK right now, but it's only a matter of time," Hughey said.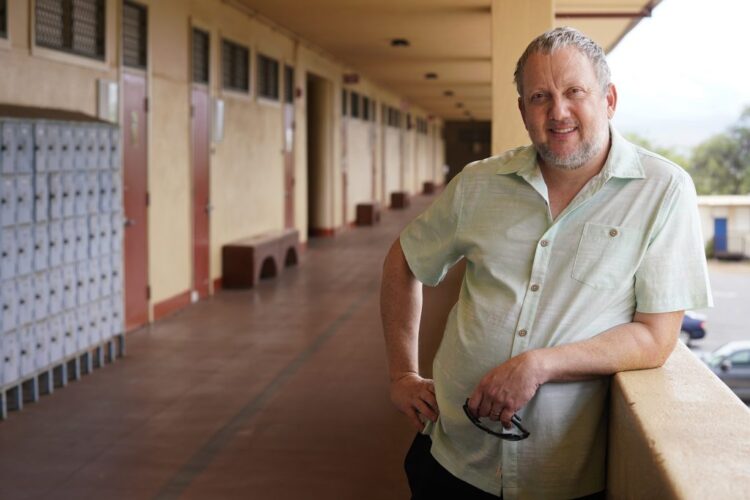 Sen. Angus McKelvey echoed those concerns in a letter he sent to the DOE on Wednesday, urging the department to delay the schools' reopening until more extensive testing can be done. While the Environmental Protection Agency plans on applying Soiltac to the burn zone to prevent ash from spreading, McKelvey worries that it won't be enough and students and teachers may be exposed to unknown toxins near the schools.
"We're talking about people's children here, their number one possession they have left in the world," McKelvey said. "So that's even more of a reason why they should be moving cautiously."
Prioritizing Recovery
Following the fires, learning options for Lahaina students ranged from attending in-person classes in Central and South Maui to enrolling in online instruction. But, teachers say, a focus on social-emotional learning has taken precedence over the lessons they typically introduce at the start of the year.
In a preview of what's to come, Lahainaluna High teachers have already adjusted their lesson plans after starting school in September in temporary accommodations on Kulanihakoi High's campus.
Lahainaluna High teacher Jarrett Chapin said his students appeared more resilient than he had expected, although he is sure the fires are always on their minds.
To make his English language arts lessons more therapeutic, Chapin said he focused on the themes of nature in the first quarter, with students analyzing the works of Robert Frost, watching a documentary about wild dogs in Turkey and writing their own poetry reflecting on the destruction and beauty of fires.
"Generally, it did look like high school work," Chapin said. "It was maybe just not as rigorous."
Even as she incorporated meditation exercises and guided coloring activities into her own lessons, Lahainaluna High science teacher Jacquelyn Ellis said she remains concerned about her students' well-being, adding that many have been reluctant to talk about the events of the past two months.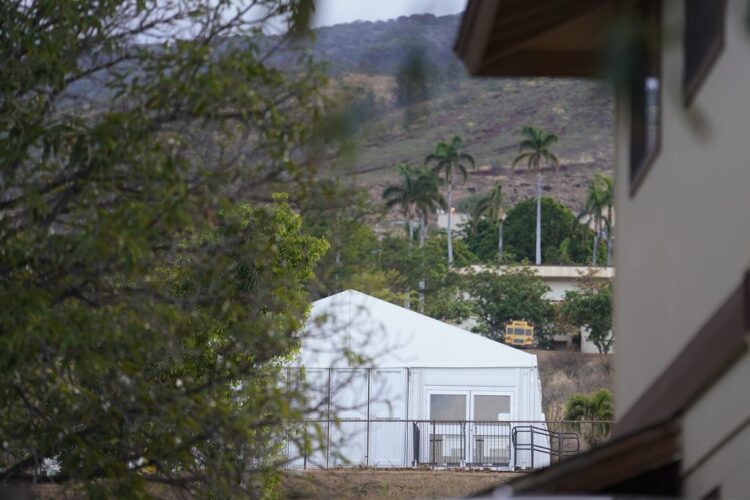 Currently, four behavioral health specialists and 11 school counselors serve Lahaina schools, with 20 additional mental health staff members being assigned to schools on the island starting next week, DOE spokeswoman Nanea Kalani said.
While it is important for schools to have therapy readily available for students, teens may feel most comfortable processing trauma with one another, said Liz Hartline, an assistant professor of early childhood education at Honolulu Community College. She added that it is important for students to have the freedom to simply connect with their friends.
In Paradise, California, teachers and administrators who faced similar devastation in their communities following the 2018 Camp Fire say the return to campus won't be easy but the camaraderie forged among surviving families will help.
Paradise Junior High School principal Larry Johnson said "community was everything" after the fire, with students attending school even though it had temporarily relocated to a hardware store.
"There were very traditional schools that they easily could have enrolled in, but instead chose to go to school in a hardware store because they needed to be around each other and their teachers," Johnson said.
Return To The Classroom
Driving to Lahainaluna High for a teacher workday on Friday morning, Ellis said she got a little teary as she returned to the school for the first time since the fire. Once at school, she saw that some teachers still had the date of the fires written on their whiteboards, while she tried not to look at the nearby burn zone.
"There's little reminders all around," Ellis said. "It's a big mixture I would say of, excited to be back here but also just still mourning everything."
Ellis spent the day setting up microscopes and preparing for a lab on the properties of water, although she also is unsure exactly how many students will be returning to her classes after fall break.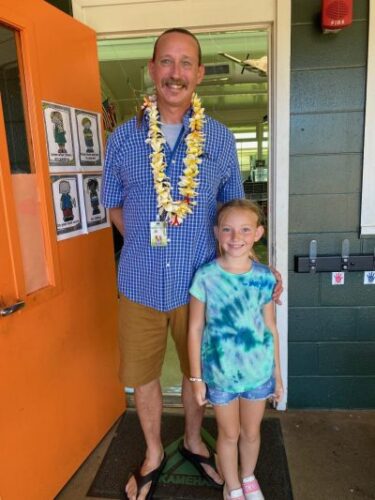 In a letter sent to families last Friday, complex area superintendent Rebecca Winkie said the DOE is revising schools' emergency action plans to respond to the possible need for mass evacuations. The letter also said each classroom will be equipped with HEPA air filters, and schools will continue to monitor air quality sensors every day.
Still, it's likely to be a "rocky" transition for some returning students and families, Hartline said families. She said it can be soothing for children if families and teachers introduce and stick to new school routines.
Heather Brown, a teacher at Paradise Junior High School, said teachers tried to offer students some sense of normalcy following the 2018 fires. She took students on occasional field trips to a nearby ice cream store and helped prepare the sixth grade class for its annual camping trip.
"As horrific as that fire was, I have to say, a lot of us look back at that time we spent with each other and the stories we share fondly," Brown said.
At Lahainaluna High, Ellis hopes to keep traditions alive as the senior class adviser. The school will celebrate a belated homecoming week during students' first days back on campus, Ellis said, adding that she hopes the theme of "Luna Strong" will promote unity and pride.
Chapin is worried students may have trouble coping if their families lose their temporary housing or their parents remain out of work. But, he added, he's determined to show up for his school – starting with repainting his room light orange and blue to brighten up his students' moods.
"Education can make people feel better when it's done right," Chapin said.
This story was originally published at Honolulu Civil Beat.
Civil Beat's education reporting is supported by a grant from Chamberlin Family Philanthropy.
Civil Beat's coverage of Maui County is supported in part by grants from the Nuestro Futuro Foundation.
Support The 74's year-end campaign. Make a tax-exempt donation now.