The L.A. School Board Race Heats Up With Board President Now Headed for May Runoff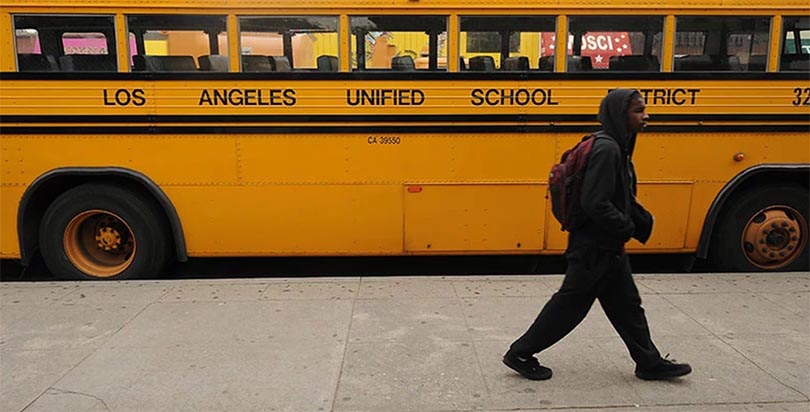 Primary election results show that LA Unified school board President Steve Zimmer is headed to a runoff in May, along with Kelly Gonez and Imelda Padilla from the city's District 6, while incumbent school board member Mónica García appears to have won easy re-election outright.
Only García passed the 50 percent threshold, which would avoid a runoff. Zimmer ended the night with 47.5 percent of the votes, followed by challenger Nick Melvoin, who has 31.2 percent in District 4, encompassing the west side.
The District 4 contest is the most closely watched race as Zimmer faced a tough re-election challenge against three others. Allison Holdorff Polhill has 14.4 percent of the votes followed by Gregory Martayan, who has 6.8 percent.
In District 2, which encompasses downtown Los Angeles and Boyle Heights, García scored 57.7 percent of the votes. Challenger Lisa Alva followed with 32.4 percent, and Carl Petersen at 10 percent.
In the wide-open race with no incumbent for the east San Fernando Valley seat in District 6, Gonez led the pack with 36.1 percent of the votes. She is closely followed by Imelda Padilla, who had 31 percent of the votes. Patty López received 12.8 percent, Araz Parshegian had 9.1 percent, Gwendolyn Posey had 5.7 percent, and Jose Sandoval 5.1 percent.
At 7 p.m. Tuesday, an hour before polls closed, LA County Registrar-Recorder/County Clerk Dean Logan said on Twitter that a random sample showed voter turnout countywide was 11.45 percent.
Candidates and their backers have poured $6.4 million into races for three seats, with most of that — about $5.4 million — coming from labor groups and deep-pocketed charter school supporters who oppose union influence in education. Charter school supporters and education reformers saw this election as an opportunity to swing the makeup of the board towards a pro-reform majority.
Follow LA School Report this week, for further analysis of Tuesday's primaries.
For a deeper look at the candidates and issues at play in the 2017 school board race — which may well turn out to be the most expensive school board race in U.S. history — see our cover story: The Best School Board Money Can Buy — What's at Stake for Los Angeles's Kids in the Closely-Watched, Well-Funded 2017 Campaign.
Get stories like these delivered straight to your inbox. Sign up for The 74 Newsletter