LA Immigrants Rights Activists Concerned That Teens Were Swept Up During Recent ICE Raids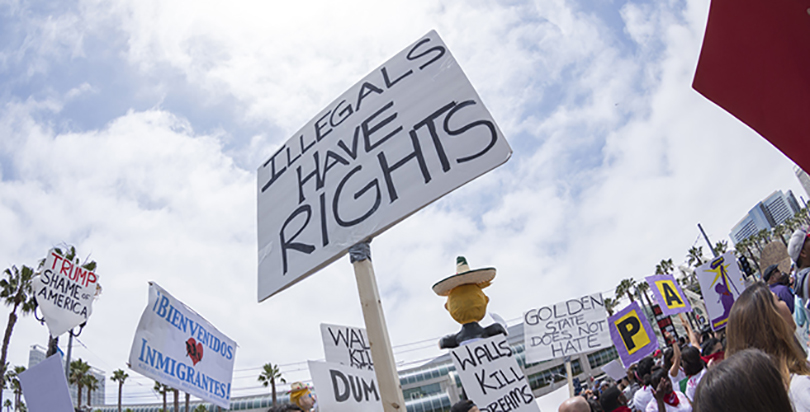 Late last week, immigrants rights activists in Los Angeles were preparing to assist undocumented youth who may have been caught up in recent federal raids that could have included teens.
Reuters news service
reported
that U.S. Immigration and Customs Enforcement (ICE) had been planning and executing raids through last Wednesday, to arrest suspected gang members who had entered the country illegally, including 16- and 17-year-olds.
Unaccompanied children and teenagers who entered the country without guardians and who are suspected gang members could be taken into custody for deportation if they're suspected of having a criminal record or being involved in gang activity.
According to ICE, a person can be identified as a gang member if they meet two or more criteria, including having gang tattoos, frequenting an area notorious for gangs, and wearing gang apparel.
Tessie Borden of the Coalition for Humane Immigrant Rights of Los Angeles (CHIRLA) told LA School Report that they were not aware of the raids plan, but she said that nothing coming from the Trump administration on immigration surprises them.
"It doesn't make any sense to think that those unaccompanied minors that came to the United States fleeing from violence in their home countries would go through a dangerous trip to get here to be part of what they were escaping from," she said.
"This kind of announcement is just part of the long-term plan from the Trump administration to criminalize our immigrant community."
Borden said CHIRLA may reach out to collaborate with schools.
An LA Unified spokesperson said Tuesday, "We just found out about this, and we are looking into it." The district, in which roughly 1 in 4 students is undocumented or has a parent who is undocumented, is preparing to launch a campaign in September in support of immigrant families, said a source from the district.
An ICE spokesperson, Dani Bennett, told
Mundo Hispánico
that they are targeting people with deportation orders issued by judges and who never appealed or fought their cases in court.
"ICE is currently conducting a wide operation to arrest adults that came to this country as minors and have criminal records or are suspected of gang activity," Bennett said.
"Coming to this country the way they did is not going to protect them from being judged under the immigration laws," she said.
Although children can be deported like adults, U.S. immigration law considers minors arriving at the border without a parent or guardian particularly vulnerable and gives them additional protections.
"Young immigrants deserve to be protected, not incarcerated," Borden said. "We're on alert to protect their rights, and we encourage them to report any activity they believe is in violation of their rights."
---
Btw July 23 and July 26, ICE is targeting kids who "aged out" of unaccompanied minors program:https://t.co/PsAUy2k7fY pic.twitter.com/h8Qv4f68B5

— Jonathan Blitzer (@JonathanBlitzer) July 25, 2017
---
A veteran ICE agent
told The New Yorker
in a recent interview about immigration raids, "The whole idea is targeting kids. I know that technically they meet the legal definition of being adults. Fine. But if they were my kids traveling in a foreign country, I wouldn't be OK with this. We're not doing what we tell people we do. If you look next month, or at the end of this month, at the people in custody, it's people who've been here for years. They're supposed to be in high school."
In Los Angeles, news circulated of the detention of Noe Carias, a pastor from Guatemala who entered the country illegally when he was 13 years old. He had a 25-year-old deportation order pending and was arrested while attending an immigration appointment.
Evangelical Latino leaders along with family members gathered at the Federal Building in downtown Los Angeles on Monday
calling for Carias's release
from the detention center.
Raids were reported over the weekend in Atlanta, Montgomery, Charleston, Memphis, and Boston, among other cities. According to witnesses in these cities, special ICE squadrons came early to their neighborhoods to knock on doors of some homes.
The memorandum issued by ICE also targets parents who crossed the border without documentation with their children and have been ordered to be deported by a judge.
Information about a person who has been detained by ICE can be found
here
.
The
CHIRLA
hotline for undocumented immigrants who need assistance is 1-888-624-4752.
Mike Szymanski contributed to this report.
Support The 74's year-end campaign. Make a tax-exempt donation now.