L.A. Schools Sweeten Offer to Teachers in Hopes of Avoiding a Strike but Refuse to Back Down Calls for a Better Way to Identify Most Effective Instructors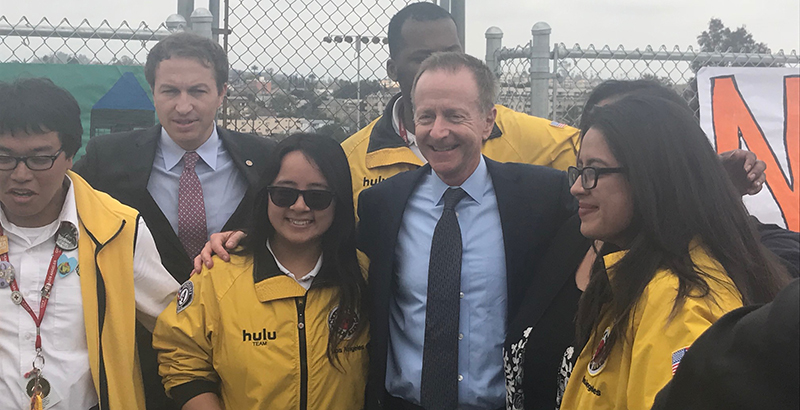 This article was produced in partnership with LA School Report
The Los Angeles Unified School District sweetened its salary offer to the teachers union last week, just before the groups had their first session with a mediator in the deadlocked contract dispute.
But the district did not back down on teacher quality demands — including a call for a new category in evaluations to identify highly effective teachers.
The district's offer was met by outrage from United Teachers Los Angeles, which shows no intention of backing off its threats to strike.
The teachers have been working without a contract since July 2017, and after the union declared an impasse, the talks moved to the mediation stage. After Thursday's first session, the two sides said they are committed to the mediation process, which will resume this Wednesday.
The district is offering 6 percent raises over two years to all teachers. Even though the district faces bankruptcy in three years and has been warned by both the county and the state, L.A. Unified's chief financial officer has said 6 percent raises have been factored into this year's budget and the district can afford them. But other union demands would cost $1.5 billion beyond the raises and can't be sustained, the district says.
In their last contract, in 2015, they received 10 percent raises. They had not received raises for eight years during the recession but still received salary boosts based on years of experience and for taking additional educational courses.
The district's public statement on its new offer did not include some of its previous negotiation positions, but in an email the district's labor team confirmed that they are still on the table.
Those include adding the new teacher evaluation category and a refusal to cede decision-making authority over conversions to magnet schools, student testing, and principals' budgets.
The new evaluation tier to recognize highly effective teachers is part of the district's strategy to raise student achievement, attract and retain good teachers, and keep families in the district. The union has steadfastly opposed identifying top performers or paying those teachers more, and it wants the district to replace the current teacher evaluation system, which has three tiers of ratings, with one that was created more than two decades ago and does not include ratings.
The district said its new offer "provides for a fair pay raise for teachers, additional teachers in high-needs schools, teacher pay aligned with student needs, and increased transparency in the UTLA contract." It "shows our commitment to helping students most in need," Superintendent Austin Beutner said, "and creates a pathway for L.A. Unified and UTLA to avoid a strike that would hurt L.A.'s most vulnerable students and families."
But UTLA called the new offer "a stunning example of disrespect to LAUSD educators and students," citing salary increases that are "contingent on district finances, increased workload and cuts to salary point opportunities, while also making it more difficult to qualify for secure healthcare in retirement."
Inside the district's offer:
Salary and benefits — A 6 percent raise over two years, made up of a 3 percent raise retroactive for 2017-18, plus another 3 percent raise for 2018-19. A 6 percent raise would match the raises the district's other labor unions received this year. The day mediation began, the district announced it had reached a tentative agreement with the Teamsters for the same raise that it is offering the teachers.
This year's raise would be contingent on whether the district's budget report next spring shows positive projected ending balances for 2018-19 and 2019-20.
The district's previous offer to the teachers union was a 2 percent raise and a 2 percent bonus. The union wants a 6.5 percent raise that would be retroactive to July 1, 2016.
The proposal also includes a provision for extra work and/or training starting this school year.
Teachers could also earn extra pay for taking courses, but only in areas that the district prioritizes, such as science, the arts, foreign languages, and technical education. Currently, teachers are eligible for pay raises for taking a wide range of classes, something school board members have been repeatedly urging to change.
The requirement for eligibility for health benefits in retirement would increase by two years under the formula that adds up an employee's age and years of service. This would align with the district's other employee unions. All eligible retirees and their dependents receive free lifetime health benefits, with no co-pays or premiums.
Class sizes — The proposal reduces class sizes by four students in core subjects in 15 middle schools and 75 elementary schools. These high-needs schools are determined under a new formula called the Student Equity Needs Index, and starting this school year the schools are receiving extra funding as well as a waiver from having to hire teachers off the district's "must-place" list.
Contract transparency — The district is calling for a summary document in all final contracts that will provide a clear outline for families and the general public "to increase transparency and understanding."
Katie Braude, executive director of the parent advocacy group Speak UP, called on the district to do more on teacher quality. "Unfortunately, this contract offer does not do enough to ensure that every student has a quality teacher in front of the classroom," Braude said. "It would lock us into the status quo for another two years, leaving intact the parts of the contract that value seniority over teacher performance. Teachers and parents agree that regular and meaningful evaluations improve teacher quality and effectiveness. Teachers we work with feel unsupported when they don't get that regular feedback. Teachers should not go five years without being evaluated, and no school should be forced to hire a teacher against their will. No one benefits from that situation."
Get stories like these delivered straight to your inbox. Sign up for The 74 Newsletter