Kansas Second-Grader Takes the Hand of a Child in Need on the First Day of School — and Captures the Nation's Heart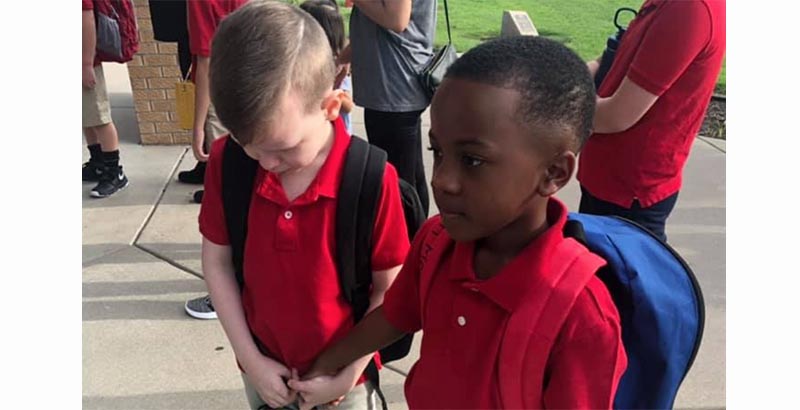 This article is one in a series at The 74 that profiles the heroes, victories, success stories and random acts of kindness found at schools all across America. Read more of our recent inspiring profiles at The74Million.org/series/inspiring.
At the start of the school year, Facebook is filled with first-day photos taken by proud parents, but few pictures turn the children — and their mothers — into social media stars.
That's just what happened when second-grader Christian Moore reached out to a frightened classmate with a simple act of kindness.
"I'm so proud of my son, he seen a kid balled up into a corner crying, so he went to console him, grabbed his hand and walked him inside of the school!" Christian's mom, Courtney, wrote in a post she assumed would be seen only by her friends. "It is an honor to raise such a loving, compassionate child! He's a kid with a Big heart, the first day of school started off right."
Connor Crites, 8, has autism and was overwhelmed by the noise, crowd and excitement of the day — until Christian reached out his hand, that is. The gesture, caught in Moore's photo, took place in Minneha Elementary School in Wichita, Kansas. But compassion is universal, and the photo was shared and reshared, quickly capturing hearts in ever-widening circles around the world.
Among the first to see it was Connor's mom, April.
"This made me sad but also absolutely warmed my heart," she posted. "I'm so happy a caring little boy was so kind to my baby."
Crites quickly thanked Christian's mom.
Crites had long worried about how Connor, who was nonverbal until he was 5, would fit in with other children.
"I fear every day that someone's going to laugh at him because he doesn't speak correctly or laugh at him because he doesn't sit still or because he, you know, jumps up and down and flaps his hands," she told ABC news.
It's a fear many parents can relate to.
But when Christian looked at Connor, he didn't see disability or any of the other barriers that keep grown-ups apart. He just saw a child in need.
"He was kind to me," Connor told KAKE-TV News in Wichita. "It was in the first day of school and I started crying, then he helped me and I was happy."
That's how friendships start.
"The rest is history," Moore told the station. "They have an inseparable bond."
Get stories like these delivered straight to your inbox. Sign up for The 74 Newsletter