JV Wrestler With Down Syndrome Wins Citywide Weight Class Championship — and the Whole High School Team Goes Crazy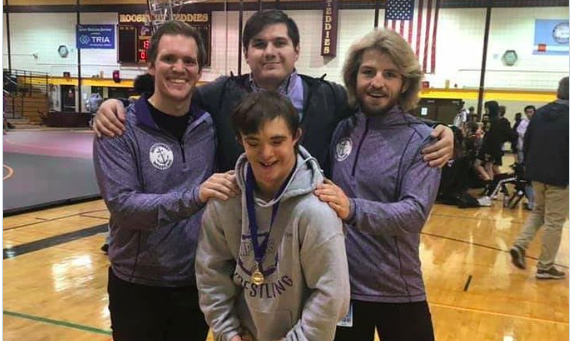 This article is one in a series at The 74 that profiles the heroes, victories, success stories and random acts of kindness found at schools all across America. Read more of our recent inspiring profiles at The74Million.org/series/inspiring.
It's hard to say who was more excited about Minneapolis Southwest High School's big win at a city wrestling tournament — the coach, the team or the fans.
The victorious wrestler himself seemed to take it in stride.
Wyatt Speck, a 120-pound sophomore who has Down syndrome, was the only member of the school's junior varsity team to take the championship in his weight class.
"It was awesome," Wyatt told CBS Minnesota, adding that he was not only prepared, he expected the win.
His team was certainly thrilled.
"I've never seen a kid get hoisted so high in the air in a high school gym in my life," wrestling coach Ben Cousins told CBS Minnesota.
Wyatt's big victory also had his mother, Amy, floating on air.
On Friday night a Minneapolis Southwest wrestler won the jv city tournament. Wyatt Speck has Down Syndrome and no one was more proud than his coach- who has autism. At 10:00, how their bond has inspired Wyatt's family, friends and teammates. @WCCO #wcco pic.twitter.com/pDijV0Dbxg

— John Lauritsen (@JDLauritsen) February 11, 2020

"He got off the mat and I looked over at his team and his whole team had tears in their eyes and smiles bigger than life," she told CBS. "And they just all embraced him. They picked him up in the air."
Cousins, who has autism, wrestled in college and knows how hard it can be for someone with learning differences to be accepted.
"We like to preach 'humans first, athletes second,'" Cousins told CBS. "We want to become the most inclusive team in the state, and Wyatt is a big part of that."
"We want to be the most inclusive team in the state… " ❤️ #Inclusion #All https://t.co/9Tkonx4gGR

— MrsT_OT (@MrsT_OT) February 11, 2020
Wrestling isn't the only extracurricular that Wyatt enjoys.
He also ice skates and plays in the string band.
Still, it's one thing to participate, entirely another to prevail in a championship match, 11-3.
"Just winning the city championship like that, it enforced all of that," Amy Speck told CBS. "He can do anything he wants to do, and he'll continue to do it."
Support The 74's year-end campaign. Make a tax-exempt donation now.