John King's Common Core Education: What Getting Schooled in NY Will Mean for His Tenure as Ed Sec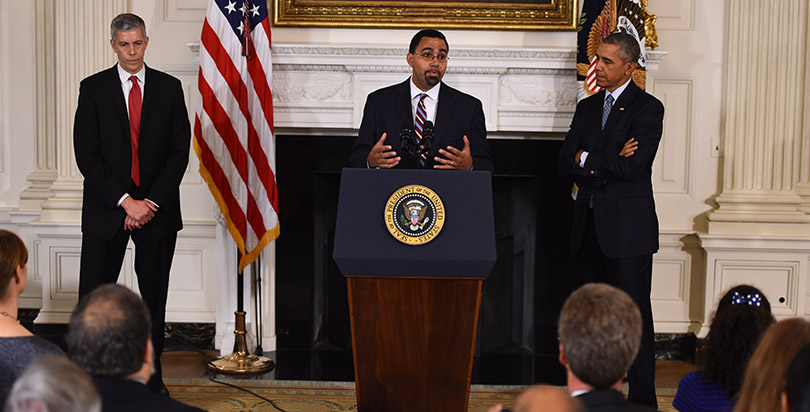 Newly named U.S. Education Secretary John King (he takes the reins Dec. 1) rarely speaks about politics. His background is in education, and that's what he talks about.
Speaking to WNYC radio host Brian Lehrer in a 2014
interview
for example, King launched into a defense of the
Common Core
: "Fundamentally instruction in classrooms is not where it needs to be. That's why we've prioritized the work on the Common Core — because we believe if we point our classrooms towards the right standards that match what students need for college and career success, we can get better outcomes."
King doesn't make political pitches; he makes educational ones.
In this respect, King is like his predecessor, Arne Duncan, who was well known for forswearing politics. The problem, however, is that political appointees are free to ignore politics; but politics are unlikely to ignore them, as King found out in New York.
In 2013, New York was among the first states in the country to administer standardized tests aligned with the more rigorous Common Core standards. Prior to the release of the results, then–state Commissioner John King and other officials
predicted
a steep drop in the number of students rated proficient on the exams
1
, saying that the new total would be a more "honest" reflection of how students performed.
The idea
may have
been that telling parents how bad their schools and unprepared their students were would serve as a "
wake-up call
," leading them to push for school reform in their communities.
Proficiency rates did, in fact,
drop
precipitously, but instead of mobilizing support for reform from "
white suburban moms
," it appeared to have the opposite effect, with widespread complaints among parents about the standards and the tests.
The state and city teachers unions were also complaining, for their part, about a lack of training for teaching in the new standards. New York state was now using scores from the new Common Core–aligned assessments to evaluate teachers. Randi Weingarten, head of the American Federation of Teachers,
argued
that connection with testing would torpedo the standards, pointing to New York as an example of what not do to.
The State Education Department however showed no signs of easing up
. State Board of Regents Chair Meryl Tisch, a King ally,
wrote
that it was "no time to slow down on Common Core," arguing, "We're sensitive that the new round of tests struck some as too much, too soon, but the reality is our students are already being held accountable for the Common Core when they enter college or the workforce and are forced to take out student loans for remedial education."
Town halls turn ugly
Near the beginning of the 2013–14 school year, King and the state Education Department had announced a series of town halls across the state designed to quell the rising Common Core backlash. But the forums were
dominated
by frustrated parents complaining about Common Core, testing, and data privacy.
At one particularly contentious
forum in Poughkeepsie, King was heckled and shouted at, as parents said they weren't given enough time to express their concerns. After the negative reception, King initially cancelled the forums — saying there were co-opted by special interests — but after
taking
intense heat, he quickly
reinstated
them.
---
---
King continued to face sharp attacks. At one town hall on Long Island, a local teachers union president
boomed
, "I'm a certified teacher in the state of New York and as such I'm a mandated reporter. And I'm here to report that we are abusing children in the state of New York. There is now a Common Core syndrome." The packed auditorium erupted in applause. (A New York Times story drily
pointed
out that "no such condition is listed in the official manual of psychiatric disorders.")
---
---
Frustration continued to grow among teachers, even though national unions were among the key supporters of the Common Core. In January 2014, the state teachers union board of directors
withdrew
support for the Common Core standards "as implemented" and called on King to resign.
"Instead of listening to and trusting parents and teachers to know and do what's right for students, the commissioner has offered meaningless rhetoric and token change," union president Richard Ianuzzi said.
But that wasn't enough for Ianuzzi to keep his leadership spot. In April,
he
lost
a re-election bid to Karen Magee who promised to more
vigorously
oppose the state's recent reforms. In response a state Education Department spokesman
said
, "This is just union politics as usual. Commissioner King remains focused on improving our schools to ensure every student can build the skills and knowledge needed to succeed in college and career."
The 3,000 teachers union delegates also unanimously
reiterated
the call for King to resign. (After his appointment as Secretary of Education a few weeks ago, NYSUT
reminded King
just how much it didn't like him, urging its members to call the White House to complain.)
Opt-out movement surges
In light of the continued criticism,
King brought in re-inforcements in the form of his future boss Arne Duncan who
defended
the Common Core and King
against
— as he put it — "the drama and noise."
In May, on the anniversary of Brown v. Board of Education, King connected Common Core to the civil rights movement,
saying
, "What those who resist high standards for all students are really saying is that some kids are just not going to make it, and that's acceptable."
Around the same time the nascent opt-out movement was
growing
. A New York Times
op-ed
by a Brooklyn principal argued that the state tests weren't up to snuff; the piece was headlined "A Problem with the Common Core." Although the number of students who opted-out was still small, it had
grown
significantly compared to the previous year.
On an optimistic note, detente with the unions seemed within grasp. In June, NYSUT
negotiated
with Gov. Andrew Cuomo to create a so-called safety net that would ensure no teacher would receive a low evaluation rating as a result of Common Core–aligned tests. King, a staunch supporter of using test scores to evaluate teachers, appeared to
signal
tentative support for the idea, and the legislature passed the provision.
But Cuomo didn't sign the bill right away. And then in December, after handily winning re-election
without
support from NYSUT or the city teachers union, Cuomo
vetoed
the very same safety-net bill that he helped negotiate — enraging the unions.
It was also in December that King announced that he would
resign
to join the U.S. Department of Education, saying, "We have accomplished great things for New York's students. As a kid whose life was saved by the incredible teachers I had in public schools in Brooklyn, I'm proud to have served my fellow New Yorkers."
Since then, the backlash to the Common Core and testing has only grown.
As Cuomo (
successfully
) pushed to place more emphasis on testing in teacher evaluation, NYSUT President Magee
put out
robocalls urging parents to opt out of the state exams. Large reported opt-out numbers were
confirmed
when official numbers were released in August: 200,000 students — or about 20 percent of eligible test takers — had sat out the Common Core-aligned state tests, a four-fold increase from the previous year.
And recently Cuomo backed away from the Common Core,
creating
a panel that he promised would "overhaul" the standards.
Cuomo added, "The implementation of the Common Core just did not work."
Playing politics to win
It's impossible to say how much King's difficult days championing standards in New York will replay in his head as he takes over a federal Education Department that is, by most accounts, in a precarious position.
Conservatives hope to gut the federal government's oversight of schools and teachers unions look to roll back test-based accountability. The Common Core is a favorite whipping boy of most of the Republican presidential candidates and opt-out numbers continue to grow across the country. The administration has also faced backlash due to higher education policies.
What's clear is that reformers like King and Duncan would do well to remember that sometimes playing shrewd politics is the only way to sustain their policy agenda. In other words, the politics of education are not a sideshow that should be ignored, but rather an essential part of King's new job.
Disclosure: In my previous job at Educators for Excellence-New York, I worked with New York teachers who supported the Common Core in advocating for improved implementation of the standards in New York.
Photo by Getty Images
---
1. Many media outlets incorrectly reported that test scores had "fallen." This was not accurate. As the tests were different, it's not appropriate to say the scores had dropped — different tests can't be compared like that. What we can say is that the new tests had labeled fewer students proficient. (Return to story)
Support The 74's year-end campaign. Make a tax-exempt donation now.