John King Confirmed 49-40 as 10th Education Secretary, Democrats Backing Away from Opposition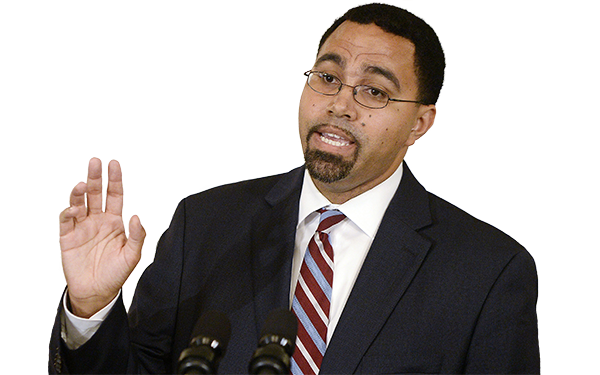 Washington, D.C.
The Senate confirmed John King as the tenth U.S. Education Secretary Monday afternoon despite strong opposition from the chamber's Republicans. (See:
4 Things to Know About John King)
Senators voted 49-40 to confirm King, possibly the last major Obama administration confirmation before a new president takes office. All but one of the votes against King's confirmation came from conservatives, who voiced opposition to his appointment over his support of the Common Core and what they see as departmental overreach likely to continue under King's leadership.
President Obama had appointed King to the role in an acting capacity following the resignation of longtime secretary Arne Duncan late last year. The president praised the confirmation following Monday's vote, saying King will continue to lead new efforts on expanding access to preschool, lowering college costs, and better preparing kids for college and career.
"John knows how education can transform a child's future. He's seen it in his own life. And his experience, counsel, and leadership couldn't be more valuable to me and to our country as we work to open the doors of opportunity to all of America's children," Obama said.
General Capitol Hill acrimony, fanned by the presidential election and the imminent nomination of a new Supreme Court justice — which could happen as soon as this week — is certainly the cause of some of the "no" votes.
Others had more specific problems not with King's resume, but with how he carried out his duties in past posts.
One of the chamber's most conservative members, Sen. Mike Lee of Utah, said the Common Core, standardized tests and teacher evaluations were "forced on an unwilling school system" in New York during King's time as education commissioner.
The Common Core rollout in New York
was anything but smooth
, with the state teacher's union calling on King to resign and parents booing him at public meetings.
"The real problem with Dr. King's record is that he routinely, and apparently as a matter of policy, ignored the advice and feedback" of parents, teachers, and others in New York schools, Lee said.
Committee chairman Lamar Alexander, meanwhile, defended the appointment as he steered the vote on King's confirmation. Alexander repeatedly pointed to the newly-signed Every Student Succeeds Act, saying it is vital to have someone confirmed and accountable to the Senate as the department works on implementing the new law.
It was Alexander who noted during the Senate's confirmation debate that ESSA contains strong prohibitions on the Education Department from mandating or incentivizing the Common Core or any other curriculum. "It doesn't really make much difference what Dr. King thinks of Common Core," he said. "Under the law, he doesn't have anything to do with it." King
at his February confirmation hearing
pledged that he would adhere to the limits on federal enticements for curriculum as laid out in the new law.
Republicans might not like King or his policies, Alexander said, but until there's a Republican in the White House, they don't get to nominate their own education secretary.
Conservative advocacy groups, however, openly encouraged senators to vote against King. Heritage Action opposed the confirmation of any "non-security related nominees" in the waning days of the Obama administration. They were particularly incensed about a new education secretary, given comments by former secretary Arne Duncan that the devolution of power to state governments under the Every Student Succeeds Act was little more than a talking point.
The group also has specific beefs with King. "While King has been serving as acting Secretary, and will most likely continue in that role until the end of the Obama Administration, the Republican-controlled Senate has no excuse for putting their stamp of approval on a Secretary of Education who sides with Common Core over school choice, data-mining over student privacy, and central planning over local control," the group said in a
statement indicating they will include this vote in their annual ratings of senators
.
There also wasn't universal support from Democrats and left-leaning political groups. Sen. Kirsten Gillibrand, Democrat of New York, voted "no" on the nomination, and the
Network for Public Education
urged members to contact their senators and request a no vote. Like their conservative allies, the group cited King's support for Common Core and his failure to address problems with the state's teacher evaluation system and Common Core-aligned tests.
Get stories like these delivered straight to your inbox. Sign up for The 74 Newsletter