Jeffries: White Supremacy Made Brown v. Board Necessary — and It's Still the Force Denying Too Many Black & Brown Students an Equal Education Today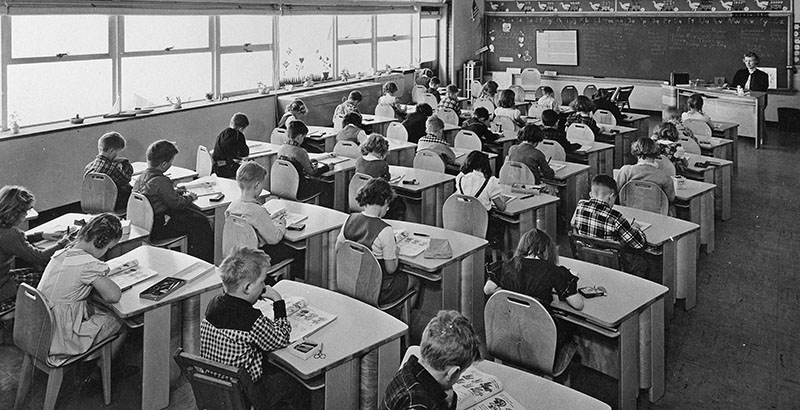 This essay is part of a special series commemorating the 65th anniversary of the landmark Brown v. Board of Education school desegregation case. Read more essays, view testimonials from the families who changed America's schools and download the new book "Recovering Untold Stories: An Enduring Legacy of the Brown v. Board of Education Decision" at our new site: The74Million.org/Brown65.
Today, more than half of our nation's schoolchildren attend a school that is 75 percent white, or nonwhite. In many schools, we are more segregated now than we were before the Brown v. Board of Education decision 65 years ago.
Frankly, this shouldn't come as a surprise, given the widespread and long-standing resistance to integration efforts. That resistance didn't end with the forced integration of schools in the South 15 years after Brown; since 2000, nearly 50 communities have severed from their school district to form new, generally wealthier and whiter districts.
Even in those districts that have achieved a meaningful measure of racial integration, many black and brown students have a segregated educational experience — they are often taught by teachers with diminished expectations of them and are much more likely than their white counterparts to drop out, be suspended, be tracked into remedial classes and be classified as having a special-education disability.
Until our public schools show that they are systematically dedicated to bringing about durable educational equity for children of color, and the adults who staff our schools truly believe unquestionably in the genius of our children, I will be deeply skeptical of mandates that force integrated schools on communities that have made clear they are uninterested in the hard work necessary to educate children of color well in the face of deeply rooted racialized notions of who is smart and capable.
To be clear, racially diverse schools are positive and represent a goal we should aspire to for all students. But because of the way white supremacy works, the public conversation about integrated schools generally focuses on the benefits to black students, based on the somewhat convoluted and unproven claim that white stakeholders will care more about the education of children of color if their children are taught in the same schools. In fact, diverse schools, if their curriculum and instruction are truly rooted in educational equity, are good for all students, because proximity is an important precondition for breaking down the racial stereotypes that fuel so many cultural divisions in our country and impede our nation's capacity to be the equitable, multiethnic land of opportunity it aspires to be.
I support integrated schools on these grounds but am wary because, in application, integration too often does not occur in ways that fuel genuine educational equity and too often simply represents a different framework for relegating children of color to inferior educational experiences. I urge all stakeholders to deeply interrogate the on-the-ground, in-school realities of how education will be provided and support forced integration only when the underlying conditions signal unmistakably that it will actually further educational equity.
With this said, my orientation aligns with that of the great W.E.B. Du Bois, founder of the National Association for the Advancement of Colored People — who, toward the end of his life, after fighting racism for several decades, was deeply pragmatic in his approach, favoring whatever school arrangement produced highly educated black students.
Given the durability of racism, Du Bois was skeptical that integrated schools would actually serve black children equitably and thus encouraged civil rights activists also to support majority-minority schools in those situations in which they were more likely to educate black children effectively. In short, the Du Boisian approach emphasizes outcomes and efficacy and is not wedded dogmatically to any particular arrangement.
If, in individual situations, schools that equitably educate black children are racially integrated, that is good and positive for the citizenship- and democracy-enhancing reasons I discuss above in the context of our nation's divisions around race. But if, in other cases, integrated schools will simply serve as another — and, in many ways, more insidious — mechanism for advancing white supremacy, count me out.
Black children, like children generally, are geniuses and are more than capable of being educated at world-class levels by effective educators teaching them on the basis of rigorous curricula, no matter who is (or is not) sitting beside them. It is not their loss if others don't want to learn alongside them; it is a loss for those others whose cultural myopia denies them the opportunity to experience their genius firsthand.
Ultimately, Brown was a historic and iconic signal from the nation's highest court — the same one that a century prior had ruled that black folks were chattel, mere animals, and had no rights that had to be respected — that the country rhetorically was interested in making good on its post-Civil War promises of equal opportunity.
But Brown, while it certainly achieved important results for meaningful numbers of children of all races in facilitating a more equitable country, has not lived up to the promise that so many had for it. That's not the fault of Brown, or of the American heroes who litigated it and continue to; it's the fault of underlying white supremacy that sadly continues to plague our nation.
The educational inequities that continue to exist for black children are, plainly, symptoms of that underlying white supremacy that made Brown necessary in the first place. Until we engage in the hard, deep, painful and long-term work of fully healing our racial wounds, educational opportunity in our country will remain racially distributed. In the meantime, those of us committed to educational equity should be pragmatists and support (or oppose) policies based on their capacity to bring about educational equity for black children. Everything else is and should be secondary.
Shavar Jeffries is an American civil rights attorney and president of Democrats for Education Reform.
Support The 74's year-end campaign. Make a tax-exempt donation now.