Jeffries: New Poll Finds Voters Favor Innovation, School Choice, Fair Funding and Accountability. The Democrats Should Listen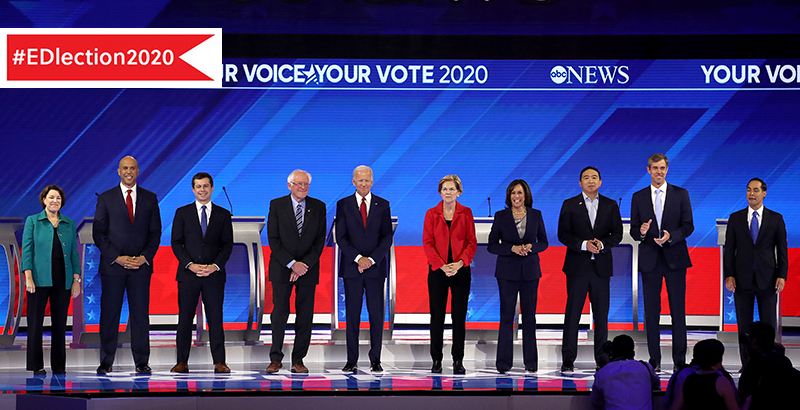 Next week, Democrats will make history as 12 candidates crowd the debate stage, the most ever to participate in a single debate.
With so many candidates and topics to cover, it's hard to have a substantive conversation on any of the issues — especially education, which was raised only once in the past three primary debates.
Yet when it comes to education, voters want more than a sound bite — they want candidates to push past applause lines to promote an education policy agenda that embraces new investments, new ideas and real changes for our schools.
A nationwide poll by Education Reform Now Advocacy and Benenson Strategy Group released Monday shows that Democratic candidates have an opportunity to connect with both primary and general-election voters by owning the need for investments in our school system that go beyond addressing underfunding in public education.
Voters support a range of education policies that combine resources with reforms to increase school funding and make it more equitable, improve teacher quality and preparation, maintain choice and accountability in the public school system, and ensure that higher education is not just cheaper but also fairer and better for all.
It's a frame that was heavily embraced by President Barack Obama, and one that remains popular among Democratic primary voters, with 61 percent saying they agree with his policies designed to "promote innovation and choice in public schools and raise standards for every student."
Voters also agree that we must go past writing the check for more funding to make sure we're bringing in new ideas and holding our education system accountable for producing results for children.
Seventy-four percent of all voters — including 8 in 10 Democratic primary voters — said they would be more likely to vote for a candidate who called for making schools more fairly funded.
There's also strong support among Democrats, Republicans and independents not only for raising teacher salaries but also for providing pay incentives for teachers in high-needs subjects like special education and English as a Second Language and in high-needs schools, which is favored by 72 percent of voters. It's a proposal several candidates have adopted — such as Mayor Pete Buttigieg's plan to raise teacher salaries in Title I schools.
In higher education, resources with reform means moving the conversation beyond affordability to include accountability for institutions that aren't serving students.
Eighty-six percent of Democratic primary voters support tougher standards so colleges can't receive federal funds or student loans if they rip off their students or act as dropout factories where few graduate and find good jobs. At the same time, these voters also agree that the federal government should provide additional funding to schools that both enroll their fair share of low-income students and students of color and graduate them with the skills necessary to find a job.
Despite attempts to make public school choice a polarizing issue in this election, 8 in 10 Democratic primary voters support expanded access to public school choice options, including public charter schools.
I'm hopeful that these findings will help to expand the discussion around public education to include bigger and bolder ideas that will disrupt the drivers of inequity that persist in our education system.
This isn't the time to be timid. For the 2020 candidates looking to distinguish themselves, these findings give permission to think outside the box and adopt innovative platforms that combine more funding with new and better policies that build on the lessons of the past and move us toward a more equitable future.
Shavar Jeffries is president of Democrats for Education Reform.
Support The 74's year-end campaign. Make a tax-exempt donation now.