ITT Tech Isn't Just a College Scandal. It Also Ran Charter Schools — and Left Teens Scrambling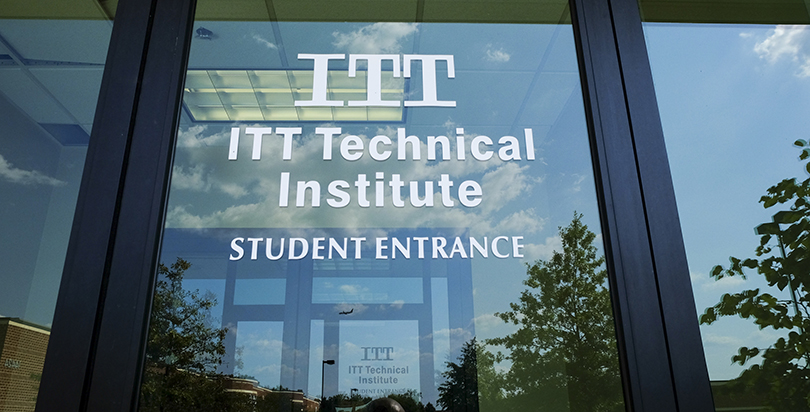 Trevor Eppich was struggling to pass his classes when he enrolled last year in ITT Tech's new charter school, Early Career Academy, in Tempe, Ariz. The school offered him small class sizes, hands-on instruction and a chance to leave high school with an associate's degree in network administration from ITT Tech, a for-profit college that shared a building with the charter school.
The 18-year-old was doing well at the new school, he said, and he was less than a year from graduating. He was looking forward to joining the Air Force — and to securing a higher rank because he would have a college degree. But on Tuesday, Eppich received an email from Debra Bender, Early Career Academy's executive director, announcing the school had closed.
"This morning, all ITT Tech staff received termination notices effective immediately," she wrote to her students and their parents. "I know all of this sounds very grim, leaving all of us with complete and utter devastation."
Now, Eppich's future is uncertain.
"A lot of our teachers had speculation that ITT was going to close down," Eppich said. "What they didn't know was that they were going to close down Early Career Academy as well."
At ITT Tech's other Early Career Academy, in Troy, Mich., officials are working to place their 61 former students in other local schools, said Timothy Wood, associate vice president for charter schools at Grand Valley State University, which authorized ITT's charter in Michigan. In Arizona, however, Bender's email indicated school officials are preparing for a fight.
"This news has come as a complete surprise to me because [Early Career Academy] has nothing to do with the funding issues that ITT Tech has faced related to higher education and we are a separate entity funded by the state of Arizona," Bender wrote. "I will be working diligently all week to try and find a place for us to be and resume school."
ITT Tech's 50-year history as one of America's largest for-profit college chains, with about 140 campuses and 40,000 students, came to a close Tuesday after the U.S. Department of Education announced in August it would bar the company from enrolling new students with federal financial aid dollars. That decision followed
years of accusations
against the chain, ranging from financial aid abuses to deceptive marketing practices.
When the company moved to open a chain of charter schools in 2014, those attempts, too, were rife with controversy.
ITT originally
announced it would open
charter schools in Indianapolis, Troy, Jacksonville, Tampa and Houston, and it created a nonprofit educational provider called Early Career Academy to run them through a subcontract — technically independent from ITT Tech. The schools were set to serve high school juniors and seniors, who would be able to earn a diploma and an ITT Tech associate's degree in two years, though most colleges don't accept ITT credits for transfer.
The Florida and Houston campuses never opened. The opening date for the Indianapolis campus was postponed for a year, until August 2015. A year later, on Aug. 10, 2016 — just weeks before ITT announced it would close all its schools — the Indiana Charter School Board revoked the school's charter, giving it 30 days to cease operations.
"As it turns out, that was the right decision, since ITT has gone dark, and subsequently the school would have closed anyways," said James Betley, the Indiana charter board's executive director. "It just so happens that a month later, the feds basically beheaded them, cut them off at the knees, and then they subsequently decided to close."
The decision to take action against the Indianapolis Early Career Academy followed several violations of its charter agreement as well as state and federal law. There were enrollment issues: Although the school was expected to serve more than 80 students, Betley said only 19 enrolled, preventing the school from providing the programming that had been approved. There were issues with the board of directors: In just the past few months, seven of the school's eight board members resigned. And there were tax issues: School officials failed to file the proper paperwork with the Internal Revenue Service, resulting in the revocation of the charter's tax-exempt status.
Within a week, Betley said, the Indianapolis students were placed in new schools.
"We're at a complete loss. What is our kid supposed to do?"
That left the campuses in Troy, which opened in 2014, and Tempe, which opened in 2015. In Troy, Wood called the school's closure "an unfortunate situation." This past June, that campus honored its
first graduating class
of 22 students, 72 percent of whom earned both their high school diplomas and associate's degrees.
Although he had expected the school to have bigger enrollment, Wood said the program was academically sound. "It's really unfortunate because that was a good system, in that kids could go there for two years, receive a high school diploma and an associate's degree with a skill set to join the employability market," he said. "It's serving a population of high school students that, in our view, is underserved, and that is the non-college-bound high school junior and senior."
ITT Tech's Early Career Academy charters weren't the only schools to offer this type of setup. In fact, career and technical education programs have long been a key component of President Obama's education agenda, including his support for the Pathways in Technology Early College High School in New York City. That school also offers graduates an associate's degree, though that program lasts for six years instead of two.
Early Career Academy and ITT Tech officials did not respond to requests to comment for this article. Whitney Chapa, executive director at the Arizona State Board for Charter Schools, said in an email that the Early Career Academy staff is working with Arizona education officials to secure a school building with hopes of reopening.
In her email to students and parents, Bender argued that ITT Tech violated its contract with Early Career Academy when it shut down the charter and fired its staff.
"We're at a complete loss. What is our kid supposed to do?" asked Chris Eppich, Trevor's father. "I think we're going to ride this week out to see what happens by the end of this week. In the meantime, we're looking into trying to find out what credits he has and where he sits at this point as far as graduating from high school."
Support The 74's year-end campaign. Make a tax-exempt donation now.