'It's Not Like Any School You've Ever Seen': DeVos Sees Radiology, Hydroponic Gardening, and a Tiny House in Visit to Innovative CTE High School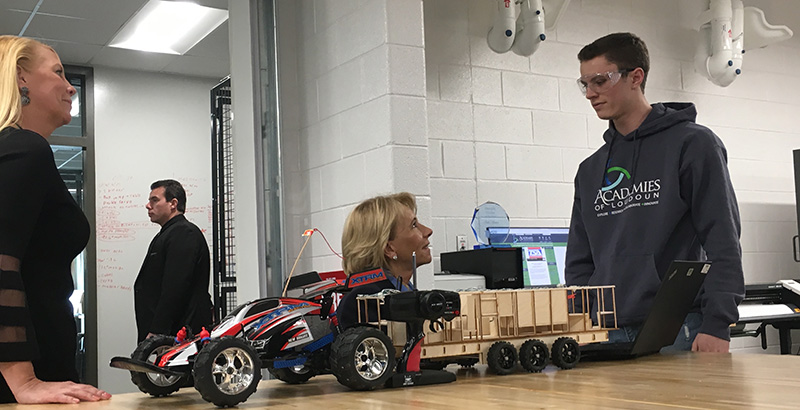 Leesburg, Virginia
The clock was ticking Tuesday for Maya O'Callahan and Christopher Hernandez as they worked to gather the last of the data on their hydroponic plant project, when there was an unusual interruption.
It was Education Secretary Betsy DeVos and her entourage of staffers, career and technical education advocates, local officials, and press, on a visit to the Academies at Loudoun to celebrate Career and Technical Education Month.
The sprawling, state-of-the-art Academies building opened in August. It houses three distinct programs educating about 1,600 high school students in everything from entrepreneurship and advanced sciences to culinary arts and automotive repair. Any student from Loudoun County, the country's wealthiest, may apply either in eighth grade, or later in high school for one of the school's shorter programs.
O'Callahan and Hernandez, collecting the last of their data ahead of a March 14 science fair, were working in one of the school's three greenhouses on a system to grow mint in water fortified by nutrients from fish byproducts.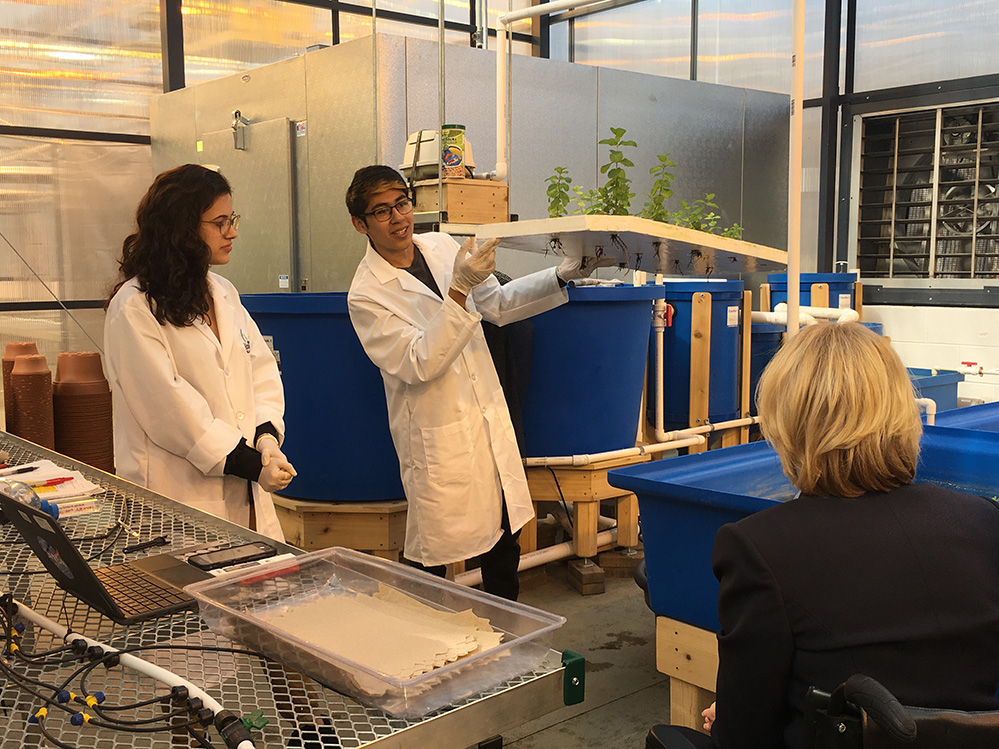 "This is not a normal high school, and it's not like any school you've ever seen," Principal Tinell Priddy said at the start of a roundtable discussion before DeVos toured the school and visited several classrooms.
DeVos, who has urged policymakers to "rethink" school and provide new options, said programs like the Academies should be more widely available.
"[Priddy] said up front that this is not a normal high school. My question is, 'Why shouldn't it be?,'" she said.
The Trump Administration, including DeVos, has focused on apprenticeships and career education, particularly in the wake of a reauthorization of the country's career and technical education law last year. DeVos has said that the United States for too long prioritized sending students to four-year colleges rather than educating them for careers.
Students alternate days at the Academies, which focus on STEM, with days in their base high school, where they work on core credits in other subjects, like English and social studies.
"It gives us a break from that traditional classroom. You're sitting there, textbook — it's just draining. I love learning here. It's so much more exciting. It's more real-world applications," O'Callahan said.
The school houses three separate programs, but staff try to foster collaboration both within different classes in each program and across programs. There's also one lunch period for all students, to encourage them to socialize outside their programs.
The Academy of Engineering and Technology offers two- or four-year programs in engineering, information technology, and entrepreneurship.
Three students during the roundtable described their entrepreneurship project, Grow Greenly, a biodegradable plant pot that both helps cut down on plastic waste and provides nutrients for the plants. They won a competition and received $10,000 to help start the business, and they plan to sell the pots more broadly in Loudoun County later this spring.
"I just wanted more knowledge about STEM, and entrepreneurship really intrigued me because I thought that was a great opportunity to combine everything. I never thought I would have my own company. I never thought that I would get here and develop something real," Pranavi Karnati, one of the Grow Greenly creators, said.
The school also houses the Academy of Science, a four-year multidisciplinary science program. The third program is Monroe Advanced Technical Academy, which offers 27 pathways, each one or two years, including more traditional CTE offerings like cosmetology or automotive repair alongside newer options, like radiology and computer animation.
Another of DeVos's classroom visits throughout the school's sprawling building was to the radiology lab — the only program in Virginia for high schoolers, according to Priddy.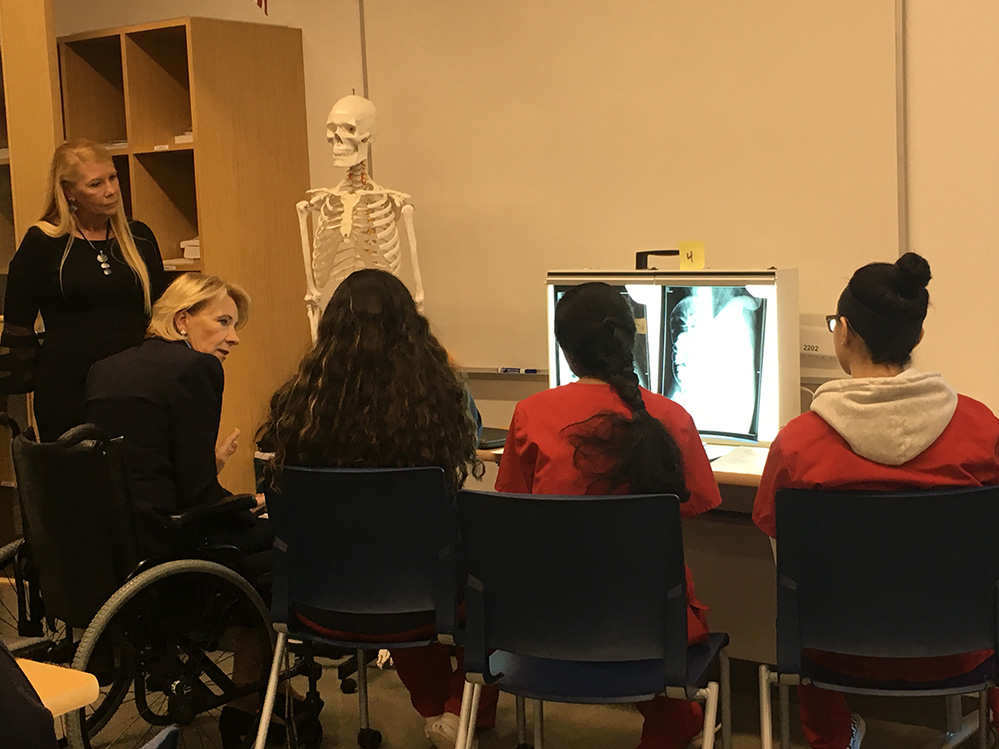 There, students worked on identifying structures of the digestive anatomy. They described the process for getting all the appropriate images of a digestive system, from the top and the sides, as akin to looking through different sides of a fish tank. DeVos, recovering from a broken pelvis following a bike accident, said she had been through a similar experience getting an X-ray the day before.
DeVos also visited a makerspace, which offers students a variety of tools and technology to use in creating projects. She spent several minutes talking with Ford Downer about the small 3-D model of what will be a "tiny house" he built, pulled by a remote-controlled car.
O'Callahan and Hernandez, the hydroponic botanists, are both in their first year at the school, but they are already looking to how it will impact their education trajectories after graduation.
Hernandez expects the hands-on experience he's gained to give him a leg up in college applications.
O'Callahan came to the program looking to try out a possible career.
"I just came here to get that exposure to find out if I really want to do this, and I'm starting to figure out I really want to," she said.
Support The 74's year-end campaign. Make a tax-exempt donation now.