10 Students, 10 Reasons Why They Skipped School Friday to Join the Climate March: 'It's Everyone Doing Something That Changes Everything'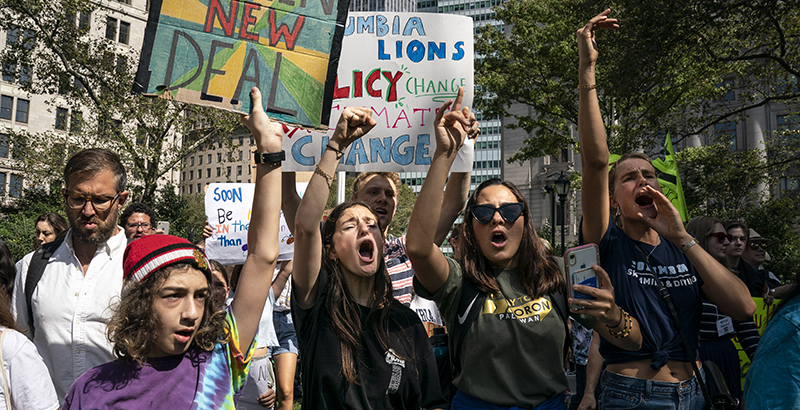 Updated September 22 
Lower Manhattan was jam-packed with students chanting and carrying vibrant posters Friday as tens of thousands of kids from around the city and metropolitan area skipped school to demand action on climate change.
"What do we want? Climate justice! When do we want it? Now!" students yelled in call-and-response fashion as they waited at Foley Square to march downtown to Battery Park. Many waved handmade posters: "There Is No Planet B." "When I grow up, I wanna be alive."
New York City's Climate March — part of the broader global mobilization effort starting this week across more than 150 countries and all 50 states — comes on the eve of the United Nations' Climate Action Summit on Sept. 23, when world leaders will discuss how to avert a climate crisis. By some estimates, climate change will pose an existential threat to civilization by 2050.
City students marching Friday received an excused absence from school from the city Education Department, with a parent's permission. Early estimates of overall participation in the NYC march stood at more than 250,000.
The 74 spoke with students at the march about why they left class and whether they think their actions can make a difference.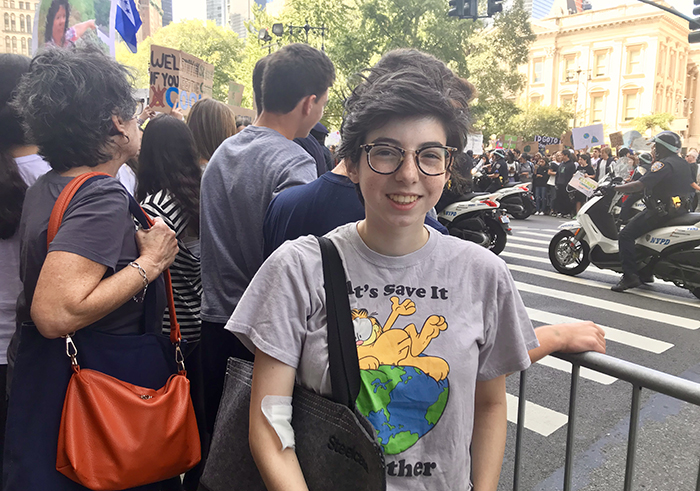 Student: Eliza Knoepflmacher
Age: 13
School: The Center School
Neighborhood: Upper East Side, Manhattan
"Our earth is dying. There's no Planet B. There's nothing else we can do … we need a change and we need it right now. … Even if we don't make a difference, we are showing what we want, and people all over the country are marching."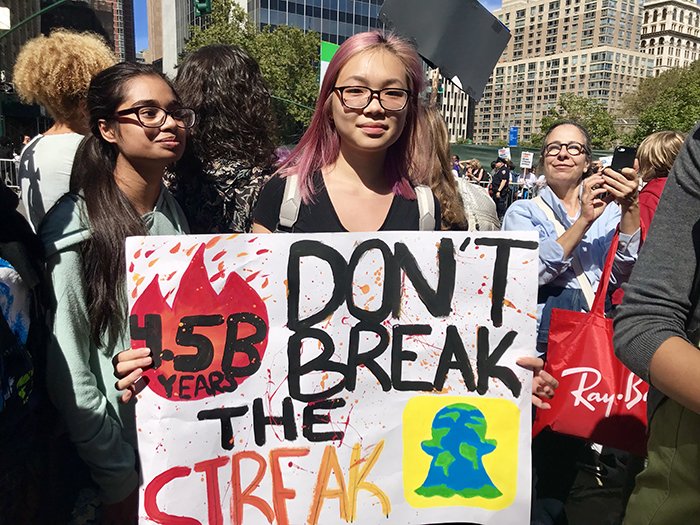 Student: Xuemin Weng
Age: 16
School: Brooklyn Technical High School
Neighborhood: Marine Park, Brooklyn
"I know a bunch of people who came to this march to tell us that it isn't going to do anything. … And I was like, yeah, things don't happen overnight. If you do it over and over again, they will realize that there's a purpose to it and that people are protesting for a reason."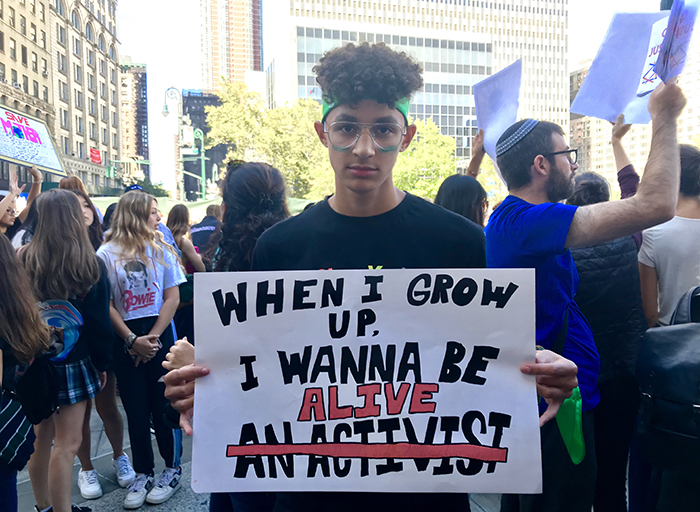 Student: Zakariah Massoud
Age: 14
School: LaGuardia High School
Neighborhood: South Bronx
Climate change "is an issue that affects everyone, not even just the right side or the left side. We have no future if we don't stop this now. So why am I going to school if I can't learn anything that will help me in life? I'm not going to have a life to look forward to. … [It's not true that] little things don't matter. … It's everyone doing something that changes everything."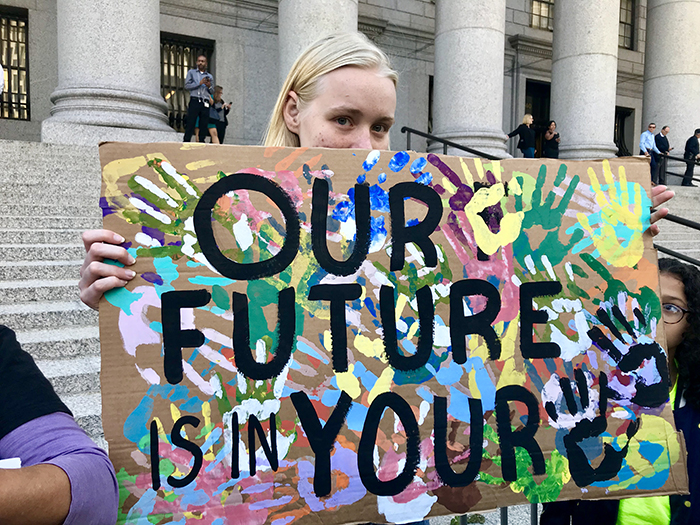 Student: Sami Friesen 
Age: 18
School: Weehawken High School
Neighborhood: Weehawken, New Jersey
"I was told that if I left school halfway through the day I was going to be penalized. I decided it was worth it. Because this is our world, and if I sit inside and I stand by, then we are not changing anything. … I believe this will be in textbooks one day. If we are able to make the difference that we have come here to make, we're going to be able to do this."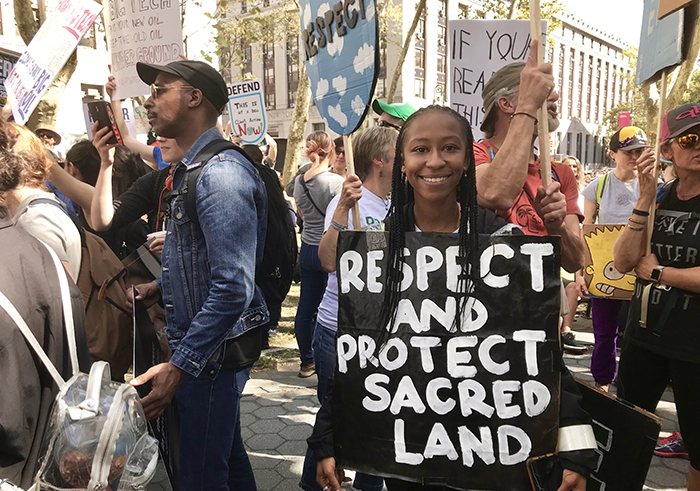 Student: Taylor Southerland
Age: 21
School: Borough of Manhattan Community College
Neighborhood: Harlem, Manhattan
"I think unity is power, and the more we come together and we do things like this, we'll be saving our schools while saving our planet. … It really is about the small minuscule things that you can do at home to start adding to the difference."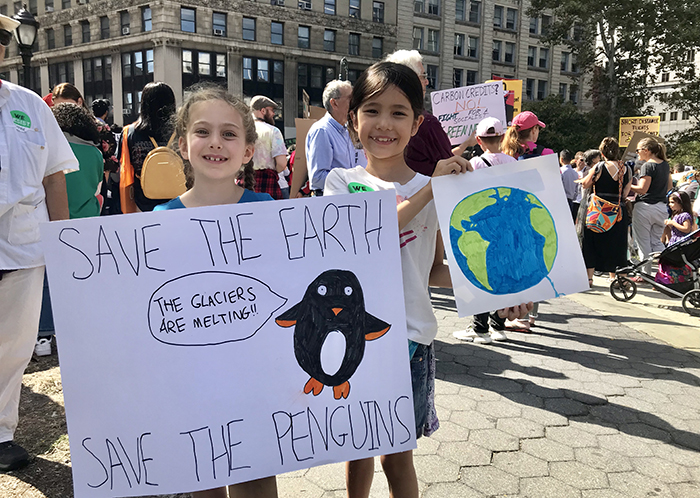 Student: Lucy
Age: 7 
Neighborhood: Park Slope, Brooklyn
"[I came here today] because I love penguins and I don't want them to get extinct. They're my favorite animal."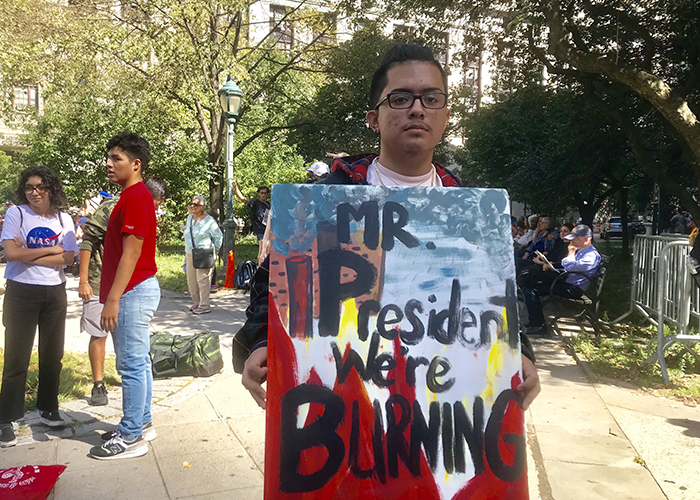 Student: Johny Guaman
Age: 17
School: Aviation High School
Neighborhood: Jackson Heights, Queens
"I think we're making a big difference. I feel like there's not a lot of work being done by adults and the powerful people that are running our government and running our country, so I've always believed that the youth has the most power in terms of making changes. … [I have] a few friends who are completely against the idea of fighting against climate change because they don't believe in it. And I think it's a failure by the schools, especially here in New York, because they're not teaching the children enough about the facts."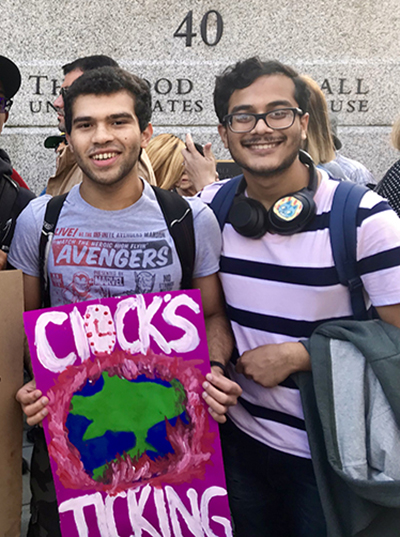 Student: Max Rosario
Age: 17
School: Brooklyn Technical High School
Neighborhood: Staten Island
"It's not just the government that can change. We can change our own lifestyle. … And I think that if each one of us does something about it, that difference can actually be made. … I find that inspiring to think about."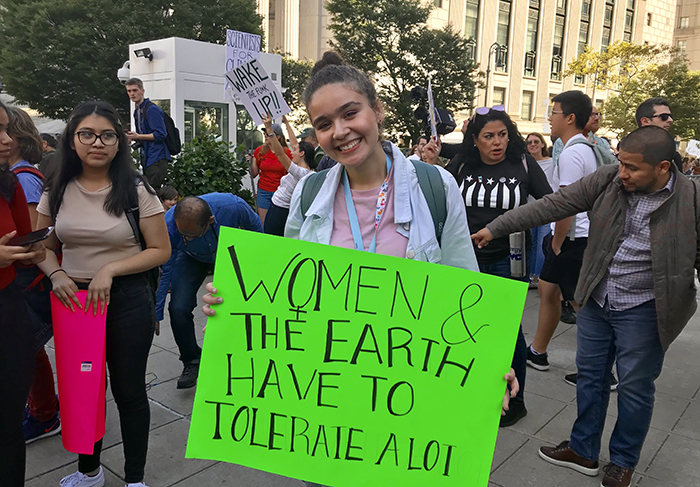 Student: Karla Azcona
Age: 15
School: Hostos-Lincoln Academy of Science
Neighborhood: Pelham Bay, Bronx
"People who are supposed to protect us from [climate change] aren't doing anything. So I feel like it's in our hands, our generation, to make a change."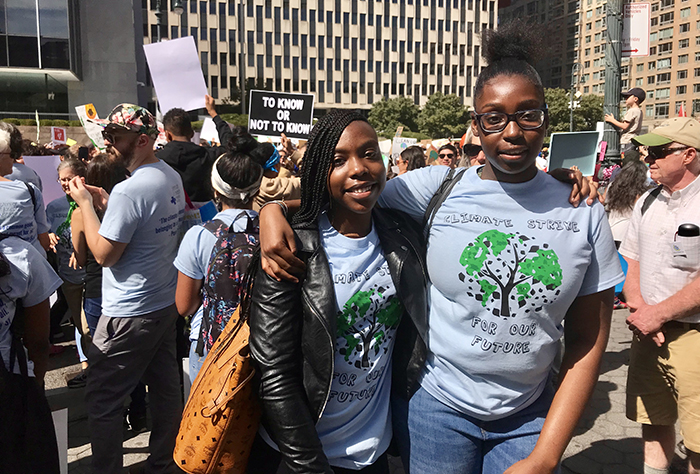 Student: Kadijah Prince
Age: 17
School: St. Joseph High School
Neighborhood: Midwood, Brooklyn
"A lot of times you don't get any voices for this type of situation, so I'm glad to see that there's a lot of people here; some kids from my school came as well. … [Our teachers] were really supportive. As soon as they heard there was going to be a march for climate change and that some students were going, they told us, 'Make sure to be safe' and, 'Go out there and march for what's right.'"
Get stories like these delivered straight to your inbox. Sign up for The 74 Newsletter