'It Was a Shocker': National Student Survey Shows Bullying on the Rise Over Past Three Years, Particularly Among Students of Color in Majority-White Schools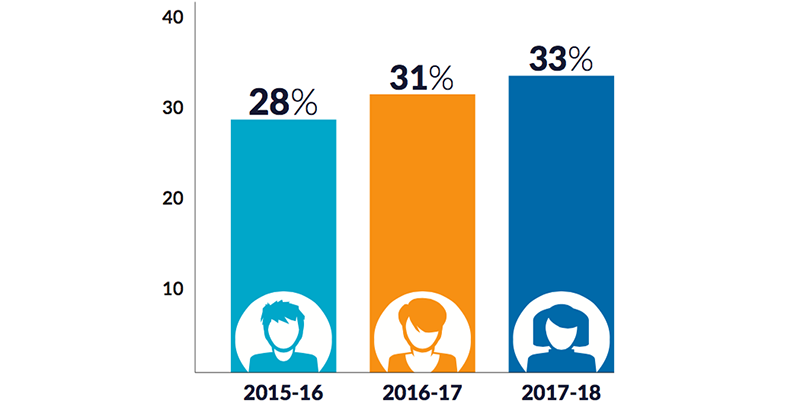 This is the latest article in The 74's ongoing 'Big Picture' series, bringing American education into sharper focus through new research and data. Go Deeper: See our full series.
Updated
Something was wrong.
This year, the nonprofit YouthTruth started noticing an upsetting trend. The organization, which works to improve school climate and culture by distributing anonymous student surveys in districts, was noticing an increase in bullying rates.
Sonya Heisters, YouthTruth's director of partnerships and outreach, observed it first in Quincy, Washington. The rural district, perched above the Columbia River in the center of the state, had bullying rates of 28 percent for the past two years. But this year, 46 percent of students said they were bullied.
Heisters doubled-checked with her research analyst to make sure they'd measured the data correctly (they had). But the next day, she received a call from a district in northern California wondering why its bullying rates were higher than the national average. Then another call came from Texas. And one from Pennsylvania. All with the same question.
That's when YouthTruth decided to dig into its archive of student survey data. The team looked at the past three years of responses — and found that 1 in 3 students in the districts they worked with reported being bullied in the 2017-18 school year, an increase of five points over 2015-16.
But it wasn't just the overall increase that bothered them: The jump was among students of color who attended majority-white schools. They reported a 7-point increase in bullying, as opposed to their white peers, whose rate increased by 3 points.
"It was a shocker for me," Heisters said.
"Especially because, you know, [educators] care so much about it and you know they've been working at it, so it is surprising and disheartening," added Jen Vorse Wilka, YouthTruth executive director. "Even educators who are so attuned to this problem and working so hard to address it are still swimming upstream."
Nationally, bullying rates have been decreasing over the past decade, the U.S. Department of Education reports, with 1 in 5 students reporting being bullied in 2015. But researchers have been looking into whether bullying has increased, especially since the 2016 presidential election, when groups like the Southern Poverty Law Center started reporting an increase in race-related bullying.
Whether an increase, which some have dubbed "The Trump Effect," is real is still up for debate. A June report from the federal Centers for Disease Control and Prevention found that bullying remained steady between 2015 and 2017. But new research looking at Virginia found overall increases in bullying in districts that voted for Donald Trump and some slight decreases in those that voted for Hillary Clinton. As The Hechinger Report reported, bullying about race was 9 percent higher in these GOP districts.
The YouthTruth data were not meant to analyze any link between bullying and the political landscape, Wilka said. But the survey did ask students why they felt they were being bullied. About three-quarters of students cited their appearance as the top reason, followed by race, sexual orientation, and family income.
In schools with a majority of students of color, there was no change over the years in the rate of bullying. However, white students in these schools were more likely to report being bullied than students of color: 37 percent, compared with 30 percent.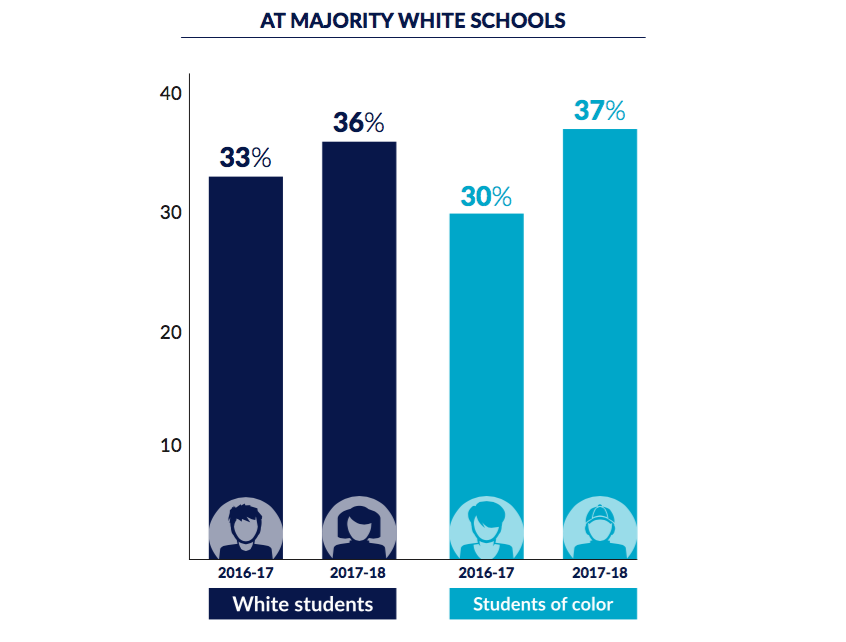 "In our analysis, we don't have any political markers or variables, so we aren't able to say from our data whether these differences … are due to political factors or not," Wilka said. "We clearly see that bullying is on the rise from our data and … we hope that contributes to the conversation that we clearly need to be having in this country about bullying."
YouthTruth's findings are not nationally representative, because the results come from districts that pay for the organization's surveys and programs. About 160,000 students in 387 schools in 27 states were included in this analysis. Of those students, 29 percent were white, 29 percent were Hispanic, 17 percent were multiracial, 7 percent were black, and 6 percent were Asian. YouthTruth counted results from each district only once, so the data do not follow the same students or schools over multiple years.
The Quincy School District saw an 18-point jump in bullying, with 46 percent of students reporting being bullied. District leaders are less convinced the reason is about race, as 88 percent of their students are Hispanic. Instead, they think it might have something to do with tension caused by cramped conditions during a drawn-out renovation of the junior high school.
Still, "It was very concerning," said Principal Scott Ramsey. "It was something we were saying, 'Hey we've got to address this. This is not OK.'"
So educators at the school created lesson plans to teach students about empathy. They let students paint murals on the walls — which would be coming down during construction — with positive messages. A class of eighth-graders and their teacher made a video to raise awareness about bullying that was shared across the school and picked up by a local news station.
"As we've gotten older, we've started labeling ourselves as the cool kids, the nerds, the wannabes, the desperate kids, and the weird kids," says student narrator Evelyn Ortega. "Then, with all of these labels and all of these groups, rumors get started and rumors lead to a ton of bullying."
So far, the new school year is going well at Quincy Junior High, educators said, with an increased emphasis on anti-bullying efforts and amplifying student voice.
"There is research that shows when kids feel happy and safe at school, they're going to learn better," Ramsey said. "We don't want them to come to school like they're coming to battle every day."
If you are a student and are looking for resources on bullying, visit pacer.org/bullying/resources/
If you are an educator who is looking for training resources on preventing bullying, visit stopbullying.gov
Get stories like these delivered straight to your inbox. Sign up for The 74 Newsletter