#IStandWithAhmed: 11 Tweets That Rallied the Internet to the Defense of a 9th Grade Texas Inventor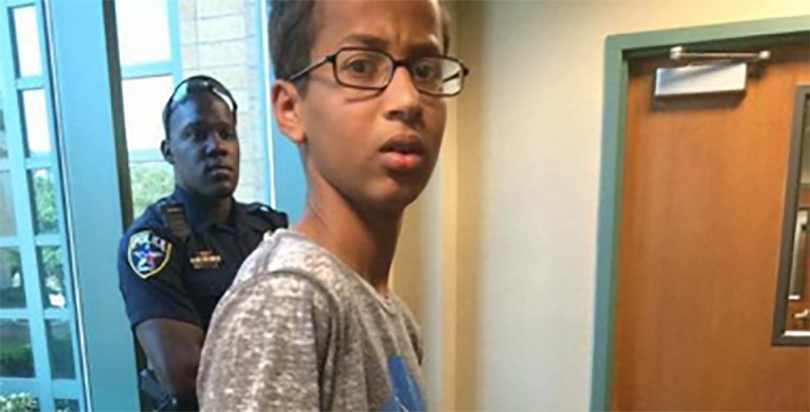 From President Barack Obama to Facebook founder Mark Zuckerberg, it seemed that everybody on the Internet was discussing Ahmed Mohamed on Wednesday — including students from across the country who used Twitter to argue school officials should have embraced his ingenuity, not stifled it because of his ethnicity.
On Monday, Ahmed Mohamed, a freshman at MacArthur High School in Irving, Texas, was arrested after he showed a teacher what school officials and police called a "hoax bomb." Nope. It was a homemade clock.
The story became national news on Wednesday with #IStandWithAhmed trending on Twitter.
Cool clock, Ahmed. Want to bring it to the White House? We should inspire more kids like you to like science. It's what makes America great.

— President Obama (@POTUS) September 16, 2015
We need to be encouraging young engineers, not putting them in handcuffs. #IStandWithAhmed

— Arne Duncan (@arneduncan) September 16, 2015
According to an Irving Police Department news release, Irving Independent School District officials notified school resource officers at MacArthur High School about a student in possession of a "suspicious device" and were worried it was the infrastructure for a bomb. After police questioned the student, he was taken into custody for "possessing a hoax bomb."
Morgan Craven, director of the School-to-Prison Pipeline Project at Texas Appleseed, told The Seventy Four on Wednesday that police should only be called for help when there is a real threat to the safety of students, which does not include "a hoax bomb that is actually a clock."
"If you call in police, it should be for a serious situation," she said. "That's what their time should be used for."
Although the police department announced that charges won't be filed against Mohamed, the case contributes to a decades-long debate about the role police officers play in schools, and whether their presence makes students safer or shoves them into the "school-to-prison pipeline."
In June, Texas Gov. Greg Abbott signed a law that requires police officers to complete specialized training in order to work as a school resource officer in a school district with more than 30,000 students. Training must include adolescent development and psychology, positive behavioral interventions and supports, techniques in conflict resolution, and de-escalation techniques, among other requirements. However, Craven said cultural competency training was scrapped from the legislation before it reached Abbott's desk.
"It can be uncomfortable for people to say 'I am biased against people with color,'" Craven said. "A majority of people in this country, and a majority of teachers, have those biases."
Here's a rundown of the tweets that sparked — and then added fuel to the fire — of Wednesday's online protest:
#IStandWithAhmed children should be celebrated for their genius, not punished for their religion/name/skin colour

— Scarlette M. (@storytellrwendy) September 16, 2015
Ahmed and us at the Robotics Competition in Dallas #IStandWithAhmed pic.twitter.com/SkI3I8DDo8

— مرام (@sudanibae) September 16, 2015
Sad to be in a world where a young creator is discriminated against simply because of the color of their skin #IStandWithAhmed

— oliviaa (@liviamason) September 16, 2015
Curiosity should never be punished, especially by educators. #IStandWithAhmed

— Andrew M. Lewis (@alewis93) September 16, 2015
Just cuz he's Muslim and he made a clock they thought he made a bomb? So disgusted by the teacher/school and the police. #IStandWithAhmed

— Raisa ✨ (@yourstrulyraisa) September 16, 2015
I'm truly disgusted with how this student was treated Shame on the ignorants involved. Teacher willingly took it from him? #IStandWithAhmed

— Eli Rodriguez (@MrEliRodriguez) September 16, 2015
I personally know Ahmed.He's extremely intelligent & bright.This is discrimination.I'm so disgusted! #iStandWithAhmed pic.twitter.com/Ah5lj978x8

— #iStandWithAhmed (@LaAngel_) September 16, 2015
a beautiful & creative 14 year old mind gets arrested instead of applauded. arrest the teachers. not the student. #IStandWithAhmed

— Jessie (@JammminJessie) September 16, 2015
#IStandWithAhmed & every other creative youth who is denied opportunity in US due to their name, religion or skin color. #DoBetterAmerica

— Woobie Tuesday (@WoobieTuesday) September 16, 2015
Get stories like these delivered straight to your inbox. Sign up for The 74 Newsletter