Investigation: Forced Into Unneeded Remedial Classes, Some Community College Students Fail to Finish Degrees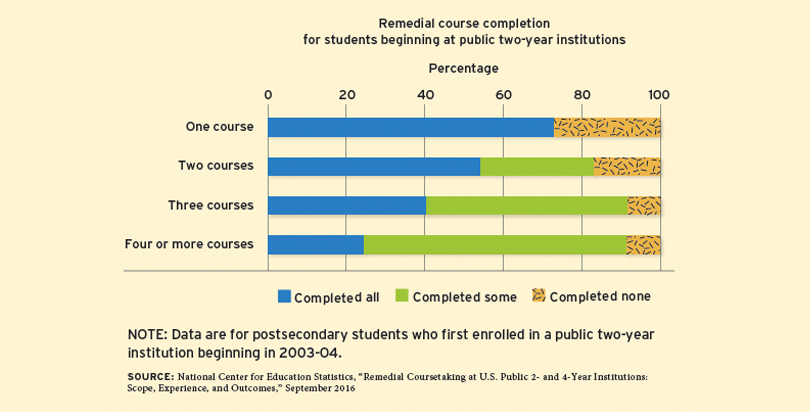 As community colleges scramble to reform their remediation programs, many of their customers are still borrowing thousands of dollars to pay for classes that won't award post-secondary credits.
That's the discouraging takeaway from Education Next's long investigation today, in which author Timothy Pratt interviews two SUNY Adirondack students who have spent thousands on foundational coursework that has brought them no closer to graduation than when they started.
"Why would they set you up to fail?" one asks. "The college tells them, 'Come on and come to our college' — and then when they don't pass the placement exam, they get stuck with the bill."
Even as high school graduation and college enrollment rates have soared nationwide, the percentage of diploma holders actually prepared to take on next-level work remains stuck, stubbornly, around 40 percent. Increasing numbers of community college students are beginning in remedial classes, paying out of pocket to learn subject matter — like English and algebra — that should have been covered in high school.
(The 74: More HS Students Are Graduating, but These Key Indicators Prove Those Diplomas Are Worth Less Than Ever)
Placement into remediation is determined by performance on "readiness tests" administered by two-year programs when students enroll. But as Pratt reports, schools aren't always transparent about the costs of failing the assessments — or the abundance of resources available to students to prepare for them.
Community colleges cash student checks for remedial courses, regardless of whether those students finish the class. And that's not a certainty; of community college students taking one remedial course, 74 percent complete the class. For those taking four or more classes, just 25 percent finish all remedial coursework.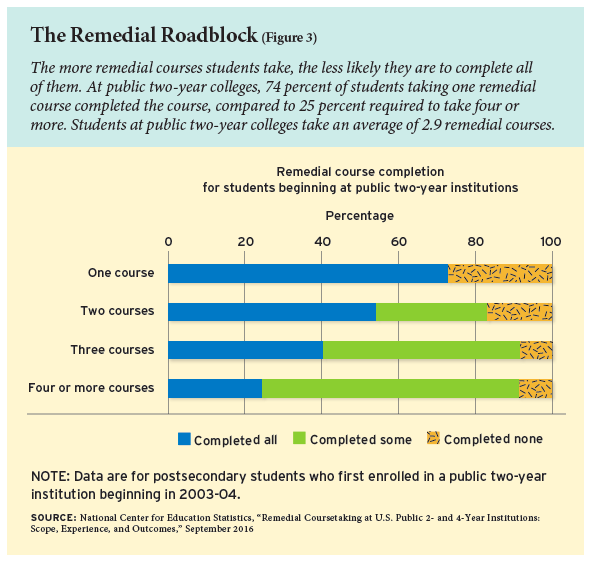 Making matters worse is the dawning realization among many administrators that readiness tests aren't necessarily the best way to test readiness. Research cited by Education Next has indicated that as many as 18 percent of students placed in remedial math classes as a result of the assessments — and fully 29 percent of those placed in remedial English classes — were capable of passing credit-bearing courses without remediation.
As the academic and financial pitfalls of the present system are more widely studied, states seem to be moving away from placement exams and pricey remedial education. Only last month, Texas mandated the use of "corequisite remediation," an approach that enrolls students immediately into college-level courses while simultaneously providing supplementary supports. Individual schools, such as the CUNY system's Guttman Community College, are implementing the same approach to much success. The three-year graduation rate from community colleges nationwide is 21 percent; at Guttman, it's 49.5 percent.
Yet progress on the college end still won't solve the bedrock conundrum: how to prepare a greater share of high school graduates for the rigors of postsecondary education, particularly as a college degree becomes the sine qua non of middle-class employment. Even as swaths of teenagers advance toward their high school diplomas, no one tells them that they're likely to pay for the privilege of learning the same material again in a few years.
Or as one of the students interviewed by Pratt remembers, "I passed without learning."
Get stories like these delivered straight to your inbox. Sign up for The 74 Newsletter