'Intergenerational Play': New Teacher of the Year Tabatha Rosproy Leads Program Where Pre-K Students and Senior Citizens Learn Together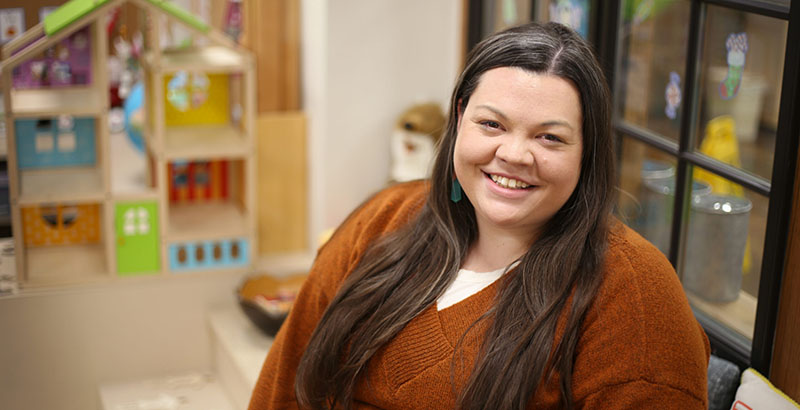 For Tabatha Rosproy, the newly named Teacher of the Year, the importance of her work goes beyond her students' achievements, even though those are impressive.
Rosproy is a teacher at a preschool located within a seniors community in Winfield, Kansas; the impact of her and her 16 students can also be measured by the smiles and hugs delivered daily from a coterie of seniors.
"It's remarkable to spend time in her classroom," said Randy Watson, the state commissioner of education. "You get to watch this intergenerational play between 4-year-olds and senior citizens that's so beneficial to both. You pair that with a remarkable teacher, and you have magic."
Rosproy is the first preschool teacher to win the Council of Chief State School Officers' top prize in its 68-year history. Winning this award will take Rosproy out of the classroom for a year, during which time she will promote the importance of preschool education and the value of teaching social-emotional skills to 4-year-olds.
The Kansas native has been teaching for 10 years and for the past two years has run the Little Vikes program at Cumbernauld Village, a seniors community. Every day, the seniors, called "grandparents" by Rosproy, greet the children, read one-on-one with them and play with them.
It's one of about 100 such programs across the country, said Donna Butts, the executive director of Generations United, a nonprofit that promotes intergenerational learning. That total includes not only schools but also child care and afterschool programs.
A recent public survey shows that "the majority of people love this idea. It's not as common as it needs to be," Butts said.
"It's just what I think every parent would want," said Watson. "It's what every son or daughter would want for their parents."
A video from Rosproy's peers features effusive praise and even a spontaneous celebration dance for her victory. "We in Kansas knew you were amazing, but now the whole nation knows," said Kara Belew, a teacher at nearby Andover Central High School.
Rosproy was instrumental in launching Little Vikes, modelling the program after two other preschools located in seniors communities, one in nearby Kansas and the other in Enid, Oklahoma. The full-day program, officially known as the Winfield Early Learning Center, is free for participants and includes both typically developing students and children who are developmentally delayed. The lottery-based admission includes a waiting list.
While Rosproy is quick to mention the importance of social-emotional learning in her students, the children also have the highest preschool literacy and math scores in her district of Winfield USD 465. Winfield, a rural town about 40 miles south of Wichita, has 2,284 students in seven schools, including its preschool program.
"Social-emotional learning is the foundation for all other learning," Rosproy said in an interview with The 74. "It's teaching students how to regulate their feelings and interact with peers." This leads to problem-solving and thinking about situations critically, elements necessary for academic success, she added.
Rosproy acknowledged that continued work with preschoolers has demonstrated the value of allowing students to experience conflict. "It's been a shift in my way of thinking. I take a deep breath and remind myself it's OK to have room for conflict. … I really do believe that's how they learn."
Rosproy doesn't limit her work to preschoolers and seniors; pre-COVID, she regularly held parenting workshops. "Parenting doesn't come with a handbook, but I kind of got that handbook when I was in college, [learning] how the brain develops. I have this knowledge and want to share it with families."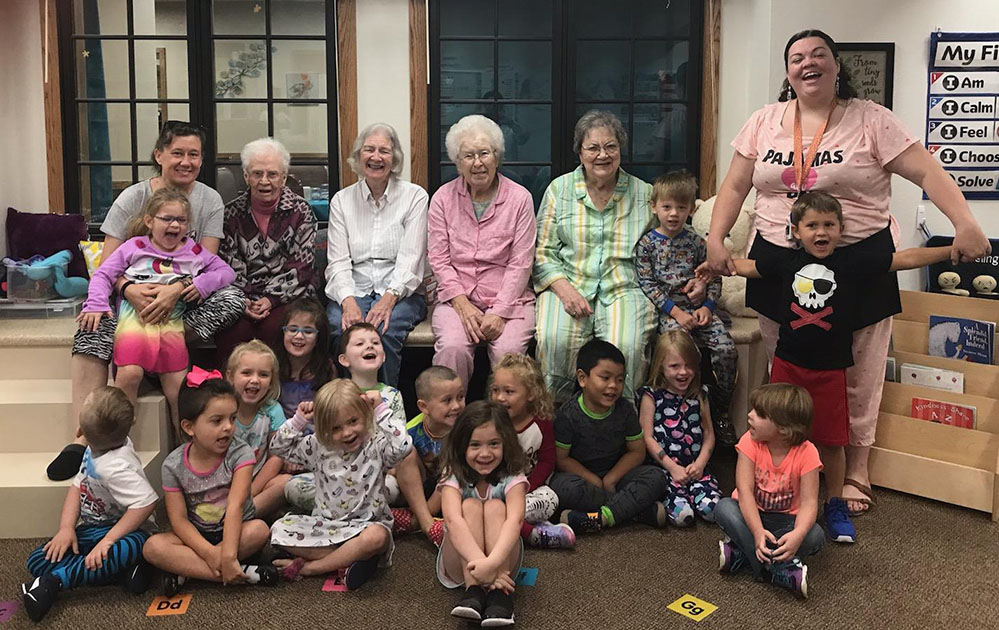 Kansas was the first state to close all its schools because of the coronavirus, and Little Vikes might have a harder time restarting this fall because of the pandemic's effects on senior citizens. But Rosproy has continued teaching, pre-recording videos, having live conversations with her full class and even hand-delivering pinwheels to each student's yard.
"It has been a challenge to educate virtually 4-year-olds," she acknowledged. "I've had to shift my thinking to parent coaching and encouragement. I let them know I see the hard work they are doing, and the more we remain calm, the better off [the students] are going to be when they face problems themselves."
Rosproy had a hand in shaping the continuous learning plan that Kansas is using during the coronavirus. But one casualty of the pandemic is her ability to be feted at the White House for her honor. For now, the ceremony has been delayed, with the hopes it can be rescheduled later.
The Kansan said she does not want to use the award to begin a life in politics, like former Teacher of the Year winner Jahana Hayes, a congresswoman from the Fifth District in Connecticut. "I have never considered anything other than being a teacher," she said. "I tell my friends, 'I was born for this.'"
Still, Rosproy did have thoughts about what she might say when she gets her chance to rub elbows with elected officials in Washington. She would attempt to have them engage with teachers and learn firsthand about student needs, she said. "We are in the trenches of education, with a joyful heart."
Rosproy was selected by a national committee from a group of 55 educators from all 50 states. The other three finalists were Leila Kubesch, a middle school Spanish and English language learner teacher from Norwood, Ohio; Linda Rost, a high school science teacher in Baker, Montana; and Chris Dier, a high school history teacher from Chalmette, Louisiana. Rosproy succeeds Rodney Robinson, a social studies teacher who taught at the Richmond Juvenile Justice Center in Virginia.
A 2019 video on Cumbernauld Village's website underscored the impact of Rosproy's work. Ed Foster, a resident and former teacher with experience from kindergarten to college, said, "I've never been more challenged than I have with the Little Vikes. They're tough, but are they sweet."
Later in the same video, an unidentified senior spoke of some of the other challenges of aging: "I felt like I had already done anything I could possibly do." Discussing what it felt like to live past 90, he added, "I gave up on an awful lot of my interests and activities."
In the next frame, Rosproy appears, holding his hand and offering support. "I wake up in the morning so totally different than I did just a year ago," the man said. "I have sung all my life, but I've never got the feedback that I get from singing for these kids. I have a reason for getting up."
Get stories like these delivered straight to your inbox. Sign up for The 74 Newsletter