Trump's 'Education Week' Calculation: A New Pivot to Woo Reluctant Republicans and Swing State Minorities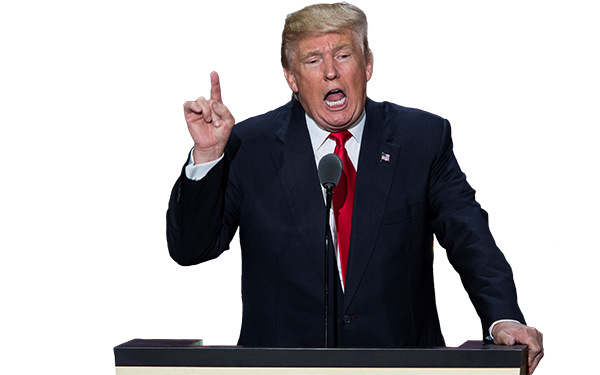 Donald Trump's campaign for president so far has been, to put it diplomatically, unusual.
He has no background in politics, nor experience in elected office. He contradicts himself repeatedly, and then screams press bias when they highlight those very flip-flops. His campaign keeps promising a more focused and thoughtful candidate on key issues, like immigration — but then delays or cancels his definitive policy speeches. (Last week's major address on immigration, set for Thursday in Colorado, was delayed as the candidate kept modifying his position.)
He seems to think the best way to cover up for those campaign setbacks is to post increasingly outlandish proposals and tweets.
(Sign up for The 74 newsletter for more coverage of Donald Trump and Hillary Clinton's education priorities)
The cycle is set to start again this morning, as the candidate looks to make yet another "pivot" to moderate his positions after a year of inflammatory campaign rhetoric. Advisers said this week would be "education week" for the Trump campaign, where the candidate — who for decades was better known for his discussion of beauty pageant contestants than positions on American school standards — will focus in some depth on the issue of preparing our next generation for college and the workforce.
"Education, education, education!"
It's a calculated tactic, to focus on education immediately following immigration. If immigration is a wedge issue, Trump's past rhetoric pandering to the country's protectionists, education is a unifier.
Voters in both parties — particularly minority voters who tend to lean Democrat and moderate Republicans who haven't yet decided if they can ultimately vote Trump – are demanding better from the public education system. In now rushing to talk schools, Trump's advisers no doubt see a potential foothold with these Americans who on every other topic may disagree with the Republican nominee. (Trump is deeply underwater with minority voters: an Aug. 23 NBC News/SurveyMonkey poll found he had the backing of only 8 percent of black voters and 22 percent of Hispanic voters. It's also a way to assuage concerns of white voters worried about the often-racist undertones of Trump's campaign.)
Trump has already started laying the groundwork for his education pitch to minority voters: He argued at a rally in New Hampshire Thursday that Democrats – like his opponent Hillary Clinton – have failed in leading major cities for decades. "Their policies have produced only more poverty, total joblessness and failing schools," Trump said. "Every policy Hillary Clinton supports is a policy that has failed and betrayed communities of color in this country."
---
What do African-Americans and Hispanics have to lose by going with me. Look at the poverty, crime and educational statistics. I will fix it!

— Donald J. Trump (@realDonaldTrump) August 26, 2016
---
Under a Trump presidency, though, "African American citizens and Latino citizens will have the time of their life," he pledged.
"Education, education, education! We are going to bring back great education for our inner cities and for our country," Trump added.
When it comes to targeting moderate minorities and Republicans, it's a safe bet that school choice, writ large, will be Trump's focus. A cursory scan of recent surveys and polls underscores why it's a savvy political play:
An April poll by the National Alliance for Public Charter Schools found huge support from minority groups for "allowing students and their parents to choose which public schools in the community the students attend, regardless of where they live." Sixty-three percent of black parents of school-age children surveyed "strongly favor" the idea, along with 55 percent of Hispanic parents.
Black and Hispanic respondents in this year's Education Next poll were also supportive of tax credit scholarships (64 and 62 percent of poll respondents, respectively, higher than the average of all voters). Hispanic respondents were also more supportive than the national average of various voucher proposals.
(The 74: Four Takeaways from the New EdNext Poll)
So why the sudden focus on winning over minority voters? Swing states.
Minority voters make up sizeable portions of the electorate in must-win states where Trump is currently trailing: in Florida, black and Hispanic voters are about 29 percent of registered voters, and about 22 percent of voters in North Carolina are black, for example.
Why the sudden focus on school choice? Resistant Republicans.
Trump still lags badly with some voters in his own party. Education could be the safe inroad there, too: only 32 percent of Republicans are satisfied with U.S. education, as compared to 53 percent of Democrats, according to a Gallup poll from earlier this month.
For a moderate Republican in a swing state with a child in struggling school, Trump's talk of charters, vouchers and education savings accounts might be the one area where they can find common ground.
Trump certainly has a long way to go, of course, and education isn't the most important issue on most voters' mind (a recent poll said it's only the top concern of about 9 percent of the electorate). But in a campaign riddled with unforced errors, taking the safe road and making a pitch to America about bettering its school system isn't a bad idea for Trump.
Get stories like these delivered straight to your inbox. Sign up for The 74 Newsletter