Inside the School Lunch Affordability Gap: Too Affluent for Free Food, Can't Afford $1.75 Meals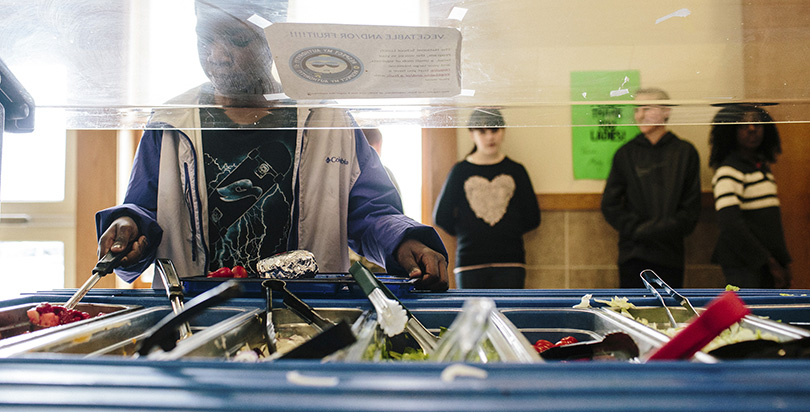 The school cafeteria has always been an epicenter for childhood angst. It's where teenagers embark on new romances and test the allegiances of their social hierarchy.
For many poor kids, the cafeteria is also where they wonder whether they should be making their families pay for lunches they can't afford.
New York City children whose families are on the bottom rung of the economic ladder — earning less than about $35,000 a year for a family of three — get lunch in school for free. But families living just above that threshold are ineligible, even though the cost of school lunch may be more than they can afford.
According to two New York City nonprofits, Community Food Advocates and the Citizens' Committee for Children, there are about 110,000 city kids whose families struggle to pay the estimated $315 annual cost of school lunch for each child.
"Someone could be $2 over the limit and they are not eligible," said Liz Accles, executive director of Community Food Advocates. "Given the costs of New York City, it really makes the difference between paying an electric bill and paying a lunch bill."
For these kids, advocates say, there is a very real fear of being told by a cafeteria worker that their families owe the school money. At the same time, many students who qualify for free lunch dread being singled out as needy in an environment where even the slightest perceived differences can damage a child's social standing.
"There are hundreds of thousands of kids who will never get up in that line," said Accles. "There are hundreds of thousands of children that sit on the sidelines in the cafeteria that will say they are not hungry while other kids are eating. They are afraid of being labeled as the poor kid or they are afraid of accruing a bill for their families that their family cannot afford."
The solution, advocates say, is to offer free lunch to all students.
In recent weeks, the Lunch 4 Learning Campaign, a coalition of activists, parents, politicians, and unions organized by Community Food Advocates, has been lobbying officials to include funding for universal free lunch in the next city budget.
"If your stomach is growling, it's hard to pay attention to what's going on," said Stephanie Gendell, the Citizens' Committee for Children's associate executive director for policy and advocacy.
"As teachers, we know what happens when children don't get a real meal at lunchtime. We don't want children skipping a meal because they are embarrassed, or because they are afraid it will be a burden on their family finances," United Federation of Teachers President Michael Mulgrew said in a statement. "Cities from Boston to Dallas have already found ways to do this for their students. New York City needs to step up and do the same for our students."
Mayor Bill de Blasio's spokeswoman Freddi Goldstein said the city has made strides in extending access. "Free lunch was expanded and is now offered to 80% of students citywide," she said in a statement. "We are reviewing the possibility of expanding it to even more schools and are doing our due diligence to make sure resources are used wisely."
All children attending stand-alone middle schools can now receive free lunch, and the city offers universal free breakfast in all schools. Citywide, more than two-thirds of students meet income requirements for free lunch; those who don't qualify pay $1.75 per meal, with the rest of the cost covered by the state and the U.S. Department of Agriculture's federal National School Lunch Program. (House Republicans have proposed rolling back subsidies that help pay for school breakfasts for low-income kids.)
The $85 billion budget de Blasio proposed in April allocated about $11.25 million for universal free lunches in middle schools, but it would take almost $9 million more to implement a universal free lunch program, advocates say. The budget requires City Council approval and must be in place by the end of June.
Last week, Chancellor Carmen Fariña issued a memo reminding principals that any elementary or middle school student who requests a lunch should get one. But activists say that policy misses the point because it puts the burden — and the potential for shame — on young students who must ask for lunch.
Earlier this month, a bipartisan group of congressional lawmakers introduced a bill that would bar schools from throwing out children's meals or engaging in "lunch shaming" — requiring them to wear a wristband, have their hand stamped, or complete extra chores — if their family can't pay.
"Children who have no ability to pay their debts shouldn't be shamed, punished at school or even go hungry because their parents can't pay their school meal bills," New Mexico Sen. Tom Udall said in a statement announcing the bill.
---
---
Get stories like these delivered straight to your inbox. Sign up for The 74 Newsletter