Inside the NYC Rally for Education Equality, as Teachers' Voices Join the Chorus for Choice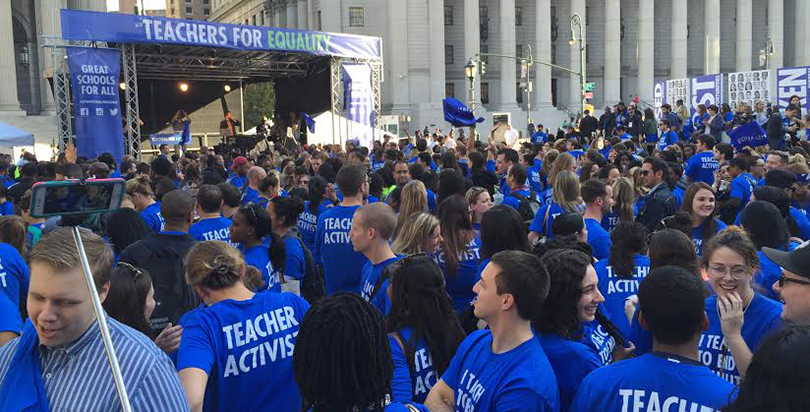 New York City
Monique Johnson believes she has the best job in the world.
Each day, the teacher at Achievement First Brownsville Elementary, a charter school in Brooklyn, introduces students to the world of music — "everything from Beethoven to Beyoncé."
But not all of New York City's kids are so lucky, she said in front of a rally in Manhattan's Foley Square, which followed a teacher-led press conference with an identical message on the steps of City Hall.
Too many of the city's students, the gathered teachers seemed to agree, are being forced into a "separate and unequal" public school system — a system they claim is failing some 478,000 children, most whom are black or Hispanic.
That's why Johnson and at least 1,000 other charter school teachers gathered in Lower Manhattan on Wednesday: to stand up to "the status quo in education."
"They're kids who could be the next Alicia Keys or Duke Ellington or even Jay Z, but when we stick them in failing schools, we steal possibility away from them," Johnson said. "That isn't right and it isn't fair."
At first glance, the message from rally-goers wearing matching "Teacher Activist" T-shirts seemed identical to an Oct. 9 event, in which thousands of charter school parents and students marched across the Brooklyn Bridge and called on Mayor Bill de Blasio to close the gap between traditional public schools and charters.
But this time, pro-charter advocacy group Families for Excellent Schools shifted the spotlight to charter school teachers, mobilizing educators to join New York City's heated education policy debate.
While Johnson and other teachers offered personal anecdotes, they also came with a pointed and practiced political message: that de Blasio and "special interests" were playing politics with students' potential.
"As teachers, we have a responsibility to raise our voices and say 'enough is enough,'" Johnson boomed from a podium arranged at the bottom of the City Hall steps. All students, she said, "have a right to an education that challenges them to explore their passions, find their calling, and pursue their dreams — whether that means law school or the Broadway stage."
Wednesday's gathering wasn't Families for Excellent Schools' only tactic to introduce a larger teacher presence to the debate. On Tuesday, the group released two new television advertisements focusing specifically on charter school teachers. This new strategy is but the latest salvo in the organization's ongoing campaign for school choice; in 2014, Families for Excellent Schools reported spending $9.6 million on lobbying activities to support their cause.
"I don't really see it as a charter or district debate, I just see it as providing great schools for our families," a charter school teacher says in one of the new Families for Excellent Schools ads, which appeared to many to be a direct response to the United Federation of Teachers television advertising campaign launched last month. The UFT ad portrayed all of the city's teachers united as one, although most charter school teachers are not unionized.
Elyse Fleischer-Yedid, a math tutor at Success Academy Charter Schools' Harlem 1 campus, offered a similar sentiment to the Families for Excellent Schools ad. "We should all have the same goals to educate our kids," she said. "There should be no controversy amongst teachers at all, we're all out for the same thing."
Get stories like these delivered straight to your inbox. Sign up for The 74 Newsletter