Inside New Hampshire's Common Core Showdown: Will Gov. Hassan's Veto Embolden the Critics?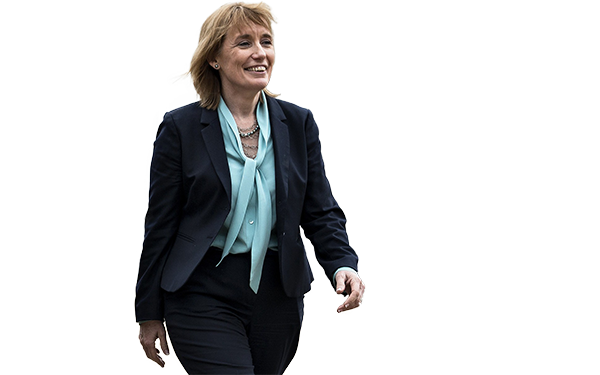 This is one in a series of articles profiling New Hampshire's education system ahead of the August 19 NH Education Summit, hosted by The Seventy Four and sponsored by the American Federation for Children. Read the complete series here, and be sure to visit The74Million.org on Aug. 19 for live Summit coverage, featuring conversations with Jeb Bush, Chris Christie, Carly Fiorina, Bobby Jindal, John Kasich and Scott Walker. More info: EdSummits2015.org
Anne Marie Banfield promises to be quick — after all, she says to a couple dozen parents in what looks to be a school cafeteria, the Bruins game is on. She is
speaking
about the Common Core, and for many parents gathered that night in Barrington, New Hampshire, what Banfield had to say was more important than the Bruins game.
As it turns out, Banfield isn't all that quick, talking for an hour straight and then taking another 45 minutes worth of questions. A 104-minute video of the event was uploaded to
YouTube
in June 2013, where it continues to slowly rack up views.
Banfield's initial New Hampshire monologue is engaging if somewhat stream-of-consciousness. She first explains that Common Core is — like ObamaCare, she says — difficult to define.
She then proceeds to lay out a litany of complaints about the standards-that-aren't-just-standards: Common Core is too much like the European system; the standards are too easy; English textbooks are too political and attempt to indoctrinate students with stories about Cesar Chavez; there's not enough grammar; it requires data collection; too much time is spent explaining math and not enough time focusing on getting the answers right. It may even require the reading of books, Banfield theorizes, that are both anti-Christian and Marxist, citing Barbara Ehrenreich's "
Nickel and Dimed
."
Most ominous is the elaborate tracking system that Banfield claims the federal government is instituting through Common Core. The feds, she explains in a no-nonsense manner, will use all the data that is allegedly being collected to funnel students into certain careers — whether they like it or not.
She describes one such harrowing incident: "I heard from a parent in Nashua, whose, I think it was her son, took one of these surveys in high school. Her son's gonna be a rapper! She was not happy about that." The audience laughs, perhaps a bit nervously, wondering which of their children would be required by Common Core to become rappers.
There are
real arguments against the Common Core and Banfield — who says she volunteers with
Cornerstone Action
, a socially conservative group in New Hampshire — raises some of them in her talk.
But it's hard to imagine that what's galvanized the widespread uprising against the Common Core in New Hampshire and elsewhere, are concerns about marginal increases in informational (non-fiction) texts. Rather it's likely the nefarious enterprise that Banfield describes, complete with left-wing indoctrination and government-controlled careers, is causing the rebellion.
It's been two years since Banfield's presentation, and she's continued to write widely about the standards, in mainstream outlets and conservative blogs.
It is precisely this sort of grassroots activism — writing anywhere and everywhere, leveraging social media, speaking in middle school cafeterias — that is making a mark. In New Hampshire, it's even fueled anti-Common Core legislation.
A few months ago, the New Hampshire state Senate and House passed a bill that would prohibit either the state Education Department or the state Board of Education from requiring that any school district in New Hampshire be required to use the Common Core. The law sailed through the House by a vote of 202–138.
Kevin Avard, the chief sponsor of the bill,
explained
, "I've heard from many parents around the state who are worried not only about the quality of these federal educational programs but that they are mandated across the state, limiting the ability for individual towns and cities to decide on their students' education."
No doubt some of those parents were inspired to contact Avard by activists like Banfield.
To their disappointment, however, Democratic Gov. Maggie Hassan took a hard stand on Common Core and
vetoed
Avard's bill in early May. She noted that New Hampshire districts were already free to choose whether to implement the standards and expressed her support for their value.
"As this bill has no practical impact, its purpose appears to be that of sending a message, and it is the wrong message," Hassan said
her veto message.
"New Hampshire must be clear that it is committed to developing a 21st century workforce and citizenry, that it welcomes innovation, and that it is modernizing its education system to reflect those values."
Hassan is a staunch Common Core backer who recently
joined
the board of Achieve, a nonprofit that helped write the standards. When she ran for — and won — re-election in 2014, Hassan
defended
the standards against criticism from her Republican opponent, who campaigned vigorously on his opposition to the Common Core.
Hassan may have won the battle — the state's Business and Industry Council shares her support for the more rigorous standards and state lawmakers have not been able to override her veto — but the war is far from over in New Hampshire.
Die-hard opponents are maintaining a steady drumbeat, regularly posting content to a Stop Common Core New Hampshire Facebook
page
; an online
petition
to dump the standards has soared beyond 1,500 signatures as of Friday.
Going into the 2016 presidential election where Common Core bashing has taken on its own fervor among many of the GOP candidates, the question now for New Hampshire is just how long this activist energy can persist, given a governor who seems unshakeable.
Or perhaps, the question is how long Common Core supporters, like Hassan herself, can continue to contain the backlash.
Photo by Getty Images
Get stories like these delivered straight to your inbox. Sign up for The 74 Newsletter