Innovation Road Trip: In Schools From California to North Carolina, Knowledge-Rich Curricula Are Revolutionizing the Way Children Learn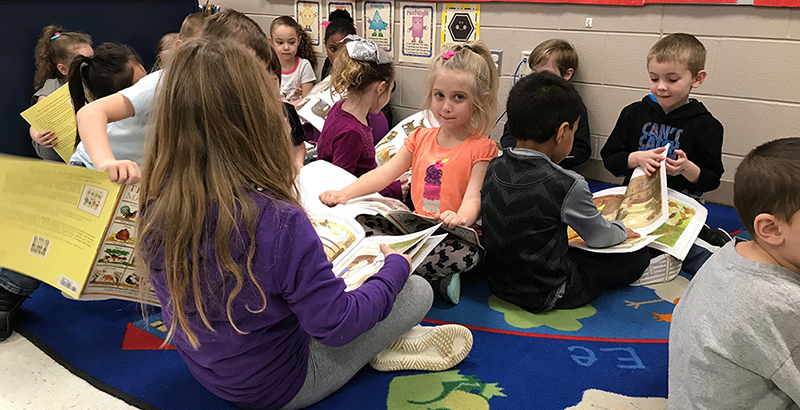 This is the final piece in a travel blog series on The 74, in which the Knowledge Matters Campaign, part of StandardsWork, took us on an adventure through classrooms across the country. See the full series here.
Last month's release of biennial reading scores on the "Nation's Report Card" — and the likely overlooked, but monumentally important, panel discussion accompanying that announcement — could not have provided a better bookend to our recently concluded tour of "knowledge-rich schools."
We embarked on the Knowledge Matters School Tour in January with an essential question: What — beyond use of a high-quality, knowledge-building curriculum — defines a knowledge-rich school?" We hope readers of the series have a better picture in their minds, and that you will be patient as we bring our travelers back together to compare notes. We think there are some common, and significant, themes.
In the meantime, we can't help noting — on the heels of that very thoughtful discussion among some of the foremost authorities on reading instruction — how aligned their recommendations were with what we saw happening in these schools. We offer the following crosswalk:
"Too many of our children are not reading enough to become good readers," Carol Jago, vice chair of the National Assessment Governing Board, said in kicking off the panel discussion. "As a society, we need to foster a culture that values reading."
Building a love of reading was on full display everywhere we went on the School Tour. It was particularly noteworthy at Greensboro, North Carolina's Monticello-Brown Summit Elementary School, where, as my colleague David Liben says, "they do volume-of-reading on steroids."
An important clarion call emerging from the panel was the need to do away with the practice of assigning students to books at their "level."
"At best, this has no positive effects, and at worst, it's been found to do real damage – to hold kids back," said Tim Shanahan, a longtime reading expert and professor emeritus at University of Illinois at Chicago.
(See our blogs about Saville Elementary School in Dayton, Ohio, and Maryvale Preparatory Academy in Phoenix, Arizona, for great examples of exposing all students — every kid in the class! — to engaging, complex texts.)
Calling out the importance of such exposure for struggling readers in particular, Marilyn Adams, a visiting scholar at Brown University's Department of Cognitive, Linguistic, and Psychological Sciences, claimed that "the widespread practice of giving students easier texts when they're weaker readers serves to deny them the very language and information they need to catch up and move on."
Our visit to two charter schools in Detroit showed us how joyously students can be supported in building this knowledge with the help of the right curriculum.
"Once students are fluent decoders, the key determinant of comprehension is what a student already knows about a topic," said Daniel Willingham, a professor of psychology at the University of Virginia. "[Our challenge is] to assure that every child is exposed to a curriculum that is knowledge-rich and appropriately sequenced."
There is no better model of intentional sequencing of knowledge than the well-known Core Knowledge Language Arts curriculum, whose model implementation we witnessed at Bryant School of Arts & Innovation in Riverside, California.
Public Prep CEO Ian Rowe underscored the importance of the "intellectual preparation" of teachers.
"We can't expect kids to do close reading of complex texts unless our teachers are doing so," he said, providing us with the perfect opportunity to sing the praises, yet again, of the great work being done in Louisiana. Together with the vast majority of educators throughout the state, teachers at Kinder Elementary near Lake Charles have "become learners, too."
We look forward to sharing more about our insights in the months ahead!
Barbara Davidson is president of StandardsWork and runs the Knowledge Matters Campaign. A former classroom teacher of students with learning disabilities, she has worked for the past 30 years at the intersection of education policy and practice and has led a number of curriculum development efforts.
Get stories like these delivered straight to your inbox. Sign up for The 74 Newsletter