Innovating in a Crisis — 1-Click College Counseling & Other Reinventions to Connect Students, Parents and Even Alumni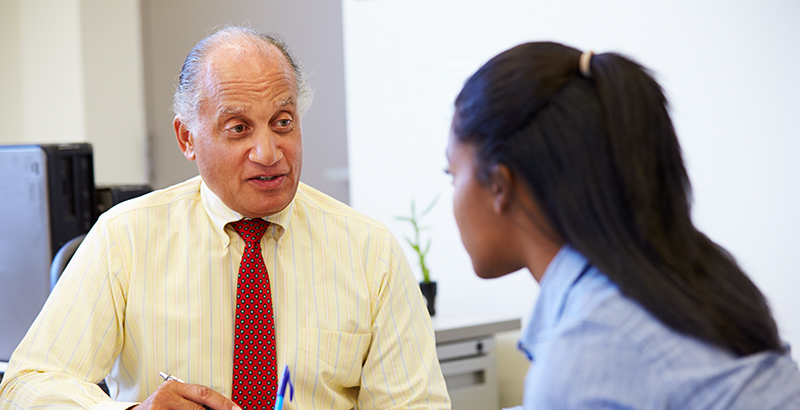 A version of this essay originally appeared on the GreatSchools blog, part of its Crisis Innovations series.
Before the pandemic forced a remote reset to our education system, college counseling in high school often meant face-to-face encounters. Students crammed for the SAT in lunchtime classes or dropped by their counselor's office for impromptu guidance. Parents packed into multipurpose rooms to listen to lectures on all things college. Swankily suited college reps hocked their glossy brochures (and the American dream) in high school cafeterias — at solo presentations and crowded college fairs.
At most schools, the process was informal, personal and notoriously understaffed. Some families took advantage of every service. Others skipped them altogether for myriad reasons: the view that the family couldn't afford college, a lack of time or a lack of awareness of the services themselves. Some higher-resourced families hired private counselors. That was almost by design, since few high schools are resourced to support every student's individual needs. Some high schools have dedicated college counselors. At many others, general academic counselors do double duty, dealing with detention one minute and shepherding teens into their postsecondary sunset the next.
Either way, there's rarely enough counselor time to go around. According to 2018-19 data from the American School Counselor Association, the average counselor serves 430 high school students. (As high as this may seem, the counselor-to-student ratio is at an all-time low, edging downward since its high in 1986 of 588 students per counselor.)
This year has turned the traditional college-support process at most high schools upside down and many counselors struggled without in-person communication. According to a 2020 survey, the top two challenges that counselors cited were "having access to students in a virtual environment" (68 percent) and "providing counseling and lessons to students in a virtual environment" (62 percent). Many counselors, who depended on that chance meeting in the hallway, struggled to keep track of all of their students' diverse (and changing) paths.
Some high schools, however, rose to the challenge and developed practices that they realized were both more effective and more equitable.
Virtual 1-on-1 meetings
Humberto Valdez, director of college counseling at IDEA Frontier Academy in Brownsville, Texas, discovered that one of their most significant college-support practices was better delivered virtually. Every year, Valdez and his colleagues meet one-on-one with juniors for "match and fit" meetings to look at students' academic performance along with their interests and talk about which colleges will be both a match and a fit for each individual student. "Our match and fit meetings, which are usually in-person meetings that we used to pull a junior out and have a meeting in our office or in the middle of the hall for an hour, those are now virtual," explains Valdez. "We're definitely going to leverage virtual meetings a whole lot more this coming year."
Valdez also sees other kinds of college counseling meetings remaining virtual — especially those that require students or parents to show up at school after hours or on weekends. "Even if we return to in-person learning … it is so much more convenient to have kids connecting from home for a four-hour workshop on a Saturday and not have to physically come into the school."
Marathon college-mentoring fair
Veterans Memorial High School in Brownsville created a virtual version of its Senior Week, a college fair where students typically visit different rooms in the school to meet and get hands-on help from college representatives on their applications, financial aid and college essays.
Jessica Cantu, the college readiness counselor, explains how they re-created the small-group college mentoring experience through breakout rooms that students could navigate: "We created breakout rooms and students were able to meet as one group and then choose links to attend different breakout sessions to meet with University of Texas at Rio Grande to complete their Texas application, to meet with UT Austin to complete their FAFSA, whatever they needed." And this year, they ensured that every student was involved by conducting the virtual fairs during the 12th grade English class.
Closing the distance for alumni
Typically, schools that want to connect with their alumni to share their experiences with college have to find individuals who can physically attend an event at the school. But at Mater Performing Arts Academy in Hialeah, Florida, they've realized that with their all-online events, they can engage alumni from all over the country.
"We're doing a lot of presentations with our alumni who … are in Boston, or in … San Francisco," says Silvino Macho, who leads college counseling at Mater Academy. "Because they cannot come here in any other way because they are there, they're working." Moving these presentations online has allowed the school to connect with alumni who have ventured farther from home and are having precisely the kinds of educational and job experiences that Mater Academy wants to avail its students of.
Virtual college counseling shouldn't replace its in-person analogue. Teenagers (like the rest of us) need face-to-face connections, especially when it comes to an activity as charged and meaningful as applying for college. But innovative schools have discovered that some of what was done the old way — via happenstance in the hallway, only for the squeaky wheels, etc. — can be both more inclusive and more deliberate by using widely available technology that puts more power in the hands of students and families. By making college supports more convenient and flexible, these educators defined a more expansive vision where every student can get access to the help they need, whenever and wherever they need it.
Carol Lloyd is executive editor of GreatSchools.
Disclosure: The Charles and Lynn Schusterman Family Foundation provides financial support to GreatSchools and The 74.
Support The 74's year-end campaign. Make a tax-exempt donation now.