Indiana Education Officials Finding Ways to Cut Down, Revamp State Education Standards
The state's board of education is expected to adopt updated standards ahead of the 2023-24 school year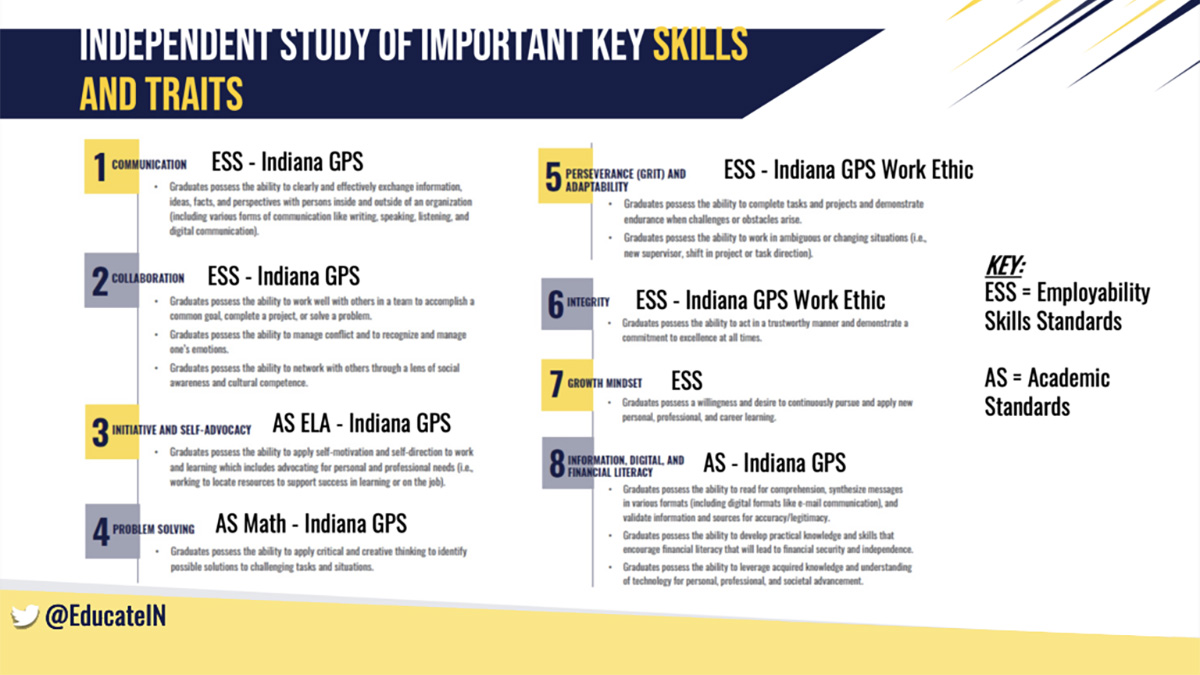 Get stories like these delivered straight to your inbox. Sign up for The 74 Newsletter
Indiana's education leaders are revamping the state's academic standards by cutting back current requirements and streamlining the content that teachers are required to cover in a school year.
Determining what's most important for Indiana students to learn is no easy task, however, as indicated by members of the Indiana State Board of Education during a meeting Wednesday.
The board was tasked with the standards overhaul by lawmakers earlier this year. The Indiana Department of Education (IDOE) has so far led the charge by evaluating the current standards and presenting preliminary findings.
Already, the agency's research has focused on identifying skills and traits students need "for lifelong success," said Indiana Secretary of Education Katie Jenner. Those include communication, collaboration, growth mindset, problem solving, self-advocacy, perseverance and integrity, as well as information, digital and financial literacy.
"Our goal is to aggressively hit and be ready to go in June, across the board — so not just start with high school, but just look at all (grade levels) — and be ready to get that approved," Jenner said. "It is an uber-aggressive timeline."
Debating a new approach to state education standards
Charity Flores, IDOE's chief academic officer, said the eight core traits for students that have been identified by the department were determined by reviewing academic research, conducting surveys and considering which skills will be best for students in the job field. IDOE is also seeking input from businesses and postsecondary institutions.
The state agency is now working to identify 25% of the existing standards that can be cut — meaning teachers no longer have to teach that specific content. One-third of the remaining standards will be identified after that and be designated as essential, critical, or foundational.
"Those essential standards that are going to be identified, the intent of those is that they reflect the foundational skills — those skills that are most needed," Flores said. "We need to really ensure that we're mastering those skills and traits, in addition to the other standards that will remain, but we will have a set that are defined specifically as essential."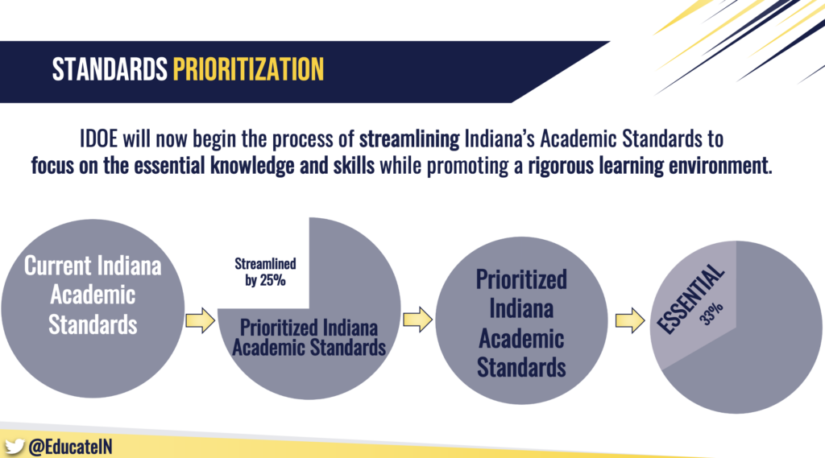 Still, some members of the state's education board expressed concern that teachers will still be left with too many standards to cover in a given year. Other board members recommended that certain academic standards could be incorporated into elective or technical education classes.
"There is such valuable learning — particularly the relevance that students find in the elective space — that makes the core work come to life and be more meaningful. If there is separation between those two definitions of success, we will disincentivize co-teaching, we will disincentivize integration between elective and core spaces," said board member Katie Mote. "My strong hunch is that the more we can interconnect those courses and pedagogies and experiences that bring relevance to this content, we will see the performance, and on standardized testing … go in the direction we seek."
Jenner said rigor is "top of mind" as the board weighs what's best for the new academic standards, adding that the IDOE and others on the project are continuing to listen to recommendations and input.
"There's concern that we would be reducing the rigor in Indiana with reduction (of standards)," Jenner said. "We will stay focused on rigor in this process, even as we seek to streamline and focus in our standards."
The IDOE is expected to present a new list of standards to the board of education by June 2023. If approved, those will take effect in the 2023-24 academic year, and another assessment — intended to tweak and improve the standards — would take place for the 2025-26 school year.
New data echoes reading and math scores declines among Hoosiers students
The discussion about standards followed the release of new data that shows declines in reading and math scores among Indiana's fourth and eighth graders.
The National Assessment of Educational Progress (NAEP) assessments are given every two years by the National Center for Education Statistics — a branch of the U.S. Department of Education. The results show educational achievement and progress of students and were released last week in "The Nation's Report Card."
Between January and March, the NAEP assessments were given to random samples of students in each state and territory. Indiana education department officials said around 7,000 Hoosiers in grades four and eight took the tests.
Nationally, the data showed the largest score declines in math in grades four and eight since the assessments began in 1990. In reading, scores dropped in grades four and eight in every state compared to 2019.
Indiana students scored better in math than those in most states, with 40% of fourth graders and 30% of eighth graders achieving at or above proficiency.
In reading, Hoosiers scored similarly to most states. About 33% of Indiana fourth graders and 31% of eighth graders achieved at or above proficiency.
While average scores for students in Indiana are at or slightly higher than scores nationally, the state saw some of its largest drops in 4th grade math compared to the nation.
And while Indiana has been above the national average for nearly a decade in reading, fourth grade reading scores have been declining since 2015.
Comparable to the state's ILEARN and IREAD-3 state assessments, specific student populations including black students, Hispanic students and students who receive free or reduced meal prices are still struggling. Hoosiers in those student populations scored significantly lower than the state and national averages.
In 2022, black eighth grade students had an average score in math that was 38 points lower than that for white students. Students who qualified for free and reduced meals scored 26 points lower than non-eligible students.
Jenner called the score drops "alarming" and emphasized that more support — including additional funding — is needed for English language learners. She pointed to a 20-point decrease in eighth grade reading scores among English learners in Indiana, for example. Nationally, English language learners scored four points higher in 2022 than they did in 2019.
"In 2011, we were moving in the right direction as a state in fourth grade reading. In 2015, we started that downward momentum towards the national average. And today, we sit at the national average," Jenner said. "We all want to do much better. You're going to continue to hear our board, our educators, really push on reading, reading, reading and making sure all our kids are literate."
State officials this year have announced numerous new funding opportunities as part of a larger statewide push to get all Hoosiers better educated. That included an announcement in August that the Indiana Department of Education and the Lilly Endowment will together spend up to $111 million to improve reading outcomes in Indiana schools.
A separate statewide grant program announced in August will provide low-income Indiana families with funds to support tutoring for students who are struggling to recover from academic setbacks spurred by the COVID-19 pandemic.
As the 2023 legislative session nears, Jenner said state education officials will be meeting with lawmakers to advocate for more funding and other resources to improve literacy and math skills, especially for the state's youngest students.
Indiana Capital Chronicle is part of States Newsroom, a network of news bureaus supported by grants and a coalition of donors as a 501c(3) public charity. Indiana Capital Chronicle maintains editorial independence. Contact Editor Niki Kelly for questions: info@indianacapitalchronicle.com. Follow Indiana Capital Chronicle on Facebook and Twitter.
Get stories like these delivered straight to your inbox. Sign up for The 74 Newsletter