Increase Accountability, Deepen Relationships and Embrace Mobile: 3 Ways to Make Digital Learning Meaningful for 21st Century Students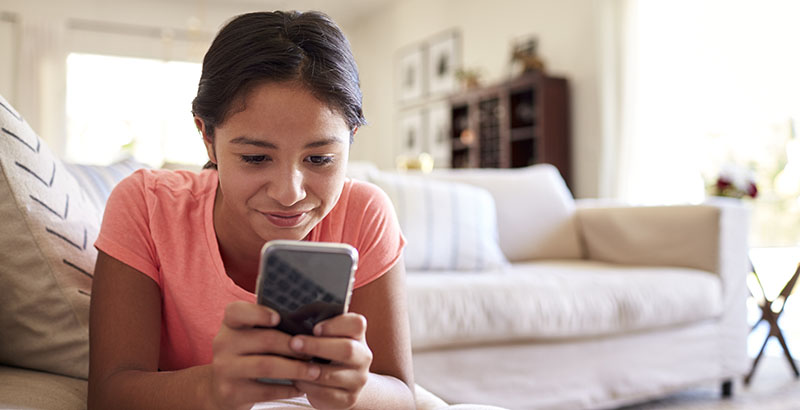 It first started with an extended spring break, and now many states have decided to close their schools for the remainder of the year. Today, school district officials across the country have successfully created solutions to support students' basic needs during the coronavirus crisis, such as protecting their safety and health. But are we prepared for the second stage of student success, which is helping them grow their skills and knowledge?
Some leaders have taken steps to train staff on the most up-to-date digital tools and assist families in accessing their digital accounts to obtain their child's lesson plans. But will we create a stimulus package of tools, resources and engagement methods that will allow us to stimulate the minds of millions of students who are stuck at home? To make this happen, we need to try new approaches to bring the most important parts of school into a virtual infrastructure that can support each student's needs.
School is so much more than academics. It also provides tutoring, counseling and college advising, but sometimes these resources were only available around the school day. Now that we are adapting to a time when the school day no longer exists, it's more challenging for students to access these resources due to limited virtual opportunities.
The silver lining here is that these adjustments are forcing public education to respond and look at our model differently. To use a metaphor, it is making districts innovate from a Blockbuster brick-and-mortar conglomerate to Netflix, a more virtual and personalized ecosystem. Due to uncertainty about how to monitor students' safety in a digital space, the system has been slow and ineffective in engaging students online. Now, COVID-19 has given us no other option but to embrace this vulnerable period.
Millions of our digital native students who are no longer strolling the hallways of our schools this semester need us to offer a sustainable modern infrastructure that does not just react to this emergency but also reflects the 21st century future of learning.
We have a responsibility to our kids here. This is our opportunity to evolve and modernize an educational system that desperately needs to meet students where they are. We cannot allow this period to become just a supplement to our physical schools, because our students need adults to teach them digital stewardship. To make the most of this difficult and uncertain time, there are three areas of opportunity for at-home learning plans and virtual schooling that school districts should keep in mind as they lead their students, families and communities through this adaptive time:
1 Increase accountability
Previously, teachers could hold students accountable by directly supervising them in the classroom. The virtual learning models that are being built should emulate this environment and use the power of relationships and check-ins during the school day. One way to do this remotely is by having students log into Zoom from their free phone app. The app will show the teacher which students are on-screen paying attention to the lesson plan and which ones are browsing on other tabs. In fact, Zoom has published a comprehensive guide on how to elevate our virtual classroom times.
2 Deepen relationships
Most people think online learning is where you record content, use technology to scale capacity and reduce the need for one-to-one interaction. The opposite is true. The internet is a place to expand student networks and to increase their social capital. We have to teach students how to create meaningful connections and opportunities by positively participating in our global economy from wherever they can get an internet connection. If we want students to succeed in the workplace, we can't just show them how to communicate in physical space. We can use this opportunity as a teaching moment on how to thrive in a connected world, regardless of whether you live in San Francisco, California, or Robbinsville, North Carolina.
The organization I founded with a friend in college, Student Success Agency, helps schools multiply their efforts online through a virtual platform where students access a global network of near-peer college students and young professionals anywhere anytime from their cell phones. Students are able to receive on-demand academic support, college advising or general life advice that improves their social and emotional well-being. These online mentors are becoming a web of support for the experts on campuses who seek ways to scale their efforts while increasing the number of interactions students have with caring adults. A third-party study on high school seniors in South Texas showed that students who were engaging with our online mentors had a higher chance of matriculating into postsecondary education.
Before the coronavirus outbreak, we were serving 150 high schools and 25,000 high school students. Due to this challenging time, our team feels called to offer additional resources. We have launched a free virtual support tool for all U.S. middle and high school students for the remainder of the school year. The Support for All, or S4A, tool offers free college advising, academic tutoring and at-home learning guidance from students' cell phones.
3 Embrace mobile
This is the largest opportunity in our at-home learning models. Kids in middle school today are the same age as the iPhone. The amount of assumed information that we have collected as the desktop generation goes over this mobile generation's head. Kids are more comfortable with DM ("direct messaging" on Instagram or Snapchat) than CC ("carbon copy" on email). This communication barrier is going to expose our vulnerabilities to connect outside of school, but we need to lead by example and showcase a growth mindset to engage our students effectively.
This means shifting activities we normally associate with classrooms to the online environment: for example, replace meeting for a few minutes after class with a check-in via SMS. Most schools use text messaging platforms like Remind and Signal Vine to communicate information to students and parents. These are great promotional tools, and with the shift to online learning, they are also a way to further impact students with personal and thoughtful conversation that would previously have been held in the classroom between student and teacher.
The graph below is from the study we mentioned above, and it shows that the students over time increased their contacts with online mentors via text from 10 to 34.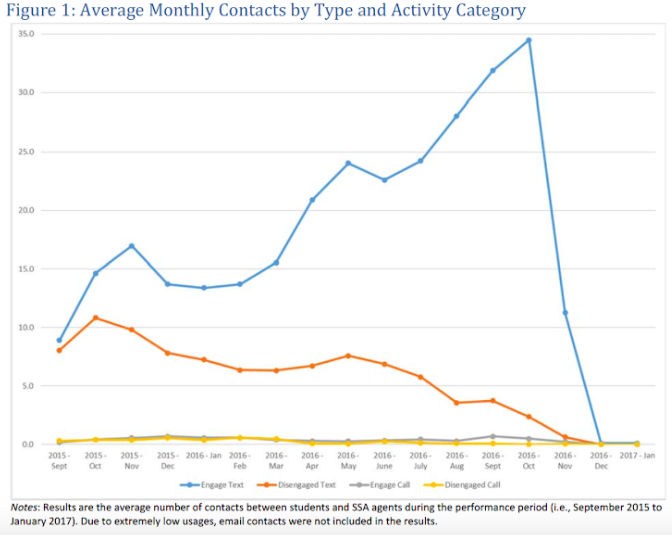 A viral video on Twitter of Dr. Michael Ryan, executive director of the World Health Organization, sharing his experience really hits home on where we are in the emergency to transition our schools online.
"The lesson I have learned through so many Ebola outbreaks is to be fast and have no regrets. You must be the first mover. The virus will always get you if you don't move quickly, and you need to be prepared. I say this because one of the hard things in emergency response, anyone involved in emergency response will know that – if you need to be right before you move, you will never win.
Perfection is the enemy of the good when it comes to emergency management. Speed trumps perfection. The problem we have in society at the moment is everyone is afraid of making a mistake. Everyone is afraid of the consequences of error. The greatest error is not to move. The greatest error is to be paralyzed by the fear of failure…"
We must act and be brave. These extended school shutdowns are a great opportunity for us to tackle this challenge head-on and provide the teaching and advising our students need. By holding them accountable, maintaining our relationships with them even on a digital platform, and embracing the challenges and opportunities of mobile classrooms, we can offer a solution to school closures.
It won't be perfect the first time, but every mistake is an opportunity to grow and helps lay the groundwork for the future of 21st century learning.
EJ Carrion is a co-founder and the CEO of Student Success Agency, where students can get academic support, college advising or general life advice from near-peers anytime, anywhere on their phones.
Support The 74's year-end campaign. Make a tax-exempt donation now.