Community Rallies Around Inclusive Teen Robotics Team After Thieves Steal Gear, Raises $75,000 in Weekend Fundraiser
By Kristi Eaton | November 11, 2021
Get essential education news and commentary delivered straight to your inbox. Sign up here for The 74's daily newsletter.
Updated Nov. 15
The Howdy Bots robotics team raised $75,000 at their annual telethon — well above the usual $40,000 the event usually brings in. "We suffered a setback when thieves stole tools and electronics from the team," said coach Evan Marchman. "Financially, this was something the team was unprepared to handle. Thanks to the tremendous outpouring of support from the community, the team raised more than $75,000… We are now able to replace the stolen items and made great progress towards fully funding our annual operating costs. Now we can focus on providing this high-quality STEM education program to more students."
When thieves stole $10,000 worth of equipment from the Howdy Bots robotics team in Austin, Texas, they were stealing from kids — whether they knew it or not.
All the things that make a robotics team function — laptops, cordless power tools, and electric crimpers — were among the items taken in October from the shop of the 18-member team.
"That is a pretty hard hit for us," said coach Evan Marchman.
The team is looking to their annual "Howdython" fundraiser this weekend not just to raise money to attend competitions: The Howdy Bots will be working hard raising money to replace what was stolen.
"We need tools," said 16-year-old team member Clay Tomaszewski. "Particularly like drills and other hand tools to actually assemble our robot. Without a drill, how do I make a hole in something that I need a certain size screw to fit in?"
Howdy Bots stands out in the ultra-competitive world of robotics.
"Some teams prefer to have the smartest, most skilled students and will have tryouts for their programs," said Marchman, "but we accept students regardless of ability or disability, both physical or learning."
"A core value of Howdy Bots is inclusion," he said. "We do not turn away students based on grades, skill, lack of experience or school affiliation. Our team meets the student where they are and make any necessary accommodations with the ultimate goals of seeing them make progress in gaining skills and maturity.
"Our only requirements are engagement and commitment on the part of the student."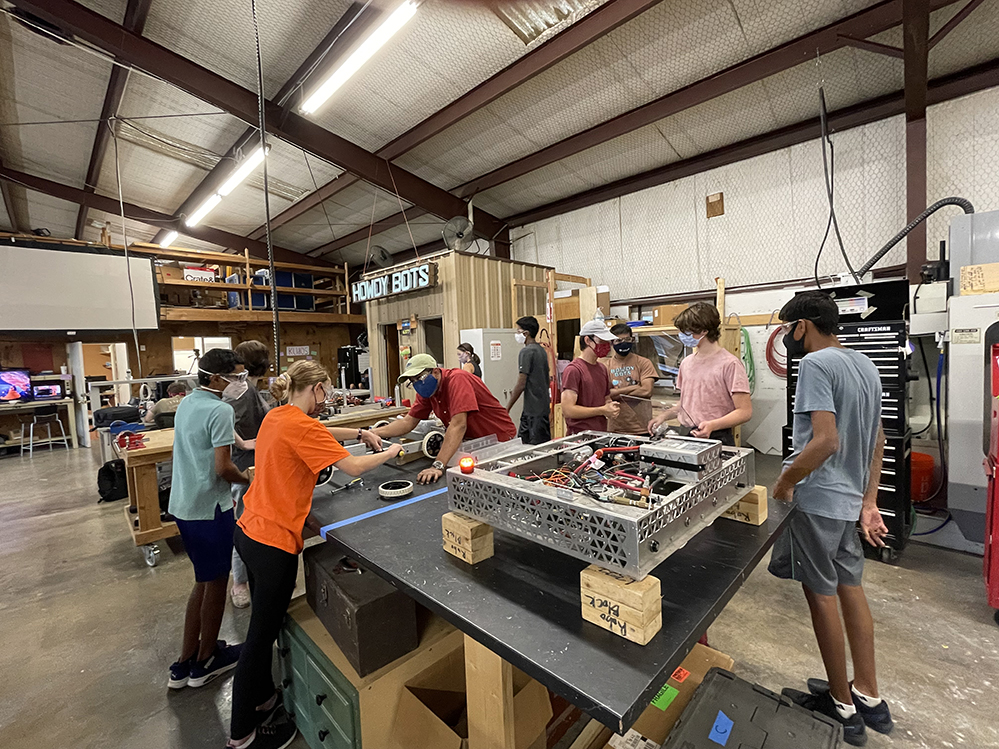 Howdy Bot team members are not affiliated with any one school and may be home-schooled or don't have a team at their school.
Marchman said the team works to be diverse, and currently includes LGBTQ teens. The team is also about equal in its make-up of girls and boys.
Marchman said the focus of Howdy Bots is exposing students who might not otherwise have access to technology at home. Scholarships are offered for low-income students.
The team, which competes across Texas and the world and includes students ages 13-18 in grades 9 through 12, design, program and build 120-pound robots in six weeks, during January and February each year. Competitions take place in March and April.
In addition to robotics, the students also complete programming, computer-aided design, video editing, business and marketing tasks. The team meets all year, with students averaging more than 400 hours of STEM learning during the busiest four months of the year.
They are also introduced to industry veterans, as most of the mentors are engineers or programmers by day.
And it's not just the tools that are needed: Rishisk Boddeti, 15, noted the team members doing marketing and programming need laptops.
"The fundraiser is going to be very important to us this year," Tomaszewski said.
The event will run from 2 p.m. to 5 p.m. Central Time on Saturday. Click here for more information and a direct link to Howdy Bots' fundraiser live stream.
Support The 74's year-end campaign. Make a tax-exempt donation now.