In Uniting Students With Prospective Employers, the Whether Job Search App Wins SXSWedu Tech Competition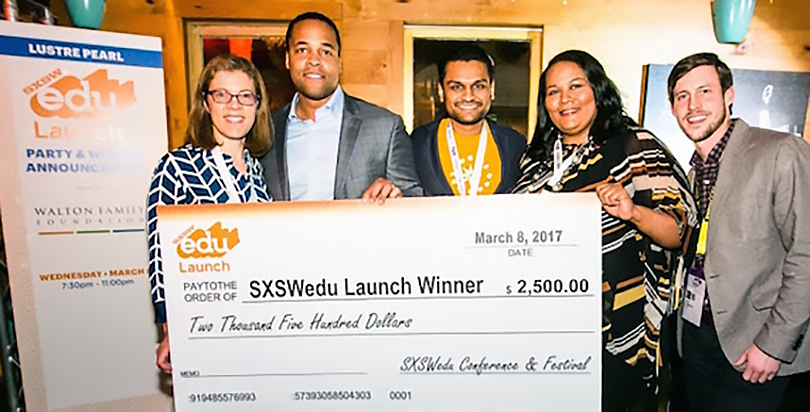 Chris Motley's first two attempts to enter the annual SXSWedu Launch Competition didn't pan out. But the lessons learned from those rejections guided Motley, founder and CEO of The Whether by Better Weekdays, to refine the positioning and messaging of his startup in time to apply for this year's competition.
Motley's revamped product and brand-new business model led him not only to the group of 10 Launch Competition finalists, but straight to a SXSWedu win for his platform, which creates connections among employers, students, and their colleges and then strives to build engagement and, as he says, "personalize career pathways." (See our
profiles of all 10 Launch companies
.)
The St. Louis–based platform launched this month, within days of the SXSWedu competition, and aims to give students a better understanding of potential job opportunities, as well as help employers build meaningful relationships and pipelines to talented job seekers they might not otherwise meet. "At the end of the day, when you are hiring a lot of college students, we want to create a more efficient way to hire more relevant candidates," Motley says.
He approaches this goal of engagement with three distinct focuses. First, he has attracted more than 43,000 students onto his platform, a mobile-based app that allows them to enter their name, field of study, and school attending. From there, they are met with a Facebook-like feed, showing them personalized job listings, company profiles based on their interest area and location, and events, videos, images, and mission statements associated with companies.
The Whether started with a regional approach, landing companies in St. Louis. Early success came from a focus on diversity. For example, The Whether has 300 STEM-related students from Spelman College, a historically African-American women's college in Atlanta, in its platform, almost all with a GPA over 3.0. "That is very valuable for a company trying to expand diversity in engineering," he says.
"It is all about discovery, whether an internship or a full-time job," Motley says. "That discovery is important. I believe when a kid can see what success looks like, they tend to be more engaged in the world involved to reach that goal."
Second, for employers — who Motley says complain about spinning their wheels culling résumés at job fairs — The Whether allows them to pinpoint potential candidates for positions based on universities and majors, as well as post information about their company — whether sample projects, articles, or job listings.
As job seekers engage with the content and share it on social media, prospective employers can see that engagement and then message the students to set up interviews or request more information.
Third, from a career services perspective, the app lets universities track what types of jobs and companies students are interested in and tailor services to help them prepare for interviews in the field. "Everything is focused on the user experience of a student to make sure they are the most engaged and tied into the experience of an employer in a highly personalized and relevant way," Motley says.
So far, The Whether has signed up 47 institutions and 15 paying companies — the expected revenue stream comes from businesses looking for a more efficient way to connect with students. To create a more robust platform for students, 30 percent of whom have come back to continue using the app seven days after initially signing up, The Whether also pulls from millions of job postings daily.
And expansion is coming: Motley has signed agreements with economic development organizations and chambers of commerce to give The Whether entrée into the businesses affiliated with those organizations, offering Motley a wider range of companies to welcome into the app as the next step in development.
The exposure of winning the Launch Competition at SXSWedu, timed with the release of The Whether, has given Motley a healthy "step in the right direction," he says — something he wouldn't have experienced had he given up after his first SXSWedu rejection. Or his second.
---
---
Support The 74's year-end campaign. Make a tax-exempt donation now.